So this week I am starting Menu Plan Monday. This is just as much to share with you as to keep myself accountable in making our menus plans.
I will also threw out the weeks post a few of the recipes I am using. As time goes on I will link to recipes as I re-use them.
Check out How I Menu Plan.
Check out Past Menu Plan Mondays and other Other Great Recipes.
Monday – Rachael Ray's Deviled Chicken Cutlets
Tuesday – Pork Chops Parmesan
Wednesday – Asian Pork Chops
Thursday – Duty Grilled Cheese Here!
Friday – Out of town Until Sunday 11/27!
Saturday – Out of town Until Sunday 11/27!
Sunday – Out of town Until Sunday 11/27!
See a meal you want to know how I make? Leave a comment and Ill post the recipe!
Check out these links ups for some more great ideas!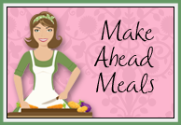 Looking to plan a wedding? On a tight budget and don't know where to start? Looking for wedding planning and decor ideas? Pick up How to Have Your Dream Wedding for Under $1,500 now available on Amazon and get the answers to all those questions and more! Get your copy today! It's only 99¢ for limited time!