I have a confession. I don't use coupons anymore. Ok well, I use some, and if I see some good deals at the drugstore I'll jump on them but really for groceries, I'm lucky to remember my list much less my coupons. So I went on the hunt for cheap meals for large families because I am feeding a family on a budget!
The first thing I did was read this book from America's Cheapest Family, Cut Your Grocery Bill in Half with America's Cheapest Family I started implementing different tactics and started asking other 'large families', and here is what I do.
How am I feeding a family on a budget with 6 people for under $200 a month without that crazy extreme couponing? I have developed a system that works perfectly for our family. Here are my steps to incorporate what will work for you and watch your grocery budget shrink!
Take Inventory
Take a tally of what is in your fridge, freezer, and pantry. I make a list, so I have it as I sit down to make my list and menu plan. No need to buy ketchup if you already have a bottle in the pantry.
Menu Plan
Menu plan around what you have in your pantry already. This doesn't have to be strict but a list of dinners for the week/month. I only plan dinners, but you can do breakfast and lunch to whatever works for you. We plan for an entire month at a time.
If you struggle with menu planning and finding cheap meals for large families I HIGHLY recommend the $5 Dinners Menu Planning when feeding a family on a budget. The meal on this menu plan cost $5 a meal.
Go Meatless
We have one meatless dinner a week. We include meals like homemade Mac and Cheese, Bean Tacos, Spaghetti, Fettuccine Alfredo, homemade pizza, pizza sandwich, rice and beans, and more.
Related: 50+ Frugal Living Tips for Large Families
Add Beans
Add beans to stretch your meals! We love beans. Mix them in taco meat, burgers, and more to stretch your meat.
Love Breakfast
We have breakfast for dinner once a week. Pancakes, french toast, waffles, omelets, blueberry pancake bites, and more are all cheap, and the kids love it! Find more easy breakfast recipes here on The Frugal Navy Wife and make sure to check out our 40 breakfast for dinner ideas.
More Breakfast Recipes
Use Leftovers
Use up your leftovers. We have a leftovers night once a week. Use up the leftovers and make a few sides to go with them. Use this and the tips above and you have almost half your week of menu planning done. Leftovers are great for lunches as well.
Leftover Recipes
Make Lunch for the Week
Take a lunch to work or if you stay home, this works too. You can make sandwiches for lunch for the week, and freeze them. Then all you have to do is pull out the sandwiches for the day and go. You can also make bacon and put it in the fridge and make BLTs, Think outside the box!
Make Breakfast for the Week
I also try to make breakfast for the week, so it's grabbing and going. I make things like bread and muffins. You can make pancakes and waffles and freeze them on wax paper. You can set aside baggies, pre-portioned, ready to be made.
Related: 141 Frugal Breakfast Casseroles You'll Love
Limit Shopping Trips
We go grocery shopping once a month. I do a month-long menu plan, and we grab everything we need. We have a deep freezer and a stand-up freezer to allow us to do this. All we just have to grab is produce and more milk mid-month.
We freeze our milk so we can buy it in bulk. The logic behind this is it also limits the amount of impulse spending.
Make Cheap Meals for Large Families by Making it Yourself
Don't go for convenience foods, make it yourself to save money. Pizza crust, garlic bread, rolls, flavored rice, pasta sauce, jams, and apple sauce. These can all be made yourself and save money doing so!
Pizza crust can be made in bulk and frozen. We make a huge batch of pasta sauce and use it on pizza as well. Each fall we make jams and applesauce for the year and can them. See the 7 items we stopped buying and started making to save money. We also listed 60 Things to Make Instead of Buying
Make Cheap Meals for Large Families – Freezer Meals
Have freezer meals ready for the days you would normally grab fast food. We always have 3 or 4 different meals in the freezer for those busy days when we would normally grab food out. These are ready to pop in the oven and go. Freezer food doesn't have to be casseroles!
Chicken can be frozen in marinades just add sides and go! I have gotten most of my freezer recipes from the Don't Panic – Dinner's in the Freezer cookbook.
Related: The Weird Grocery Shopping Trick that Saves Me $100 or More a Month
Feeding a Family on a Budget by Using the Slow Cooker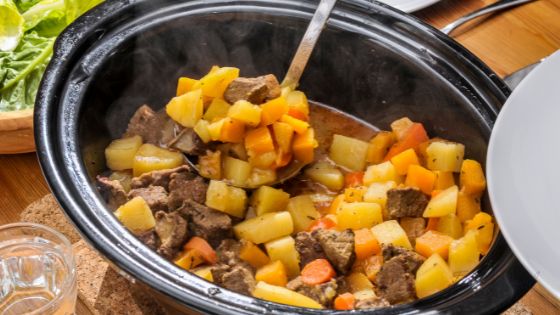 Using the slow cooker allows you to buy cheaper cuts of meat, you cook them all day in the slow cooker, and they come out so tender! The Slow Cooker also allows you to put a meal in, in the morning and come home from work with a meal ready to serve.
One of my favorite cookbooks for slow cooker meals is Taste of Home Slow Cooker: 431 Hot & Hearty Classics.
**Bonus** In the summer a slow cooker helps you save money by not having to heat up your oven and then having your AC work harder to cool off your house!
Make Cheap Meals for Large Families – Buy in Bulk
With our size family, we buy certain things in bulk. Rice, flour, sugar, and tomato products to make a sauce, diapers, and wipes (when the kids were little). It's also cheaper to get certain things at bulk stores like BJs, Costco, and Sams Club than at the regular store.
Chicken is always at my stock price here, and cakes are cheaper.
Tip: We got our BJs membership on Groupon and got some great bonuses and coupons.
Stock Up on Sale
Watch for sales and stock up. We stock up on meats when they are on sale. We score chicken drumsticks for 49¢ a pound, Chicken Leg Quarters for 59¢ a pound, and boneless skinless chicken for $1.77 a pound. We grab a few turkeys around Thanksgiving, hams at Easter, etc.
Buy Cheaper Meat Cuts
We use a lot of chicken in our cooking. But we only buy boneless skinless chicken breast at $1.99/lb for 1 out of 5 meals if that. We buy chicken leg quarters for 59¢ a pound, cook them, pull the meat off and use them in our recipes.
See how we got 16 meals for $25 this way, this is my best-kept secret for getting cheap meals for large families.
Manager Mark Downs
Watch for manager marks downs on meat. These are meats that are approaching their sell-by date. If you freeze this stuff right away, you are fine to stock up on it. They just want to clear it out before the sell-by date.
I shared a few ways to save money on meat.
Related: Menu Planning and Stretching Your Budget – 16 Meals for $25
Outlet Shopping
We start each of our once-a-month trips at a grocery outlet. Near us we have and Grocery Outlet and then about 20 minutes from us we have a Sharp Shopper. We usually shop at the Sharp Shopper (we find it a tad bit cheaper) and we will start our grocery trips there because the stock changes all the time.
The outlets usually get things that are close to being out of date, or they'll get seasonal stuff that is out of season, they will also get overstock from the local grocery stores.
You have to watch the expiration date but you can score some great stuff, and a lot of it is name brand. We get our eggs here, they're fresh local eggs, and they are cheaper than at the grocery store.
Once we are done at the outlet store, we will shop at Aldi, then we go to BJs (mostly for diapers and wipes!), and then hit our local grocery store to get anything else that we weren't able to get.
Feeding a Family on a Budget by Watching Sales
We always watch the sales paper and pick up sales items even if we have to stop at a separate store. We will watch sales papers all month, mostly for meat deals to stock up on. I LOVE finding the meal deals, where I buy one item in a meal and get 2-3 others free.
I can use coupons on it all and this is one of the best cheap meals for large families!
Use Store Rewards
We picked the main grocery store that we shop at because it offers points back towards free groceries that help cut back on our grocery budget.
Many will offer something off your bill or gas, pick a store that is decently priced, takes coupons, possibly doubles coupons, and offers a rewards program of some kind.
Use Grocery Rebate Sites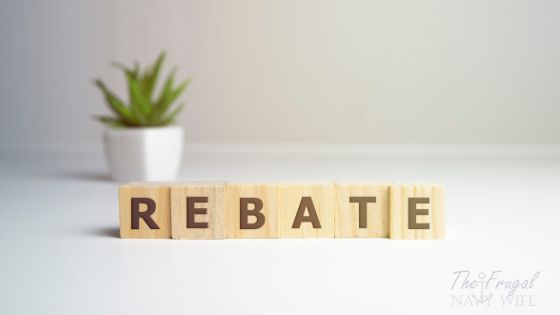 I do use Ibotta, Fetch Rewards, and Shopkick mainly.
I have 14 days from the time I shop to upload, and I can combine rebates from all 4 sites from 1 receipt to maximize savings! I'll also use Receipt Hog (use code drov9917) and ReceiptPal to get points for my receipts (you earn by uploading any receipt to the app) to use for gift cards.
Fetch Rewards – Like Ibotta get points as a rebate when buying certain items. Turn the points into Amazon or Visa gift cards and other items.
I outline all the apps I use in more detail with this Money making shopping apps post.
Related: Grocery Shopping Habits That Are Costing You Big Money
Feeding a Family on a Budget Using Amazon Pantry
I use Amazon Pantry to save money on groceries. I watch their coupons and sales in the pantry department. I use this to help stock up on bulk items too, along with household items, diapers, and wipes, cleaning supplies, toilet paper, and more.
I use the 45 places I get free Amazon gift cards from to help get these items for free.
Score Free Groceries
When feeding a family on a budget the best thing you can do is get free groceries. I make it a point to earn $100 in free groceries a month. I also earn about $200 a month in Amazon Gift Cards for free to use when I order from Amazon Prime.
Don't forget to Save Money on Produce and find more easy meals here on The Frugal Navy Wife.
In what ways are you feeding a family on a budget?