Is your little girl obsessed with Barbie and everything pink? These Barbie gift ideas will wow her socks off. We got you covered from Tom Boys to hairstylists and everything in between! This is one guide from our Ultimate Gift Guide List.
There is a Barbie Toy that will fit any girl out there. From the super girly girls to the adventurous Tom Boy!
What to get a girl who loves Barbies?
There are probably a lot of different ways to answer this question, but one option would be to get her a Barbie accessory that she can add to her collection. For example, you could get her a new Barbie dollhouse, or some new furniture and accessories for her existing one. Alternatively, if she loves playing with Barbies but doesn't have a lot of them, you could always get her some more Barbie dolls!
What is the most popular Barbie toy?
The most popular Barbie toy is the Barbie Dreamhouse. It was first released in 1992 and continues to be a best seller. The Dreamhouse is a three-story house that has over 80 accessories, from a car to a pool. It also includes an elevator and a working garage door.
More Gift Guide Ideas
What is the best-selling Ken doll of all time?
The Ken doll was first released in 1961 and has been one of the most popular dolls ever since. According to Mattel, the best-selling Ken doll of all time is the 1992 Dream DateKen doll. More than 20 million Dream Date Ken dolls were sold worldwide that year.
When did Barbie come out?
Barbie first hit the shelves in 1959 and has been a cultural phenomenon ever since. Barbie was created by American businesswoman Ruth Handler and her company, Mattel. Inspiration came from a German toy doll called Bild Lilli. When Ruth saw how popular Bild Lilli was with little girls in Europe, she realized there was a market for a similar doll in the United States.
Barbie Gift Ideas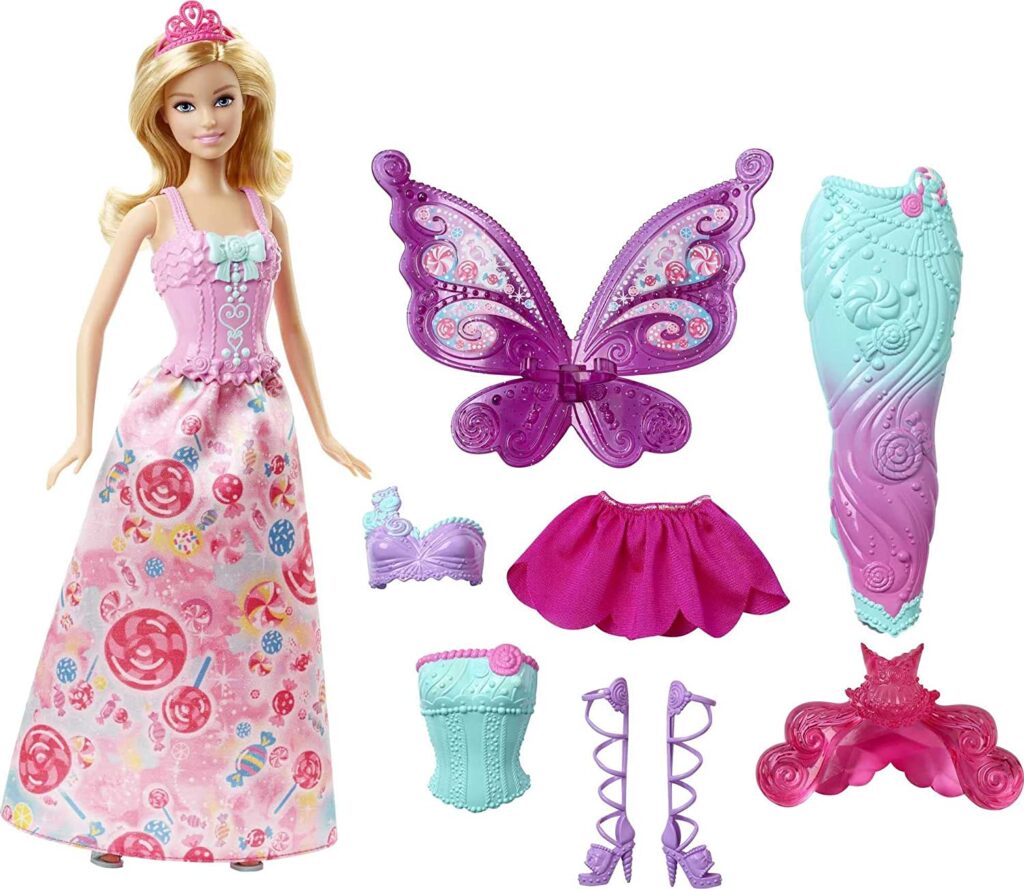 Fairytale Dress Up Doll – She changes from a princess to a fairy and even to a mermaid. Enough said.
One thing I love about Barbie is how she encourages girls to be whatever they want to be. This Barbie Baby Doctor Playset is perfect for the little one that wants to be a doctor.
Roll-On Lip Gloss – What girl doesn't love a little lip gloss?
Another great career-focused Barbie play set lets your little one become their own farm vet. Barbie Careers Farm Vet Doll & Playset
Barbie Tumbler – Perfect for school and home!
Twin Comforter Duvet – If your little girl wants a Barbie room this is a great way to do it without the commitment.
Have fun and explore gymnastics with Barbie the Gymnastic Coach Dolls & Playset
Beach Doll and Kayak – If you have an outdoorsy girl she will love that her Barbie can be too.
The Barbie Dreamhouse is the hot must-have Barbie toy of the season. While we may see some deals this year this hot ticket item may become hard to find fast.
Related: Spooktacular Vamperina Toys Gift Guide
Barbie and Ken Doll 2-Pack – Every girl needs a Barbie and Ken Doll set!
Barbie Popit Sensory Toy – These are so popular right now!
Everyone loves the magic of mermaids. The Barbie Rainbow Lights Mermaid Doll will keep your little one enchanted for hours.
Related: Bohemian Theme Room Décor Gift Guide
Barbie Girls Sweatshirt – Help your Barbie Toy lover show off her Barbie pride!
Want to give your little one a barbie house but have no room for the dream house? The Barbie Glam Getaway House is the perfect space-saving option.
Barbie Hoverboard Doll – Got an action-loving girl? This hoverboard Barbie will keep up with her!
Step away from the dolls and have some fun with the Lisa Frank Dress Up Paper Doll Activity Set is perfect for keeping kids busy on the go and the dolls look exactly like Barbie!
Barbie Coloring Book – This is a great way to keep your little one busy during car rides and or even doctor appointments.
Is your little Barbie fan makeup? The Barbie Deluxe Boxed Make-Up Playset is perfect for play and easy to clean up.
Related: Gifts for Lego Lovers – Lego Gift Guide
Rolling Vanity Playset – This one made the Barbie Gift Ideas list because it's perfect for trips to grandma's house!
Star Light Adventure Doll – Got a little one who is amazed by Outer Space? This one will help take her on new adventures.
My horse lovers fan is so happy over the Deluxe Stable Building set. This playset would be the perfect addition to the Farm Vet playset.
Barbie Vanity Playset with Mirror – If your little girl is learning to apply make up this set will allow her to have fun at home.
Anyone else remembers collecting the Holiday editions of Barbie growing up? The Barbie 2017 Holiday Doll is perfect for the Barbie collector.
Related: Mermaid Gift Ideas – The Ultimate Mermaid Gift Guide
Makeup Artist Sketch Set – If you have a little fashion designer or artist then this is the perfect way to let their imagination shine.
The Barbie 2-Story House with Furniture & Accessories is another perfect option for dollhouse play in tight spaces.
Girls' Pajama Set – Every girl needs a good set of PJs. This is why it is on my Barbie Gift Ideas list!
The Barbie Fashionistas Ultimate Closet is perfect for your little one that loves to dress up her Barbie dolls.
Signature Ballet Wishes Doll – Everyone needs a great collection!
Related: 175+ of the Best American Girl Doll Accessories Gift Ideas
Step into a book with your little one and Barbie I Can Be a Gymnast is the perfect book.
This Barbie Neon Light is the perfect accessory for any girl's room! If this one isn't available you can try these other Barbie-themed neon lights.
The Barbie Pop-Up Camper is so cool and fun. Just perfect for going out on an adventure.
Related: Ultimate Bakers Gift Guide
How cute is the Barbie Scooter with Puppy? Kids will love playing with this one as they drive through the house.
Barbie Modern Princess Stickers – Stickers and decals seem to be highly sought after right now.
Scoop up these vintage-looking Barbie Reusable Bags for your daughter to take her Barbies on the go.
This Barbie Club Chelsea Swingset Playset is perfect for the little ones that love to play with the younger barbies.
Wedding Day 4-Doll Set – Every girl dreams of her wedding day.
The Barbie Club Chelsea Playhouse Playset is so cute and makes the perfect backyard accessory for the Barbie Dreamhouse.
Barbie & Her Sisters DVD – Did you know Barbie now has movies out? I wish they had these when I was a little girl!
Glitter Hair Design Doll – Let your little girl play hairstylist on her doll and save your hair!
Disney Gift Ideas
Need more gift ideas? Check out our huge list of gift guides! What is your favorite go-to for Barbie Gift Ideas?