This post may contain affiliate or referral links. Read more about this in our disclosure policy.
This post is sponsored by Sivan Social. All comments and opinions are my own.
As it gets closer to the start of a new school year, my daughter looks forward to going shopping to select clothes to wear throughout the year. Before we even head out for the day, she makes sure to let me know that she would like to go to Justice, the perfect clothing store for tween girls with serious style! I don't have a problem allowing her to choose where to go for her clothes because I want her to find shirts, pants, dresses, and other items that keep her comfortable and make her feel confident. Justice does just that!
Five Must-Have Clothes and Accessories From Justice For Back To School
If you want your child to feel confident, comfortable, and stylish, a trip to Justice is in order. The store made specifically for preteen girls carries a massive selection of leggings, denim jeans, dresses, and great accessories for the school year. Check out these must-have items to get while you're there!
Remember when you were younger, and you liked tie-dye? Well, it's making a comeback. I see bright and bold tie-dye colors everywhere. Tweens and teens seem to love it, making these cozy leggings an excellent choice. They're affordable, stretchy, comfortable, and stylish! What more could a girl ask for in a pair of paints?
Patterned Short Sleeve Graphic Tees
These shirts are so cute and comfortable. They come in different colors with unique designs on them. Best of all, your child can pair them with leggings, denim jeans, shorts, or even sweatpants. I let my daughter grab a few of these because they go with all kinds of outfits and are great to wear when she wants to feel comfortable and relaxed while looking her best.
These dresses are lightweight, breathable, and comfortable. They come in different colors, too! They're easy to pair with various accessories and shoes, including sandals, clogs, or sneakers. These dresses aren't too long or too short, making them the perfect length. If you're worried about the dress rising at recess, you can easily have your daughter wear a pair of flexible shorts underneath.
Who doesn't love a good pair of jeans? They're casual, stylish, and look great with different tops, including blouses, graphic tees, cardigans, and more. In addition, these jeans are trend-proof and come in different colors and styles, making them an excellent choice for your child to wear to school.
Don't forget the perfect accessory for school – a cute backpack! Justice has bags in various colors and designs for girls of all ages. So whether she likes glitter, flowers, and even rainbow colors, there are some great options on the site. The right backpack will offer plenty of space for her books, lunch, and water bottle while looking great with her outfit each day.
Shop and Save at Justice
If you plan on taking your daughter to go school shopping in the next few weeks, check out what Justice has to offer. The website features tons of stylish, trending clothes and accessories for tweens.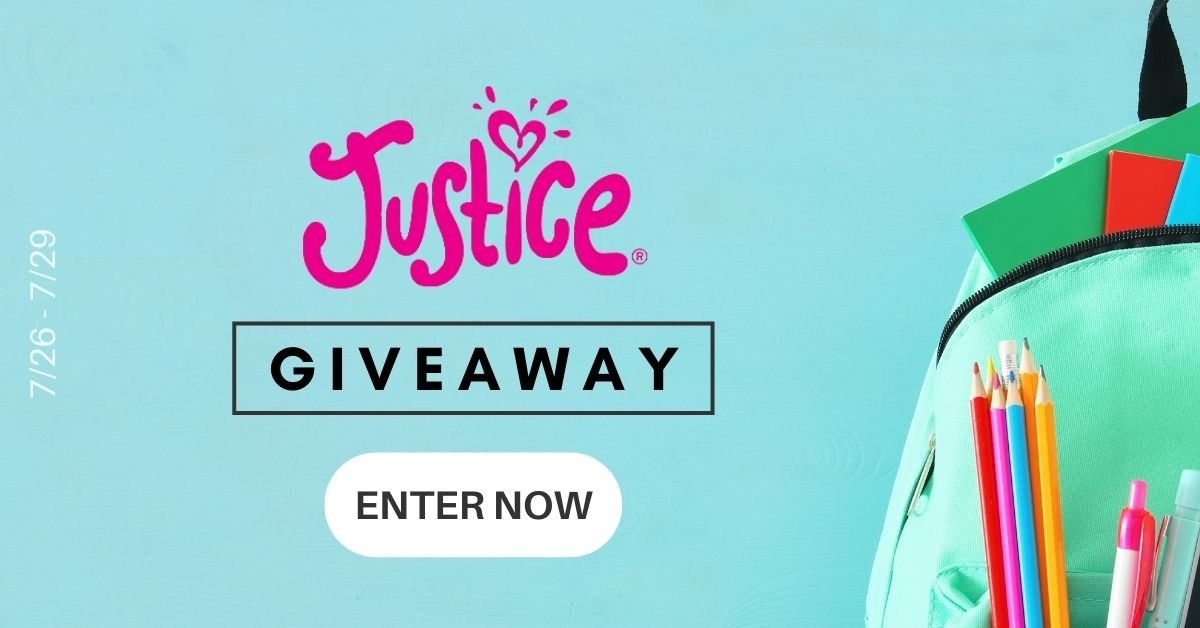 I'd also recommend entering Savings.com's #BTSwithJustice virtual gift card giveaway for the chance to get a gift card that you can use to order clothes and accessories online! All you have to do to enter is head to the website and enter your email address. A total of 5 winners will be selected in a lottery-style drawing for $100 gift cards. It's so simple and worth a try!