This post may contain affiliate or referral links. Read more about this in our disclosure policy.
Halloween is one of my very favorite times of the year. Of course, as an adult is has nothing to do with candy (ok it only has a little to do with candy). The thing that gets me excited about Halloween is the wonderful fall air, all the pumpkin goodies, and the fun opportunity to become something other than you! Even as an adult I love dressing up, after having kids it became, even more, fun. The best part is you get to help your kids REALLY become their favorite character. Dressing up as a family is a wonderful way to bond. Not to mention you can win a few family Halloween costume contests.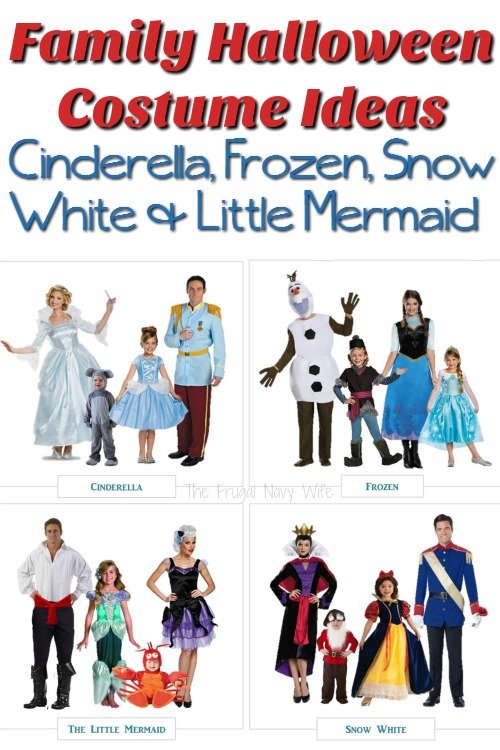 Disney Family Halloween Costume Ideas – Cinderella, Frozen, Snow White & Little Mermaid
Halloween parties are so much more fun when you get to do it together. The added bonus is, it is easy to find a missing member when in a group when everyone is coordinated; I have lost my husband on more than one occasion.
It is super easy to get family Halloween costumes. All of these are available on Amazon. Make sure to use some of my 30 Hacks to Save With Your Amazon Prime Membership to save money on your costumes. Of course free is always best! You can use my 45 places to get free amazon gift cards to earn these costumes for free. Make sure to read how I got 4 kids Halloween costumes for free last year.
Related: The Frugal Navy Wife Halloween Calendar
Plus it is a breeze to order on Amazon. Simply measure your family members and place your order. I like to order a few weeks early to be sure all sizes are available. Also, this gives time to make any returns if necessary. But with Amazon Prime Shipping you can get them in as little as 2 days free!
I love the fact that these are delivered right to me. Once our decision is made, I do not have to worry about all the "choices" when we go to the store to purchase the costume. I have gone to the store in the past with very committed kids, and once in the Halloween isle, we are there for 45 min or more. Another perk of ordering your costumes is the amazing selection. I have never had a costume I was unable to find.
If you worry about the door to door option for Trick-or-Treating, there are many safe options! We like to look into malls and nursing homes for when the weather is cold or rainy. I find the nursing homes are so rewarding. Elderly people are often lonely and really enjoy seeing kids dressed up.
If you REALLY want to see a reaction go in with your family costume. Its worth all the smiles. If the weather is good or your not afraid of cold check your local Zoo. Many will host a Trick-or-Treat at the Zoo, and often times called Boo at the Zoo. This is tons of fun for kids, animals, and candy what a better combination for everyone!
Ok on to the costumes!
Little Mermaid:
This
Snow White
is a great Disney Family Halloween Costume is perfect for bigger families because you can have up to 7 dwarfs!
Snow White:
Ok, I am a
Cinderella
girl, and I am really wondering how much it would take to talk my family into this costume!! If you have a bigger family, just add a few more mice to the costume. There were about 6 of them in the movie! You could also dress up as the ugly stepsisters,
Anastasia
and
Drusilla
.
Cinderella:
Last but not least we have
Frozen
which is my kid's favorites. For bigger families, you can add in Stephan and the snow monster and even Prince Hans.
Frozen: