Kid costumes can cost a ton of money. No Joke then you are out and in one night can see 5 kids with the SAME costume as you (true story!) As your kids grow and want unique costumes the best way to do so it by making them yourself!
If you have a lego lover in your house like I do then they will love this one! They can go as their favorite color lego! It's super simple and easy to make and as a bonus? CHEAP!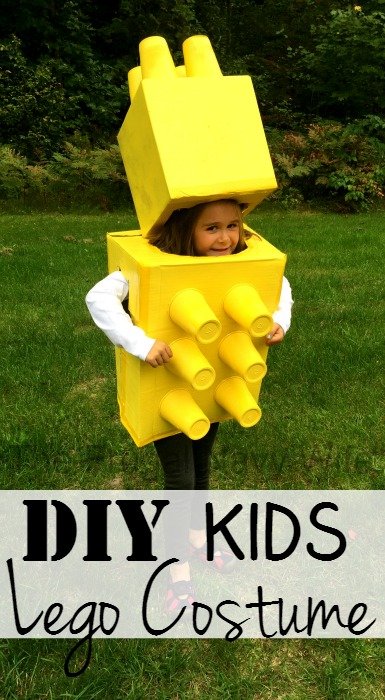 DIY Kids Lego Costume
Materials-
1 rectangle shapes cardboard box
1 square cardboard box
1-2 cans of spray paint (depending on the size)
1 package yellow solo cups
1 roll of yellow duct tape
Hot glue gun/hot glue
Scissors
Directions-
1. Start by peeling the excess tape and stickers (if any) off your boxes
2. Take your square box (hat box) and  using scissors cut a round hole in the bottom (look at the bottom of one of your kids hats as an example of how big or small to cut the hole)

3. Hot glue the rims of 4 solo cups onto the top of your hat box
4. On your larger box, cut a hole in the top about two to three times the size as your hat hole, you don't want this to be tight
5. On both sides of your larger box, cut large circles out for the arm holes, make sure you cut these towards the top sides of your box
5. With my larger rectangle box, I took off all the tape, it made my box flat which is okay since I'll be spray painting and taping it back up anyway
6. Now your boxes are ready to paint, lay them on the grass or on a pile of newspapers, spray with your yellow paint, then let dry

7. Once your cardboard is dry, hot glue the rims of 6 solo cups onto the front of your rectangle cardboard box
8. Spray paint a second coat onto the small and larger box, and let dry


9. Now that your boxes are dry, begin to tape back together with your yellow duct tape
10. Place yellow tape on all edges to prevent the cardboard rubbing onto the skin
11. Your project is complete!