This post may contain affiliate or referral links. Read more about this in our disclosure policy.
If you are planning some fun Dr. Seuss festivities, you will want to give this Hop on Pop Balloon Game a try. Children will love getting the chance to pop balloons by hopping on them, just like the characters did in Dr. Seuss Hop on Pop. Take a look below at how easy it is to create this game for your kids, as is it sure to become a favorite.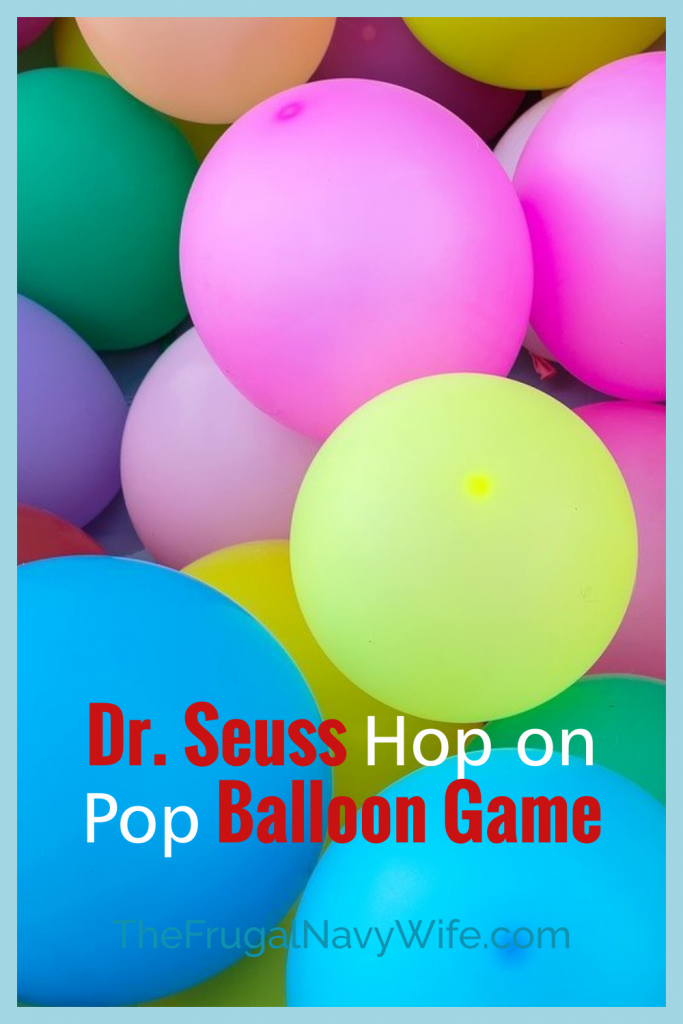 Dr. Seuss Hop on Pop Balloon Game
Supplies needed:
Balloons (I got a 100pk for blue and white for under $10)
Marker
Radio or CD player
It is not hard to find any of these above materials, and chances are you already have them around your home. That makes this game one that is fun and frugal, which is a win-win!
Related: 11 Dr Seuss Crafts and Activities
Directions:
1. Begin by blowing up balloons. You will want a generous amount, so the more the merrier.
2. Write a number on each balloon starting and one and working your way up. Allow the balloons some time to dry so the ink does not smear and get all over.
3. Place all of the balloons on the floor.
4. To play, each child picks a number (or can line up) and wait for their turn to hop on the balloon to pop it. The trick is, balloons must be popped in order. As the game goes on they will get all shuffled up, so finding the balloon that is numerically less will become a challenge!
5. Turn on the music and let the kids go to town! They should try to pop the balloon by hopping on it only, NO HANDS!
Related: Dr. Seuss Green Eggs and Ham Game
Kids will have a ball trying to hop on the balloons to pop them. Encourage them to work as a team and cheer for each other as they try to find the balloon that is next and get it popped. They are sure to want to play this game over and over!
Gather your supplies and give this Dr Seuss Hop on Pop Balloon Game a try!