This post may contain affiliate or referral links. Read more about this in our disclosure policy.
As moms, we support our kids 110% so when they go and join the Navy we are proud, scared, but proud. We want to show it off and tell everyone! That's why these Navy Mom gifts are perfect they allow her to tell everyone about her kids. This is just one of our many on our Ultimate List of the Best Gift Guides.
21 Navy Mom Gifts She Will LOVE!
Let's dig in and show those Navy moms some love!
Navy Mom Bracelet – What better way to show your appreciation than with a unique US Navy Mom bracelet. She can show off her pride in her children. What mom doesn't love that?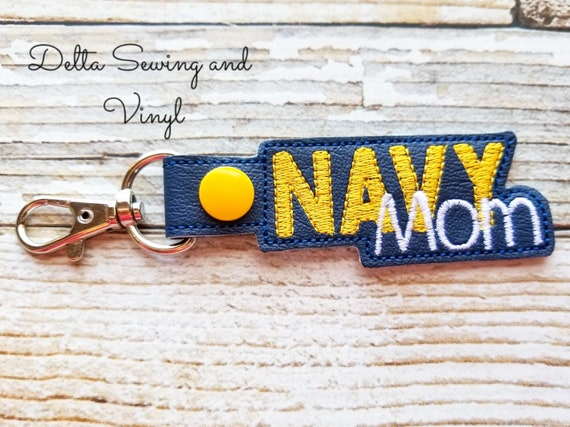 Navy Mom Keychain – Another way for mom to show off her pride in her kids. Plus the clip making it was to hook to her purse so she doesn't lose them.
Navy Mom Heart Bracelet – Featuring a braided chain design with a decorative lobster claw heart clasp, our Navy Mom silver bracelets make unforgettable gifts for women.
Verizon Phone Service – Why Verizon? Because they have an amazing Verizon Salutes program designed for the military and they make it even easier to video call your loved ones. Being able to see and not just talk to your kids means everything.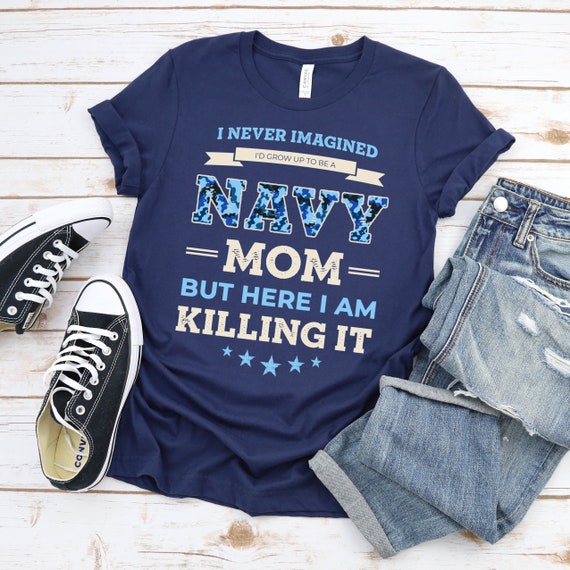 Shirts for Sailor Moms – Show mom you love her support and you love her with this shirt that lets everyone know she is killing it.
Navy Mom Window Decal – I love putting window decals on my car. Showing up who and what I love. If your mom is the same she will love this one.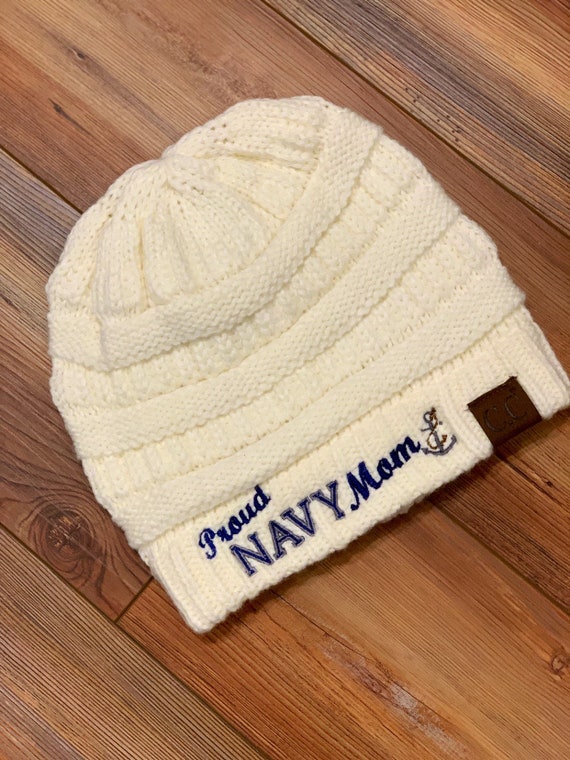 CC Knitted Beanie – This one is in cream with Proud Navy Mom anchor design embroidered directly on the brim.
Proud Navy Mom Shirt – If you're looking for a birthday, coming home gift for mom, proud US army mom, proud navy mommy, parents, and friends – here is a great one! This Proud Army Military Mother T-Shirt is perfect for any US Navy mom!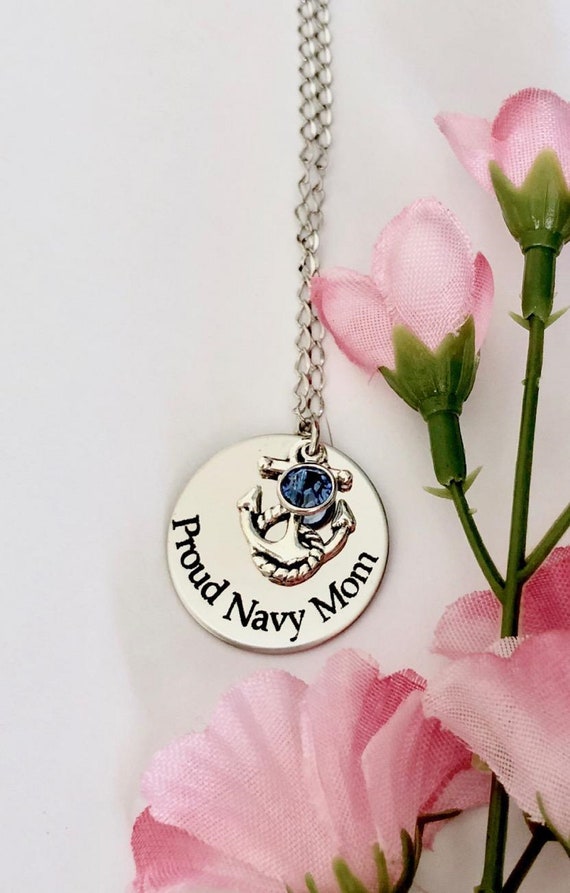 Proud Navy Mom Necklace – Custom proud navy mom engraved necklace. Great for moms to show off their pride with fancier clothes!
Navy Mon License Plate Frame – Fits 6″ x 12″ license plates. It comes with pre-drilled holes. The durable chrome-plated frame is decorated with two full-color inserts. It comes with pre-drilled holes on top for mounting on your vehicle.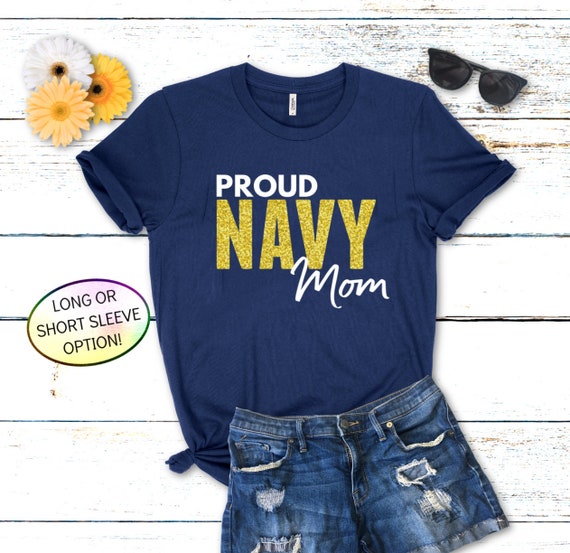 Navy Mom Shirt – Whether it's Boot Camp PIR, reuniting with your Sailor, or the day-to-day Navy Mom life! You can't go wrong with a good Navy Mom shirt!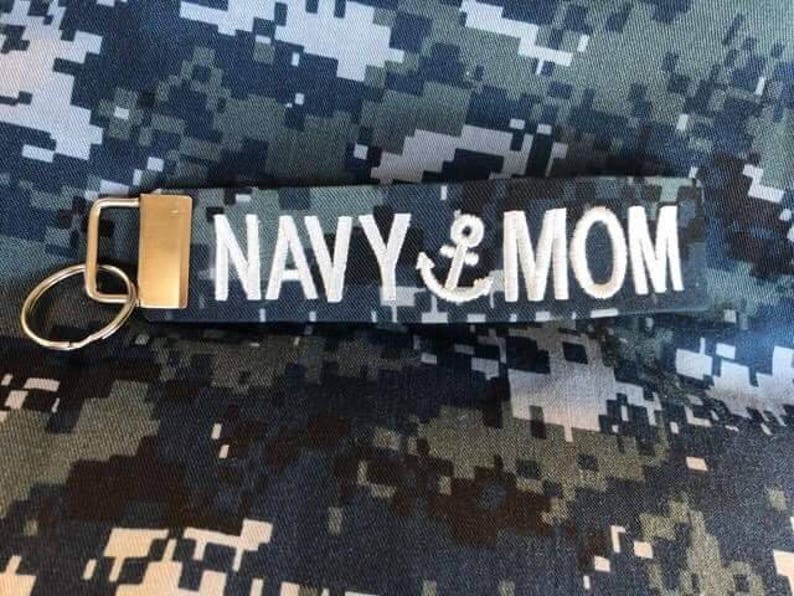 Navy Mom Key Chain – Handmade from actually military material. These are their blue digital uniforms that replaces their utilities about 10 years ago.
Combat Boots Coffee Mug – Moms run on coffee so start the day off with a reminder of how much you love her.
Anchor Keychain – This is a great way to show off Navy support. Perfect if she has a husband and a son in the Navy or a child and another relative.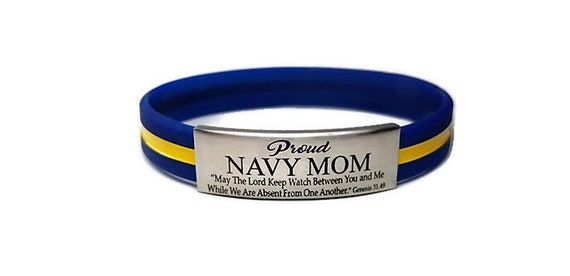 Proud Navy Mom – (or any relationship) is Laser Engraved on stainless steel. The durable silicone wristband comes in 4 exclusive colors and 3 sizes.
Military Style Hooded Pull-over sweatshirt – Proud Navy Moms everywhere will love to show their support in this military-styled Hooded sweatshirt with a feminine design.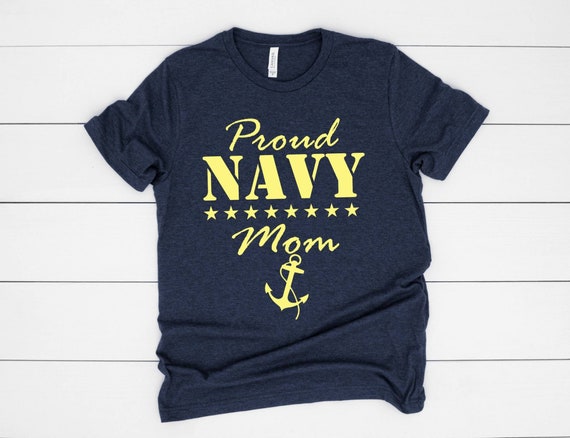 Proud Navy Mom T-shirt – This is one of my favorite T-shirts on the list. It's super comfy.
Military Mom Super Power Sign – This will make you smile every time you look at it and will make a wonderful gift for friends and family. Military moms have strength all their own.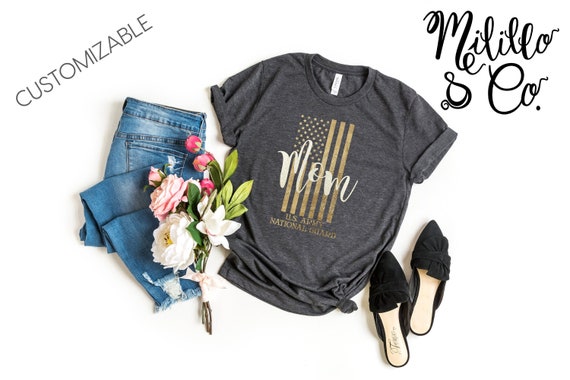 Military Mom Flag Shirt – This shirt is customizable for any branch of service. This flag has become popular among the military community.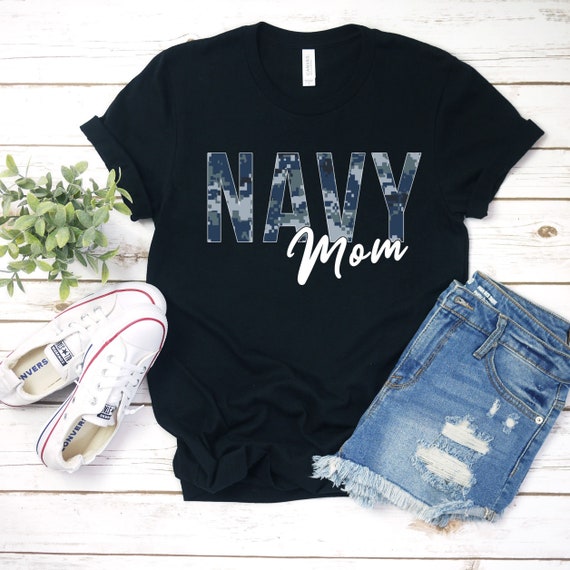 Navy Mom Shirt – Using the same Digi pattern as their uniforms with this navy mom shirt.
Navy Mom Heroes Decal – 'Most people don't meet their Heroes, I raised mine' window decal.
What is your favorite Navy Mom gift? Let us know in the comments below