Fall is coming and that means one of my favorite things, easy pumpkin recipes! I love visiting pumpkin patches, and using pumpkin in our fall decor but best of all I love using them in my cooking each fall.
Check out the great pumpkin recipes below.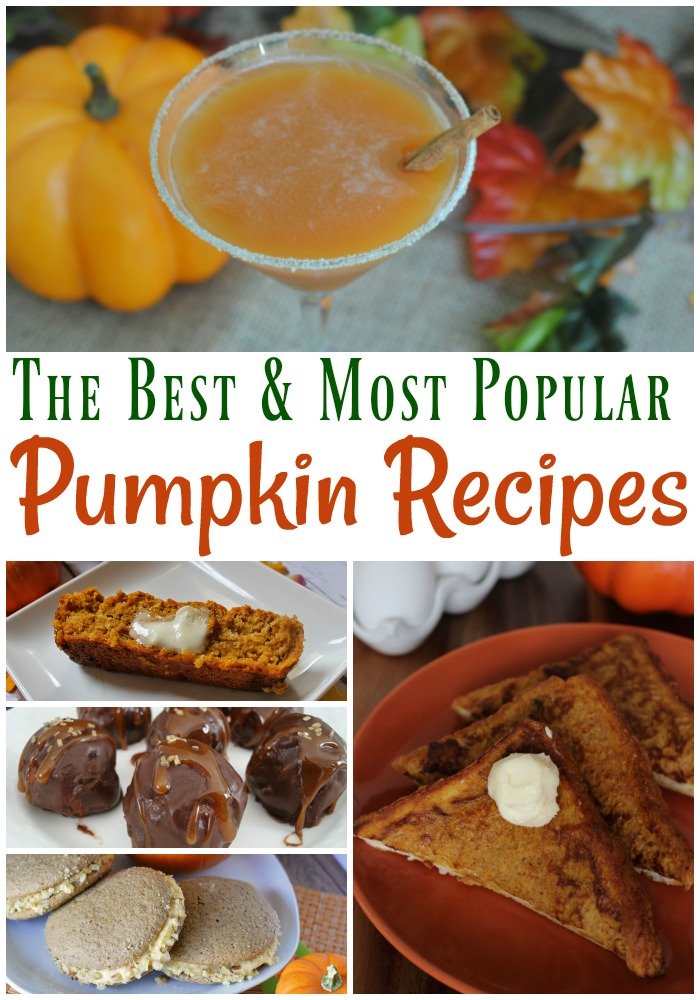 The Best Easy Pumpkin Recipes Perfect for Any Time of Year!
I won't lie I don't keep these recipes under lock and key until fall, we use them all year around! See our favorite ones below!
Pumpkin Breakfast Recipes
Every Sunday we do a family breakfast. The rest of the week is pretty busy so we do grab and go breakfasts like pop tarts, cereal, and granola bars. But on Sunday's we have a family breakfast. During the fall these pumpkin breakfast recipes are some of our favorite.
Pumpkin Pie Scones with Apple Butter
10 Perfectly Pumpkin Breakfast Recipes
25 Easy Pumpkin Recipes for Breakfast
Pumpkin Drinks
Yes, pumpkin drinks are a real thing and they are even better then the summer time drinks we are leaving behind!
Copycat Starbucks Pumpkin Spice Frappuccino
Pumpkin Desserts
Now we are talking about my favorite things in fall! Pumpkin desserts, YUM! I mean come on pumpkin whoopie pies how can you say no?
Pumpkin Spice Recipe – How to Make Pumpkin Whoopie Pies Recipe
Pumpkin Spice Cake Balls Recipe with a Caramel Sauce Drizzle
Pumpkin Roll With Cream Cheese Filling Recipe
Other Pumpkin Recipes
Here are a few more pumpkin recipes to try out. The pumpkin beer bread is a new favorite of ours!
Pumpkin Crafts
Want to get even more into the fall spirit? Here are some great pumpkin crafts to do with the kids or for yourself!
Wine Cork Projects – Easy Wine Cork Pumpkin Craft
Pumpkin Decorations & Pumpkin Painting – How to Paint a Pumpkin
DIY Mercury Pumpkin Decor with Looking Glass Spray Paint
Over 700 Free Pumpkin Carving Stencils From Disney to Kate Middleton