I'm sure I all would have to write in this post is that I have 4 kids and this is their favorite food. Any parent would understand. See my kids will eat almost anything we make for dinner but once a week I try to make something I know they like. So what makes that list? At the top is mac n cheese, then pizza, chicken nuggets, pancakes, and spaghetti.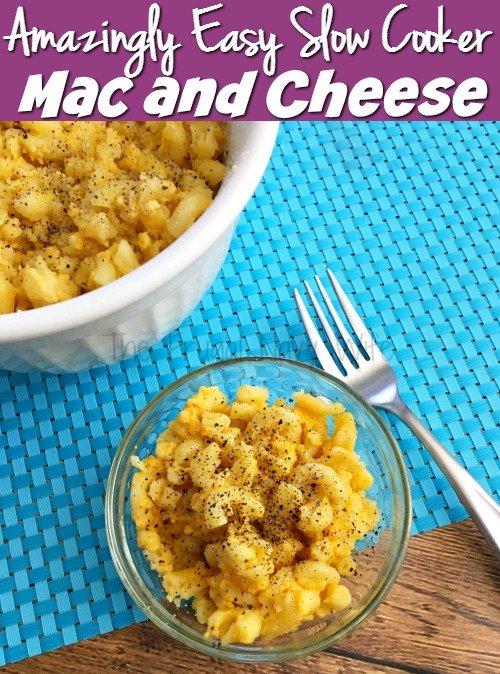 Amazingly Easy Slow Cooker Mac and Cheese
Oh, and let me mention my kids will eat the box mac n cheese, but they prefer I make homemade. So I used to make my dad's baked mac n cheese recipe and they loved it. I love it and then grandpa let it slip that there were onions in the mac and cheese. See I diced them up so fine they never know because they were in the sauce and I was happy that I was sneaking in some veggies. So the next time I made it the kids watched me like a hawk. Yeah, thanks, grandpa!
So I went on the hunt for a new recipe. I tried being very blunt about the veggies and making Broccoli Mac and Cheese. Parents I'm sure you know how that turned out! My kids picked around the broccoli. Surprisingly one of my children loved it and I did too.
This slow cooker mac and cheese was my next try and it has stuck. No veggies in the base of it but as I can I tend to add in shredded carrots or zucchini. Try it out and let me know what you think!
Ingredients
2-8oz blocks of sharp cheddar cheese
1-11oz can evaporated milk
3 cups 2% or whole milk
Salt and pepper to taste
2 eggs- well beaten
1/2 stick butter
8 oz box of half cooked macaroni and Cheese
Directions
1. Cook your macaroni noodles about halfway through
2. In the bottom of your slow cooker, add your milk, evaporated milk, eggs, cheese, salt and pepper, and half stick of butter and mix

3. Add your half cooked noodles and mix
4. Cook on high for 3.5 hours
5. Serve with a little fresh ground pepper on top and enjoy!