This post may contain affiliate or referral links. Read more about this in our disclosure policy.
With the Holidays coming up. Many of us are continuing the Elf tradition, and some of us are starting the tradition. Either way, we are always looking for new ideas to keep things fun and interesting! Our family elf is called Mater. Yes, after the Cars Movie, Mater. This is his 7th year with us and he seems to have gotten into plenty of trouble since then! The kids have gotten in trouble too by touching him. Let me share How to Restore Your Elves Magic when the Elf Lost His Magic!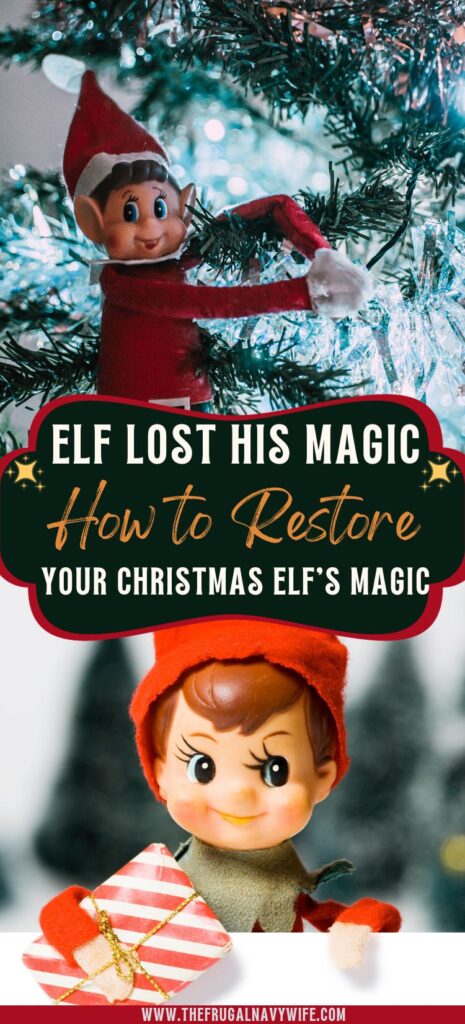 Today I thought it would be important to talk about what to do if a child touches the Elf and causes it to lose his magic. This very situation happened just the other day in our house. I knew right away he would have to write a letter to Santa. So we set to work on having my son copy the letter I wrote for him.
Related: Elf on the Shelf Ideas: Elf Makes a Friend
Then I went on a hunt for a checklist and couldn't find one I liked. So I made this one and you can currently get it for free. I like that motivates my kids to clean their rooms because that is a daily struggle in our house!
You can convert your child's letter to an email and send it to Santa. There are also some fun games and activities on that site as well.
My plan is to have the Elf show up the next day all bandaged up and on 'bed rest' with a note from Santa!
I'd love to hear some of the great ways your elf has visited you!!
Why can't kids touch their Elf?
The Elf is a special toy that helps Santa know if kids are being naughty or nice. If kids touch ELF, he might not be able to report back to Santa, and then the kids won't get any presents on Christmas!
Related: Elf on the Shelf Ideas: Elf Takes A Midnight Ride!
How do I get my elf's magic back?
First, you need to find your magical elf. This may take some time, but it's worth it! Once you've found your elf, you need to make a pledge to him/her that you will always be truthful. Elves are very honest creatures and they need people in their lives who can also be truthful.
How does an elf lose its magic?
After making your pledge, you need to follow the elf's rules. Elves are very particular about following the right rules and if you don't obey them, your magic will disappear.
Related: Elf on the Shelf Ideas: Snack Break
Do elves lose their magic if adults touch them?
When the elf is touched by an adult, it's like they are getting a hug from Santa himself. This makes the elf very happy and helps him or her to report back to Santa about all of the good things that are happening in your house while you're asleep at night.
Check out our huge list of Elf on the Shelf Ideas!!
Elf Recovery Certificate
Elf Recovery Certificate, instant downloadable PDF. The perfect way to show your elfs magic has been restored and give your child a reminder from Santa himself, to not touch their elf again! Simply print it out, it's as easy as that!
What have you done when your Elf Lost His Magic and you needed to restore the Elf Magic?