This post may contain affiliate or referral links. Read more about this in our disclosure policy.
Now that I'm a mom of four kids, I don't want to take everyone into the grocery store. I'm finding that I save money by not going into the store. You may think this is crazy, but when you bring four kids and sometimes a husband into the store, you start to pick up stuff that wasn't even on your list. Here are tips on how to save on groceries without going to the grocery store. My secret is grocery pick-up.
How to Save on Groceries Without Going in the Grocery Store
Walmart is one of my favorites
When I first started looking at grocery pickups offered by stores, Walmart was one of the first ones I tried. I loved being able to shop and not have to wait in their lines. If you have ever waited in line at Walmart, you know exactly what I'm talking about. I can now go onto their website, order my groceries, and then go pick them up. It's simple and quick and that's exactly what I need in a grocery pick-up service.
Meijer is a close second for grocery pickup
I know everyone might not have grocery pickup, but Meijer is a favorite for many. When we were visiting some friends in the Midwest, I was able to check out Meijer curbside pickup for groceries and it was commendable. Fast, friendly, and they chose great products for me.
Related: 100 Tips for Living on $30k a Year or Less
Kroger offers ClickList, you can order your groceries online
If you shop at Kroger, you're going to love that you can order your groceries online. You simply sign in and start shopping. As you shop online, you can choose from over 40,000 products (wow, that's a lot). You then reserve a spot and pick up your order when it's ready. You will also still get your gas rewards as well as ClickList only coupon offers which turn out to be free items at times.
Harris Teeter also offers grocery pickup
If you live in an area that has Harris Teeter, you are probably excited to hear of their grocery pickup option. They make ordering the groceries super simple! Just like any other store, you order online and then pick up when done. It really is that simple.
Believe it or not, most stores are offering grocery pickup. Some of the drug stores, like CVS, are also really close to offering this service. Call ahead or even search online to see if the grocery store near you offers this. Some perks of grocery store pickup include:
Saving time because you don't have to go into the store.

Saving money because you can pick out exactly what you want.

You can save your sanity because you won't lose it at the store with all your kids!

Most of the time, grocery pickup is free!
Related: 14 Ways to Build An Emergency Fund Without Pulling From Your Budget
Instacart delivers groceries right to your door
Using the Instacart app is a great idea if you want to shop for essentials without overspending. When visiting your favorite stores, it's easy to grab items you don't need. These items might catch your eye, but they will also increase your final total when you get to the checkout lane. You can avoid this problem by downloading the convenient Instacart app.
When using Instacart, check out different stores in your area. The list of stores partnered with the app varies from one area to the next. However, you may notice grocery stores, pet stores, and even big-box stores included on the list after adding your address to your account.

You can click on the store you would like to get groceries from and begin browsing. If you do not see something you want, you can type it in the search feature.

Instacart shows you the product and the price, allowing you to add what you need to your cart.
Someone will do the shopping for you and bring it to you within a reasonable timeframe. You can even choose when you would like to have it delivered to you. Grocery delivery is the ultimate way to save on groceries but it also saves you from using your car!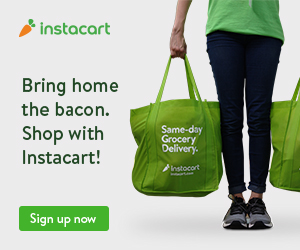 You can inquire about becoming a personal shopper for InstaCart as well and take it on as a side hustle.
Shipt offers delivery in, at times, as little as an hour
Like Instacart, Shipt is another app you can download to have groceries delivered to your front door. If you do not want to go into the store because you do not want to overspend, this app is a great one to have on your phone.
You will find different stores available in your area through the Shipt app, including Target. Shipt has offered a neat program with Target to provide free delivery for those who subscribe to the service.
If you would usually shop at Target for groceries, you may want to take advantage of what Shipt has to offer.
When using the app, it's possible to get your groceries delivered within an hour. Of course, that will depend on the demand, weather conditions, and other factors. You can expect to get your order when you need it, which is the great thing about using this app to get your groceries. Pick a date and time for delivery and wait for your personal shopper to drop off your goods!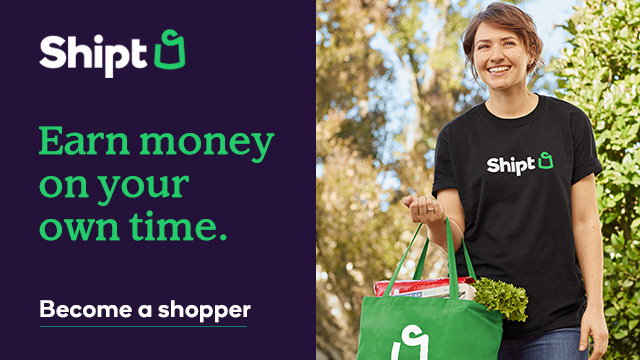 Become a personal shopper with Shipt and earn a little extra cash as well.
DoorDash has partnered with some grocery stores
You might already have DoorDash downloaded when ordering takeout. Did you know that DoorDash partnered with some grocery stores to provide items to customers? Although it's not available for everyone, you can type in your location to see if any grocery stores offer this service via DoorDash in your area. If so, you can add your items to the cart as you normally would and receive your groceries in no time. It is yet another way to avoid the grocery store while still getting what you need.
It's true that you can save on groceries by not going to the grocery store. If you were wondering how it's possible, the goal is to use pickup or delivery services to avoid spending time in the store. Whether you decide to pick your groceries up after someone has shopped for them or have them delivered, you can easily start saving money. Because many delivery services are now available for those making grocery purchases, you have plenty of options. You can compare the cost of each service to determine which one you think is best. You might even want to use one of the subscription services to save on delivery fees.