This post may contain affiliate or referral links. Read more about this in our disclosure policy.
When it comes to reselling items on places like Amazon and eBay, you need items to resell. I wanted to share some of the top places to find items to resell. You can make money by reselling, but you need to have a good inventory on hand first. Here are my favorite Places to Find Items to Resell.
Top 6 Places to Find Items to Resell
Finding items and reselling them is retail arbitrage. There are many places to resell, Amazon, Etsy, eBay, Facebook being the most popular.
This is a great way to make some extra money just make sure you pay attention to what you buy an item for and what you sell it for you want to always make money!
Related: Thrift Store Finds Worth Money You Don't Want to Pass Up
Your own home
One of the best ways to find items to resell is in your own house. If you're like me and have a ton of people under your roof, you're going to come across items to resell.
Related: 12 Mind-Blowing Tips on How to Make Money at Flea Markets
Estate Sales
These are sales of everything in a house, normally when a family member passes away and their family is cleaning out the home. They sell everything from clothes to art, and furniture to the silverware.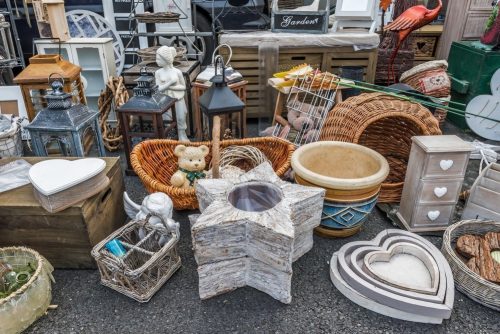 Garage sales
If you live in an area that has garage sales, you are going to hit the jackpot. You can shop till you drop at all the different area garage sales.
You probably won't believe what you will find. People get rid of crazy things and those items could help you gain a profit.
Related: How to Save Money at the Flea Market
Facebook garage sale groups
When I start looking for places to resell items, I always look on Facebook. I love seeing what other families are getting rid of. You can always get clothing and smaller items for a decent price and then resell for a profit.
I am a part of a million and one Facebook garage sale groups. I set alerts for certain items and I get friends and family to help find things I'm looking for!
Thrift stores
I know I mentioned Goodwill, but there are tons of other options for thrift stores as well. Most towns have some sort of thrift store that you can shop at.
I love visiting thrift stores when we are traveling. It's amazing what some thrift stores have that others don't. The key to finding items to resell is to know
Flea markets
One of my favorite places to find items to resell are flea markets. If you're unfamiliar with flea markets, they are huge gatherings of people who are selling "stuff." Sometimes the items are in bulk and other times it's like a big garage sale.
Finding items to resell is about being fast and smart. Knowing which items are worth reselling and which items are not as important. I have been doing this for a while, so it comes easier to me than most people. What are your favorite Places to Find Items to Resell?