I want to share with you one of mu mom ace in the hole secrets. This easy dinner recipe of slow cooker meatballs. This recipe has so many uses that aren't just dinner. I keep a bag of the froen meatballs in my freezer and the ingredients in my pantry. This is the perfect appitizer for un expected guest. It's agreat item to bring to a potluck or get together but most of all it's a great dinner.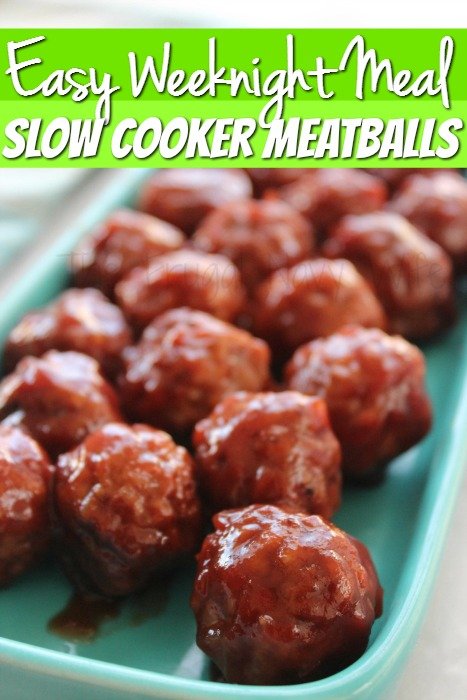 Easy Dinner Recipes – Slow Cooker Meatballs
This recipe is one of many reasons I LOVE my slow cooker and couldnt imagine my kitchen (even in the RV) with out it! The most baisc thing you can make with this recipe is meatball sliders. Get the Hawaiian Rolls and one meatball fit on it and bam cute meatball sandwhiches. You can also make meatball subs but getting your favorite sub bread and adding some mozzarella cheese on top and tasting them sandwhich in the oven until the cheese is melted.
You can also make some egg noodles and serve the meatballs over a plate of noodles. The same way this are great served on rice instead of noodles.

You only need 4 easy ingredients and I keep them in my pantry anyway. I always keep a bag of these meatballs in my freezer just for an easy meal or if I need an unplanned potluck recipe for a get-together.
Ingredients
24 oz Chili Sauce
1 1/2 cup Grape Jelly
2 tbsp Worcestershire Sauce
3 lb frozen Meatballs
Ok y'all ready? This recipe is super easy. This recipe invented the mix it and forget it.
Directions
Add all ingredients except meatballs to slow cooker. That's the chili sauce, the grape jelly and the Worcestershire sauce. Then stir until mixed.

Add meatballs and stir to coat them well.

Cook on low for 8 hours or high for 4 hours.
That's it it's a great recipe to toss together in the morning before work and by the time you get home it will be ready!