This post may contain affiliate or referral links. Read more about this in our disclosure policy.
If you're unsure what to buy for that special man in your life, such as your husband, boyfriend, or father, consider a subscription box. It's an excellent way to select something that he can enjoy and use. When you choose a subscription box, you can have unique items delivered to your loved one each month for as long as you choose. Some people may select a three-month subscription, while others prefer to have these items delivered even longer. You can't go wrong with one of the many convenient subscription boxes for men! Need more ideas? Check out our gift guide hub.
Subscription Boxes For Men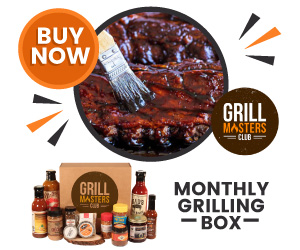 Grill Masters Club
Can you go wrong with gifting the guy in your life with the Grill Masters Club? I think not. Each month, your guy will get a box sent right to their house in honor of grilling.
Carnivore Club
Most men are huge carnivores. So, if you'd like to gift the ultimate subscription box for the guy in your life, make sure you check out this Carnivore Club box. Literal meat will be sent to your house.
Related: Budget-Friendly Gifts for Your Guy this Christmas
BBQ Box
I don't know about you, but we are big BBQ people in this house. When I think of a subscription box for guys that my own husband would like, I think of the BBQ Box.
SaloonBox
Think about gifting the guy in your life with the Saloon Box. What's included? It's a simple craft cocktail box that is delivered right to your home. This is the perfect gift for the guy in your life.
Beef Jerky.com
Where are all of the jerky lovers? You can actually send jerky right to the guy in your life's house. I don't think they will complain about it and this BeefJerky.com subscription box has TONS of options for jerky.
Jerky Subscription
Hey, jerky never gets old, which is why you should consider this Jerky Subscription box for men. Each month, they get to experience the luxury of jerky and that is amazing!
LOL Jerky
Another Beef Jerky option is this LOLJerky box. Another option for the beef jerky lover in your life. If you aren't sure of which subscription box to check out, give this one a try!
Snack Crate
When you're looking for the right gift for the average snacker, Snack Crate is an excellent choice. The gift recipients will receive a unique snacking experience. Each month, hand-selected snacks from places across the country and worldwide get shipped out and sent to the doorstep. It's the perfect way to show that special guy that you're thinking of him with an impressive subscription box that lets him taste popular treats from different places. These unique snacks aren't readily available in the United States, making them even more exciting to try for the first time. Boxes may include chips, chocolates, sugary sweets, and so much more.
Watch Gang
Is the man in your life a watch lover? Does he always seem to have a watch on his wrist? If so, there is no better subscription box for him than the Watch Gang. It's voted the #1 watch club in the United States. New watches ship to customers on the 16th of each month. That special man can look forward to a beautiful new timepiece to wear on his wrist with some of his favorite clothes. There are plenty of great watches available that get sent out each month for that element of surprise. The company offering this convenient subscription box works with different watchmakers to regularly provide the best selection possible.
Related: Foodie Subscription Boxes
Craft Beer Club
If he enjoys beer and doesn't mind tasting different types from various breweries across the country, consider signing him up for the Craft Beer Club. As a member of the club, he can receive top-quality craft beers delivered to his home. Orders process within a day or two. Once processed, the recipient can expect to get a box full of beer within 15 business days or less! Each box contains 12 beers that are worth tasting. In addition, the Craft Beer Club sends out unique options each month, so there is always something new and flavorful to look forward to in the box.
Loot Crate
If you have a geeky guy at home, you can expect him to love Loot Crate! It's the best box for geeks, consisting of pop culture items, games, and so much more. Crates are available for all kinds of people, including those who love video games, cartoon characters, and anime. Boxes will contain different items each month, including comic books, graphic t-shirts, figurines, mini puzzles, and so much more. So when you want to get that special guy something that will bring out his inner child, this subscription box is the best choice.
Mystery Tackle Box
There is no better subscription box out there than the Mystery Tackle Box when he's a fishing enthusiast. It's a top-rated box consisting of neat fishing gear. Different packages are available, including the Regular, Pro, and Elite options. You can select a species and choose a plan before ensuring that the box contains exceptional items that he can put to good use on his fishing trips. You can always switch things up with different fish species for future boxes if need be.
Give the Gift of a Neat Subscription Box
When you're trying to find that perfect gift for a man in your life, whether it's your husband, dad, or someone else, you have options. Check out some of these unique subscription boxes that are great for guys of all ages. You can find options for those who enjoy snacks, fishing, or even wearing watches. The possibilities are endless. Best of all, you get to decide how many times you'd like to have these boxes delivered to that special man. You can do a one-time box or multiple boxes that get shipped around the same time each month.