This post may contain affiliate or referral links. Read more about this in our disclosure policy.
Think Cheap wedding venues aren't fancy or romantic? The venue is going to be one of the most expensive parts of your wedding, but it can be cost-effective if you choose the right space.
When you start looking at venues remember that holding your reception and ceremony in the same spot will save you lots of money. If you want or need different locations you can still save money but you'll need to get even more creative.
Save Money on the Wedding Venue – 17 Cheap Wedding Venue Ideas
We had our wedding on the beach in Virginia Beach. We were able to find a hotel on the beach that wasn't right in the center of the action, it was down the strip tucked out of the way.
So, we got married outside on the beach and the moved inside to a reception room. They even threw in a free room on the water for us to stay in that night!
Since we were married on a Wednesday instead of a weekend we got the space for half off!
Just think outside the box when it comes to your venue.
Related: 14 Things You Dont Think of When Wedding Planning
I always suggest knowing how many people you plan to have at the wedding this will start to dictate where you can have it. Then think of places available via family and friends.
Does your Uncle own a huge ranch you can have a rustic outdoor wedding at? Or does your brother own a restaurant?
Don't be afraid to ask them I bet they would be thrilled to let you use their space and if it's a business allow them to take pictures and use your wedding to try to bring in other weddings!
Now here are 17 other ideas where you can snag a cheap wedding venue!
Small churches – If you want to have a church wedding, but churches in your area are too expensive, try a church in a smaller town nearby. A lot of the times, smaller churches are overlooked for events so their fees are quite a lot less than the bigger city churches.
Your backyard – It doesn't get much cheaper than your own backyard. If your yard is large enough, simply hold your wedding there. If not, see if you have a friend or family member who will let you use their yard.
City Parks – Your local city park is a great place to have your wedding if you're looking for a cheap, outdoor event. Most cities and towns don't charge to hold an event there, but be aware that places like shelter houses and gazebos may be first come first serve.
To be sure, call City Hall or your local Parks Department.
Related: 11 Ways to Save Money on a Wedding Photographer
County Courthouse – Courthouse weddings get a lot of flack, but if you're only having a small ceremony, they can be great. For around $100, you can have a small, intimate ceremony at the courthouse then take the reception back to your house.
Your attendees can still wear wedding gear and you can wear a gown if you'd like. No one will think anything just because it's a smaller ceremony.
Mayors Office – Like the courthouse, the Mayor's Office can be a great cheap wedding venue. Usually, if you hold your ceremony at City Hall, you're actually married by the mayor.
Again, keep your ceremony small and intimate and your day will still be beautiful.
Rent an Airbnb – Airbnb is good for more than a vacation home. You can rent event locations with Airbnb too and a lot of the time, they're much cheaper through Airbnb than they would be if you booked direct.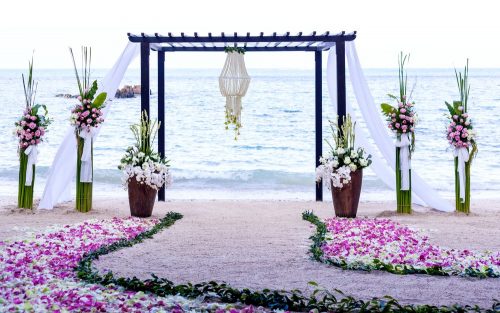 Your local beach – Do you have a beach nearby? Beach weddings can be super cheap! Call the beach's visitor center to make sure that they don't have an event fee and plan your wedding!
If they do have an event fee, it will likely be less than $400 since beaches are known to be cheap wedding venues. Just make sure that you clean up your mess and leave the beach cleaner than you found it.
Your street/neighborhood – Another cheap wedding venue is right outside of your home! Assuming you don't live on the busiest street in the city, call the city and apply for a permit to block off a portion of your street.
Block it off and set up the wedding ceremony on one end of the blockade and have a block party reception on the other end!
Related: 21 Ways to Save Money on Your Wedding Cake
Museums – A lot of the time, museums have room to hold events like weddings. The event fees may be more than your city park, but they can still make for a cheap wedding venue.
Usually, you can rent a museum as a wedding venue for around $500 which is far cheaper than a lot of commercial venues.
Local Aquariums – Like museums, aquariums can also be rented for cheaper than other venues. Some aquariums will charge you a couple hundred dollars to rent a room or area.
If the other venues in your area are charging several hundred, this would be a far better idea for a cheap wedding venue.
Local Zoos – How would you like to get married surrounded by your favorite animals? You can if you get married at your local zoo! Event fees can range from $50 to $500 depending on your location, but that is considerably cheaper than most other wedding venues.
Call the zoo's office to see if they allow events and if so, what their fees are and what is included in that cost.
Related: Top 5 Ways to Get Cheap Wedding Flowers (And Your Guests Will Never Know!)
On a Boat – Are you a beach baby? If so and you're looking for a cheap wedding venue, why not rent a boat as your wedding location? Airbnb can be a great place to rent them, but you should also compare prices on Craigslist and Facebook groups.
You'll want to make sure that you charter a boat that is big enough to hold your entire wedding party and guests unless you can come up with other arrangements.
School stadiums or gyms – School stadiums take a lot of money to build, so sometimes, the school district is willing to rent them out for events. Call your local school board to see if any near you are willing to do so.
If so, you may be able to rent the football field or something of that nature for a couple hundred dollars instead of paying thousands for a more expensive venue.
State or National Parks – State or National parks are also a fantastic place to have an outdoor wedding. Most will have an event fee up to a few hundred dollars that you'll have to pay to reserve.
I have also heard of State Parks that don't. Call the Park Ranger office or visitor center to get all the information that you'll need.
Related: 14 Ways to Save Money on Wedding Invites
Theaters – Theaters – no, not the movie type – are often beautiful and grand. They're also sometimes a cheap wedding venue. Most theaters rent their buildings out for $3-$500 for events.
If you have an old theater building nearby, call them to see what their event rates are.
Community Gardens –Does your city or town have a community garden? Why not have your wedding there? Most won't charge much at all to rent the garden provided that you agree not to damage the plants.
You may actually be able to rent it free if you and your new spouse agree to spend a couple of weekends working in the garden to help.
Bed and Breakfasts – Bed and Breakfasts are also a great cheap wedding venue. Again, Airbnb can help you find one to rent for the night or weekend without blowing your budget.
You could even have your guests stay at the B&B before and after if you find a deal cheap enough!
Get Cashback – Remember when you shop online for wedding items (and even in store!) use Ebates for cashback. They even have special wedding cashback offers!