This post may contain affiliate or referral links. Read more about this in our disclosure policy.
It happens to the best of us; we think we're okay on groceries, but for some reason, we suddenly find ourselves low on food. Maybe we didn't menu plan correctly or maybe we simply ate more than we intended. Whatever the reason, if you're short on groceries and short on money, it can be a very stressful and scary time for a family. Learning to stretch your groceries is something that all Moms (or Dads) should learn how to do. It is easiest if you imagine that you only have $100 left until payday.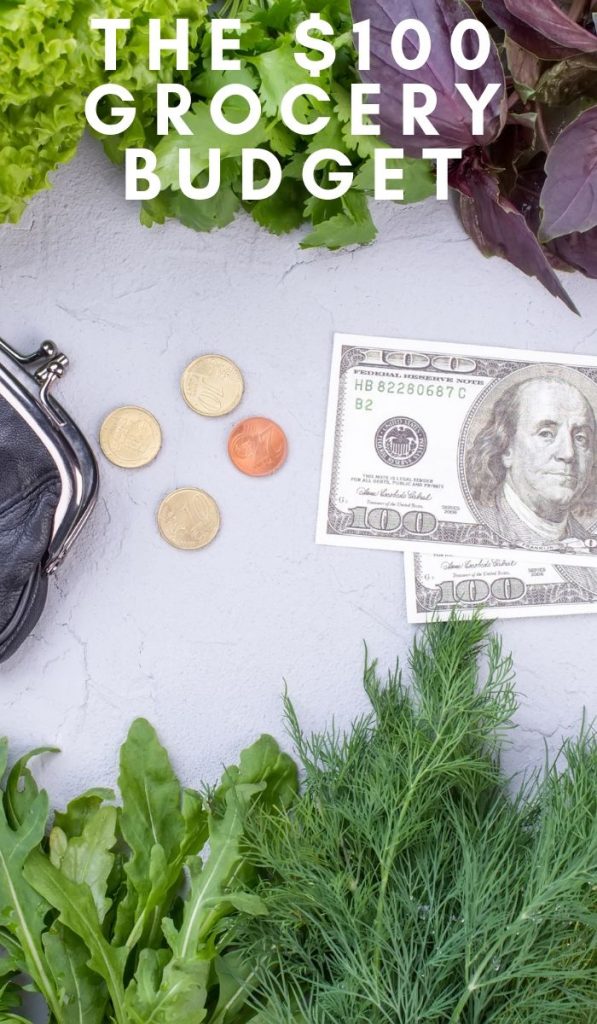 $100 Until Payday: The $100 Grocery Budget (or Less!)
By imagining that you only have $100 left, it forces you to think about budget-friendly meals that you can feed your family and how to take what you have in your fridge, freezer, and pantry and make it into as many meals as you can. Honestly, it is a smart idea to do this anyhow if you're trying to save on groceries.
By stretching and making do with what you have, you keep yourself from spending money that you don't need to. Once you get used to it, you are able to do things that you wouldn't imagine like feed a family of 6 on $200 each month.
If you do take your $100 and go grocery shopping, you'll want to watch what you're spending. It is very easy to spend more at the store than you intend to. If you put the tips in this post to use and you watch what you're doing, you should be able to make $100 stretch for at least two weeks of meals.
Do an emergency menu plan
If you're short on groceries, your regular menu plan probably won't work so you'll want to do a new emergency menu plan. You'll want to go through your fridge, freezer, and pantry to check what you have on hand.
Once you know what you have on hand, you will know exactly what meals you are able to make without having to shop. After that is done, you'll be able to make out a grocery list.
Do simple
This isn't the time to be planning a four-course meal. Instead, opt for simple recipes that call for a few ingredients. The more complicated the recipe, the more expensive it is to fix.
By going cheap, I've learned how to do things like make 16 meals for $25.00 and my family never notices that we're eating "cheap."
Related: 10 Cheap Recipes You Can Make Out of Leftover Produce
Shop with a list
Speaking of shopping with a grocery list, don't make the mistake of shopping without one if you're on a tight grocery budget. When you shop without a grocery list, you open yourself up to making impulse purchases which can do significant damage to your grocery budget.
You'll also want to make sure that the only items on your grocery list are items that you absolutely need for your emergency menu plan.
Buy budget-friendly ingredients
Some food ingredients are cheaper than others and should be a part of your emergency menu plan. Items such as rice, pasta, beans, bell peppers, and ground turkey are all much cheaper to buy than other ingredients. If you make your menu plan with these ingredients in mind, you'll be able to stretch your $100 even more than you thought.
Related: 10 Cheap Meals Made Out of Bread
Use coupons
Before you shop, make sure to double check if there are any coupons available for the items on your grocery list. Be careful not to add things to your list simply because there is a coupon available. You're shopping with an emergency grocery budget; not your regular one so there is no room for extras.
Stretch meat as far as possible
Certain meals that have meat in them taste just as good with half the amount of meat in them. Pasta dishes and soups are just two of these types of meals. Instead of using the full amount of meat the recipe calls for, half it and no one will know the difference.
Another way to do this is to get as many meals out of the meat as possible For instance, whole chickens can usually provide for 3-4 meals if you make casseroles that use shredded or diced chicken and you make homemade chicken broth out of the bones.
Related: Why Buy One Get One Free Promos are Killing Your Budget
Use meal fillers
Rice, pasta, and beans are all $1.00 per pound or cheaper. They are all also super filling. If you're having a casserole or soup for dinner, add a bit of one of these meal fillers to make your meal seem larger without spending extra on more expensive ingredients.
Your family will still be fed a nutritious meal and they won't feel neglected or hungry. Chances are they won't even notice it.
Plan a meatless meal or two
When you make out your emergency menu plan, try to include a meatless meal or two. Meatless meals are usually much cheaper than recipes that include meat.
Lasagna can be made without meat, bell peppers can be filled with seasoned rice for a meal and even ramen noodles can be doctored up like a full meal for your family. Just skip the high sodium seasoning packet.
Related: 40 Breakfast for Dinner Ideas
Eat cheaper breakfasts
When you're trying to eat on a budget, it is easy to forget about breakfast, but you need to include it and lunches in your emergency menu plan.
It should be done wisely though. Meals like oatmeal, scrambled eggs and toast, peanut butter toast and orange juice and pancakes are all filling, but cost very little to make.
Cereals, frozen breakfast items, and recipes that include bacon or sausage are generally higher costing. We have some Easy Breakfast Recipes we lobe making for dinner.
Use cash rebate apps
Cash rebate apps are a must for anyone who is looking to save on groceries. When you sign up for an Ibotta account and when you sign up for a Checkout 51 account, you are able to choose rebates that they offer.
Once you purchase the products needed for the rebate, scan the barcode and upload your receipt, you get that rebate in cash! If you're on a tight grocery budget already, having these rebates can help stretch your money a bit more.
Like coupons though, be careful not to get a rebate simply because it is available.
Related: 10 Save Money on Gas Tips + 4 Gas Rebate Apps!
Earn free gift cards
One of my favorite "secret" ways to stretch my grocery budget is to use gift cards to pay instead of cash since I earn free gift cards from doing surveys and other tasks online. If you take the time to earn free Amazon gift cards, you will have them there when you need them to stretch your grocery budget.