This post may contain affiliate or referral links. Read more about this in our disclosure policy.
Are you ready to explore the delicious possibilities of air fryer cooking? Air fryers are a great way to make tasty, low-fat meals without sacrificing flavor. Try some of these amazing air fryer recipes and be amazed by how quickly and easily you can whip up an incredible meal with minimal effort!
Air Fryer Apron
A personalized air fryer apron can make for a great gift for the foodie in your life. With a comfortable fit and durable washable material, these personalized aprons are designed to withstand the grease and heat of cooking with an air fryer. The stylish design is sure to be a hit in the kitchen, making it easy to show off your culinary creations. Choose from a variety of colors and styles to create a unique look that will help make any meal something special.
What Cannot be cooked in Airfryer?
It is difficult to cook liquids or semi-liquids in an air fryer. Foods like pasta and oatmeal that have a liquid consistency cannot be cooked in the air fryer. Additionally, thick sauces or gravies should not be poured into an air fryer as they can create a mess and may burn quickly due to their high sugar content.
What is the easiest thing to make in the air fryer?
Fried foods like french fries, chicken wings, and other similar snacks are the easiest things to make in an air fryer. All you need to do is add your desired ingredients to the air fryer basket, set the cooking time and temperature, and you will have delicious fried food in no time! Additionally, most air fryers come with a variety of pre-programmed settings that can cook complicated items like fish or steak with minimal effort.
Can you use aluminum foil in an air fryer?
Yes, you can use aluminum foil in an air fryer. However, it is important to be careful when doing so because aluminum foil may cause a fire if it comes in contact with the heating element of the air fryer. To ensure safety, wrap food items in aluminum foil loosely rather than tightly so that heat can circulate around the food and cook it evenly. Additionally, make sure to check on your food regularly as aluminum foil can cause food to cook more quickly than usual.
Air Fryer Cover
Air fryer covers are a must-have kitchen accessory. Available in several sizes and designs, they protect your air fryer from dust, spills, and scratches. Made with soft yet durable materials, these covers help preserve your air fryer's good looks while keeping it clean and working at its best. Choose from vibrant colors and trendy patterns to find the perfect cover for your appliance so you can keep it looking great for years to come.
Can you put glass in an air fryer?
You can put heat-resistant glass in an air fryer. Heat-resistant glass is specially designed to withstand high temperatures, so it is suitable for use in an air fryer. Make sure the type of heat-resistant glass you use is approved for ovens, as some types are only suitable for microwaves or dishwashers. Additionally, ensure your heat-resistant glass is properly sealed and does not have any chips or cracks before placing it in the air fryer.
Where should you not put an air fryer?
You should not put an air fryer on a stovetop, near a sink, or in any location where it can be potentially exposed to liquids. Additionally, the air fryer should never be placed close to combustible materials such as paper towels, curtains, or wooden furniture. Make sure that the area where you place your air fryer is well-ventilated and has plenty of space around it for proper airflow.
Breakfast Recipes
Air Fryer Snowman Poptarts – Snowman Poptarts are the perfect way to start the day! These air-fried pastries are filled with delicious jam and made into adorable snowmen.
Appetizers and Dinner Recipes
Air Fryer Mozzarella Cheese Sticks – Add something new to your family's dinner table tonight. Air Fryer Cheese Sticks are where it's at and you'll find they are delicious.
Air Fryer Tajin Chicken Wings Recipe – Spice up your evening with air fryer Tajin chicken wings! These juicy wings are marinated in classic Tajin flavor and cooked to perfection.
Air Fryer Polynesian Drumsticks – These tantalizing Polynesian Drumsticks are not only incredibly easy to make but they're made in the air fryer for easier cleanup.
Air Fryer Cream Cheese Everything Sprials – These Air Fryer Cream Cheese Everything Spirals are a delectable bite-sized appetizer that combines creamy filling with a savory exterior.
Desserts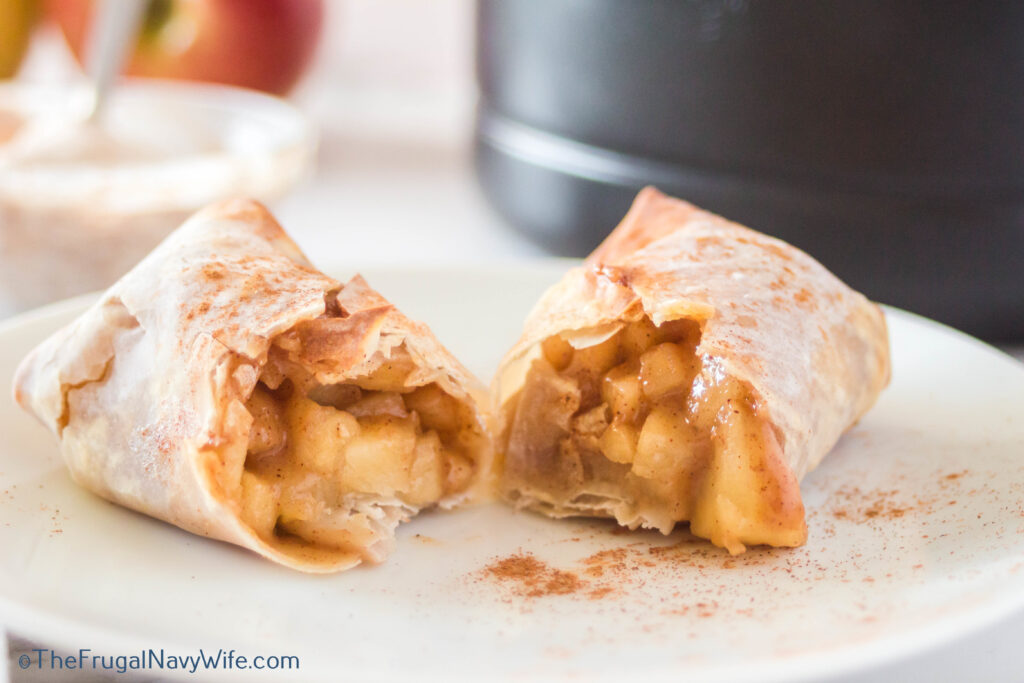 Air Fryer Apple Pie Eggrolls Recipe – Air Fryer Apple Pie Eggrolls is the super simple healthier version of our popular recipe cutting cut out the oil they were deep-fried in!
Air fryers are a great way to make quick and delicious meals. They are easy to use and offer a variety of recipes that can please even the pickiest eaters. From appetizers to desserts, air fryer recipes give you the freedom to experiment with new flavor combinations. With the right recipe and a bit of practice, you can create amazing dishes in your air fryer.