This post may contain affiliate or referral links. Read more about this in our disclosure policy.
Many of us won't be able to make it to Mardi Gras this year, though I'd go just for the warm weather!! Well, you can enjoy Mardi Gras at home and feel like you are in New Orleans with this Sausage and Ham Easy Jambalaya Recipe perfect for Mari Gras!
Should jambalaya be thick or soupy?
Jambalaya is one of those dishes that can be served in a variety of different ways. It all depends on your personal preference and the ingredients you use. Generally speaking, authentic jambalaya should be savory and semi-thick with a hint of moisture from its ingredients.
Related: Mardi Gras Party Ideas + Free Mardi Gras Printable Decor!
What is jambalaya sauce made of?
Jambalaya sauce is a tantalizing blend of seasonings made to flavor and enhances the classic Cajun dish. This sauce is comprised of a variety of aromatic ingredients, including garlic, onion, bell peppers, paprika, cayenne pepper, thyme, oregano, and parsley. While these are some of the more traditional spices found in jambalaya sauce recipes, one is free to experiment with different seasonings and herbs in order to create their own unique version.
What kind of sausage is best for this recipe?
As stated in the directions, smoked sausage or andouille works best, however, you can also use hot links if you want to give your Jambalaya Recipe a little extra kick.
How long will the leftovers last in the fridge?
As long as you are using pre-cooked sausage that is being reheated in the Jambalaya, this will last about a week in the fridge. Be sure to store it in an airtight container. You can reheat it in the microwave or in a pan with a splash of chicken broth to help rehydrate it.
Food Storage Options
I am out of fresh garlic but have garlic powder in my pantry. Can I use that instead?
Of course! If you are using garlic powder instead of freshly minced garlic, you will want to use 1/8 teaspoon of powder for every ½ teaspoon you would normally use. For this recipe, it comes out to about ½ teaspoon of garlic powder in total.
How can I tell when my veggies are soft enough, I want to make sure they cook all the way through but don't want to sauté them.
A good rule of thumb for this is to try smashing one of the veggies with your spatula. If it is cooked all the way through it shouldn't break, but will instead smoosh down.
Related: Purple Mardi Gras Cupcakes Recipe
Utensils needed to make this Easy Jambalaya Recipe
Measuring Cups and Spoons – Looking for an easier way to measure ingredients? These measuring cups and spoons are a must-have in any kitchen. They make it quick and easy to get the perfect measurements.
Frying Pan – This frying pan is perfect for those who want the convenience of non-stick cooking without having to worry about damaging the pan. The stone-derived coating is scratch resistant and durable, making it a great choice for busy cooks.
Spatula – This spatula is specially designed with a flexible silicone blade that makes turning and stirring foods a breeze. The stainless-steel handle has an ergonomic design to provide comfort and allows for easy maneuvering, even when doing detailed tasks. Plus, the tongue-shaped head allows you to scrape every last bit of food from your pan or bowl, so nothing goes to waste.
Ingredients for Sausage and Ham Easy Jambalaya Recipe
Celery
Garlic
Onion
Green Bell Pepper
Diced Ham
Smoked Sausage or Andouille
Related: Sheet Pan Sausage and Vegetables Recipe
How to make Sausage and Ham Jambalaya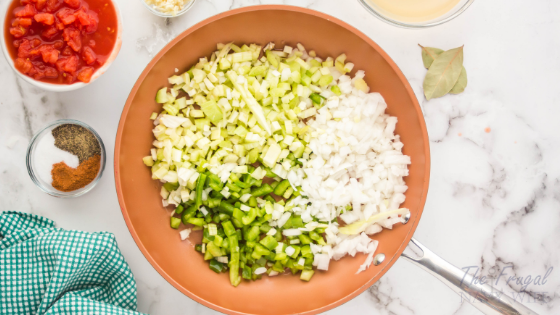 Heat olive oil in a large saucepan over medium heat.
Add onion, celery, and bell pepper.
Cook until tender.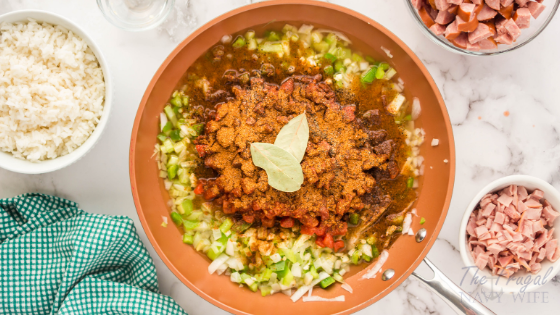 Stir in garlic, tomatoes, chicken broth, and spices.
Simmer for 20 minutes.
Related: One-Pot Chicken with Rice and Swiss Chard
Remove bay leaves, add in the meat and rice, and heat through.
Yield: 4
Sausage and Ham Easy Jambalaya
Bring Mardi Gras right into your kitchen with this Sausage and Ham Easy Jambalaya Recipe your family will love!
Ingredients
3 ribs celery, finely chopped
3 cloves of garlic, minced
1 large onion, chopped
1 green bell pepper, chopped
2 TBS olive oil
1 can petite diced tomatoes, undrained
1 cup chicken broth
2 TBS Cajun seasoning
1 TBS salt
1 tsp black pepper
2 bay leaves
1 lb diced ham
1 lb smoked sausage or andouille
6 cups cooked white rice
Instructions
Heat olive oil in a large saucepan over medium heat.
Add onion, celery, and bell pepper.
Cook until tender.
Stir in garlic, tomatoes, chicken broth, and spices.
Simmer for 20 minutes.
Remove bay leaves, add in the meat and rice, and heat through.
Recommended Products
As an Amazon Associate and member of other affiliate programs, I earn from qualifying purchases.
And that's it! You now know how to make a delicious and easy jambalaya for your Mardi Gras celebration. Just remember to have fun with it and experiment with different ingredients until you find a combination that you love. If you want even more spice, feel free to add some extra cayenne pepper or hot sauce. And if you're feeding a large group, simply double or triple the recipe as needed. With this dish, it's impossible to go wrong. So what are you waiting for? Give it a try today!