Hard coffee cocktails are becoming a big trend. There are thousands of ways you can spike a coffee and make it delicious. We have put together a great list of go-to recipes for Hard Coffee Cocktails and know you will find one you absolutely love.
Hard Coffee Cocktails you MUST Try
Recently I was sent some samples of what appeared to be K-Cup pods for coffee but they were not your average pods. These were from Cask & Kettle out of Michigan and they were heavenly! These pods inspired me to put together this post of hard coffee cocktails.
Cask & Kettle specializes in coffee pods that contain vodka. They also have an apple cider pod. I tried them all and the Mint Patty one was my absolute fave. I posted about it on my IG here. You have got to give these a try. They would make an amazing gift for any occasion as well. Jump on their website and see what calls your name.
Here are 18 of the best hard coffee cocktails we found on the web for you to try:
Classic Irish Coffee – Irish Coffee is the perfect after-dinner drink to sip at any time of year!
Chai White Russian – Chai spice-infused cream puts a spin on this great classic White Russian cocktail.
Salted Caramel Espresso Martini – Salted caramel espresso martinis are a perfectly rich, sweet, and creamy vodka cocktail. This easy recipe for vodka, coffee, and Kahlua is the mixed drink that will be your new to die for alcohol indulgence.
Related: Easy Peach Cobbler Cinnamon Coffee Cake
The Raven Coffee Cocktail – This Raven-inspired coffee cocktail is a fall update on a classic Black Russian cocktail, with vanilla and cinnamon notes.
Hazelnut Espresso White Russian – Hazelnut Syrup + Chilled Espresso + Vodka+ Coffee Liqueur + Cream = Hazelnut Espresso White Russians. Cheers
Chocolate Colorado Bulldog – A favorite cocktail recipe is a spin on a classic dessert recipe, the Colorado Bulldog! It makes for the perfect post-dinner drink; creamy, sweet, and with just enough fizz to remind you of a Coke float.
Boozy Bourbon Iced Coffee Cocktail – If you like ending your meal with a specialty coffee, this Boozy Bourbon Iced Coffee Cocktail is dessert in a glass! This cold coffee cocktail contains bourbon, cold brew coffee, whipped cream, and drizzle topping.
Bailey's Iced Coffee with Ice Cream – This homemade iced coffee is the perfect sweet dessert drink. It is made with cold brew coffee, Irish cream liqueur, and pistachio ice cream. Celebrate the day with a delicious cup of Bailey's Iced Coffee with Ice Cream!
Cabot Trail Cafe Frappe – The Cabot Trail Cafe Frappe is made from pure Canadian maple syrup and blended with fresh cream. Cabot Trail Maple Cream brings the culture of Canada to life with a sweet, smooth taste.
Salted Caramel Coffee Cocktail – When the cold weather gets here, I often start reaching for coffee or tea later in the day to keep me warm, but sometimes you want to stay warm and have a bit of a treat – that's where this delicious Salted Caramel Coffee Cocktail comes in handy!
Cherry Bourbon Milkshake with Espresso – Creamy delicious Cherry Bourbon Milkshake with bold espresso, chocolate syrup, and whipped cream. Enjoy this luscious dessert cocktail all year-round and always with an extra cherry on top.
Related: 22 Uses For Coffee Grounds
Caipirinha Coffee Cocktail – This fun twist on the classic Brazilian Caipirinha cocktail combines coffee and alcohol. It will quickly become your new favorite brunch drink!
Bailey's Dalgona Coffee – This Baileys coffee drink is a real indulgent treat! Dalgona coffee is spiked with Baileys for a creamy ice-cold cocktail that is sure to perk you up. Easy and quick to make, this whipped coffee is delicious, fluffy, and easy to drink!
Spiked Eggnog Latte – This Spiked Eggnog Latte is a delicious twist on classic eggnog! Dark espresso draped with steamy, creamy eggnog with a hint of Baileys Irish cream creates a luscious and heavenly beverage, it will warm you from your head to your toes.
Café con Leche Martini – Bold espresso and three types of alcohol come together to create this bombshell of a cocktail.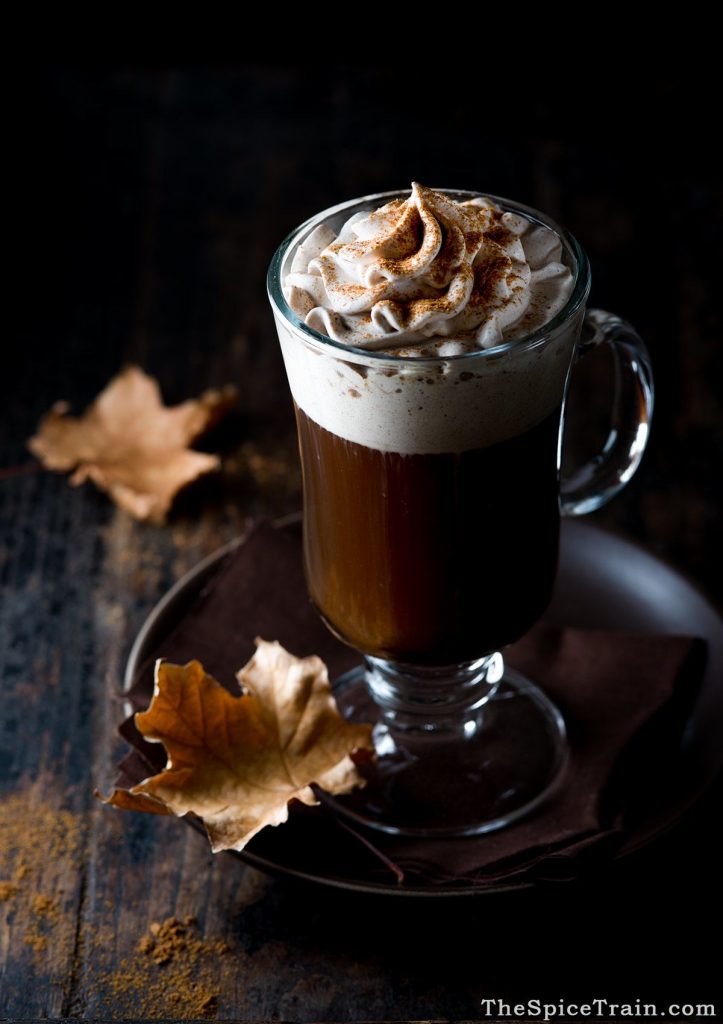 Spiced Irish Coffee – Irish Coffee with a spice twist. The blend (made with cinnamon, clove, ginger, allspice, nutmeg, and mace) is so versatile and delicious that it goes with almost anything, including Irish coffee.
Tipsy Peppermint Mocha Mudslide – A grown-up peppermint mocha that's smooth, refreshing, and oh-so-festive! This Tipsy Peppermint Mocha Cocktail is perfect to warm up on a cold winter day or be the hit at your next holiday party! Smooth peppermint and rich chocolate combine for a truly decadent treat!
Boozy Vietnamese Iced Coffee – Take the delicious sweet drink that is Vietnamese Iced Coffee and turn it into a boozy treat with some homemade coffee liqueur (or Kahlua.) Creamy and divine, it's the perfect way to have your coffee, cocktail, and dessert!
Related: 12 Fall Apple Drink Recipe Roundup
Have a spiked coffee recipe you swear by? Drop it below with a photo and we will add it to the list.