This post may contain affiliate or referral links. Read more about this in our disclosure policy.
We love celebrating our Patriotic holidays. There are a ton of ways to celebrate and food is always an option. We have gathered up a great list of Patriotic Dessert Recipes for you to enjoy for your next holiday celebration.
Patriotic Dessert Recipes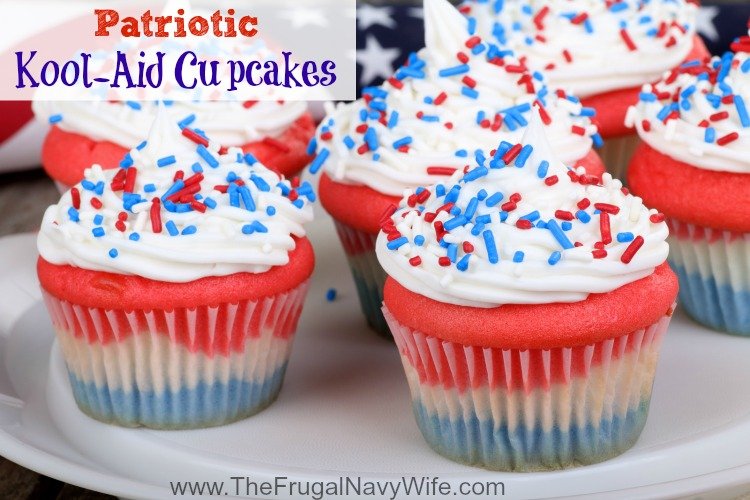 Patriotic Kool Aid Cupcakes – Simple and easy for the kids to make as a contribution for the celebration.
Patriotic Jello Shots-These patriotic Jello shots are ideal for a patriotic holiday celebration, such as Memorial Day or Independence Day. These fantastic Jello shots are just what your holiday celebration needs, whether you're packing a picnic, hosting a backyard BBQ, or want something special to take to festivities with family and friends!
Fireworks Blondies– Fireworks Blondies are a fun and easy-to-make treat to serve at your patriotic event. These delicious bars are also easy to transport. To make your patriotic dessert unique, add M&Ms, sprinkles, red, white, and blue jimmies, or stars – your choice!
Blueberry Puff Pastry Stars– These cute and easy Blueberry Puff Pastry Stars are perfect for the Fourth of July, Memorial Day, or just for a fun pastry treat! Fresh blueberries and a delicious cream cheese filling make these start irresistible.
My kids love these firecracker cupcakes. I love that my friends and family think I'm some cupcake master when I make these! Really they are super simple!
Patriotic Thumbprint Cookies– Festive thumbprint cookies are flavored with almonds with a cherry on top! Bake these Patriotic Thumbprint Cookies for your next party or barbeque.
No Bake Cheesecake– Beat the heat with red, white, and blue No-Bake Cheesecake For Two in a cup with fresh strawberries and blueberries.
Layered Jello Cake– This show-stopping festive layered Jell-O cake is the perfect side dish for a patriotic celebration! The red, white, and blue layers are bright and fun for a firecracker of a dessert on your table perfect for the 4th of July or Memorial Day.
Berry Brownie Pizza– Fruit and chocolate combine in a beautifully vibrant pizza that's perfect for any summer picnic or BBQ. A fudgy, chocolatey brownie base topped with sweet, fluffy cream cheese, whipped cream, and a colorful combination of fresh, juicy berries makes the perfect combination for a patriotic celebration.
Red White and Blue Zinger Cake– This Red White and Blue Zinger Cake is covered in shredded coconut and filled with marshmallow cream to make the BEST 4th of July dessert recipe!
Keto Berry Bundt Cake– Stay low carb with this red, white, and blueberry Keto Bundt Cake. This buttery vanilla gluten-free Bundt Cake is topped with sugar-free white chocolate and assorted berries.
Red White and Blue Chia Seed Pudding– This red, white and blue chia seed pudding is as refreshing and wholesome as it is delicious! Perfect for a tasty breakfast or light dessert.
Patriotic S'mores Dip– Turn classic S'mores into Red, White, and Blue S'mores dip! Chocolate, colored marshmallows, and graham crackers make up this easy and delicious dessert.
Mixed Berry Cast Iron Cobbler– Mixed Berry Cast Iron Cobbler deserves a spot at your next cookout with a homemade lattice crust and an assortment of fresh summer berries.
Eggless Swiss Roll– This Eggless Swiss Roll recipe is light, moist, and loaded with flavor. It's easy to make and tastes amazing. A must-have 4th of July/ Memorial Day dessert!
Yummiest Chocolate Cookies– Yummiest double chocolate cookies with red white and blue MnMs will be hit among all your guests this Memorial Day/ Independence Day
Berry Fruit Tart– Grain-free red, white, and blueberry tart with lemon curd filling.
Star Meringues– Star-spangled meringues filled with fresh berries and whipped cream.
Layered Fruit and Ice Cream– This Red White & Blue Layered Fruit & Ice Cream Treat is a cool tasty treat to serve at your 4th of July gathering. The recipe yields 10 small servings, perfect for a gathering of family and friends. It is also easy to double or triple if you are entertaining a larger crowd.
Mascarpone Cream Mousse Dessert– Don't know what to do with Mascarpone Cheese aside from Tiramisu? You've got to whip up this delightful Mascarpone Cream Mousse Dessert! It's a simple and yummy treat that's perfect for patriotic holiday celebrations!
Oreo Cream Cheese Truffles– These Oreo Cream Cheese Truffles are all dressed up for patriotic holidays like Memorial Day, Fourth of July, and Labor Day. These Oreo truffles are easy to make, and kids love making them!
Patriotic Tunnel Cake– This Patriotic Tunnel Cake is a quick and easy dessert for Memorial Day, 4th of July, Labor Day, or anytime! It's filled with fresh whipped cream, strawberries, and blueberries!
Vegan Ice Box Cake– A classic American dessert, icebox cake is light and refreshing with fresh blueberries, strawberries, and chilly whipped cream. Make it plant-based with vegan whipped cream and graham crackers.
Berry Tiramisu– This Berry Tiramisu is a unique way to show your patriotism while eating a tasty dessert.
Sweet and Savory Patriotic Bites– Sweet and Savory Patriotic Bites are the perfect treat to serve all summer long!
Red White and Blue Mini Cheesecakes– Looking for an easy 4th of July dessert? These fun red, white, and blue mini cheesecakes are simple, creamy, and perfect for a small crowd.
Berries and Cream Waffle Sandwiches– These red, white and blue mini waffle sandwiches are the perfect sweet treat everyone will love! Filled with berries and whipped cream, they are super easy to make.
Patriotic Frozen Yogurt Bark– This patriotic frozen berry bark is an easy summer dessert. It's made with simple ingredients like Greek yogurt, strawberries, blueberries, honey, and chocolate.
Funfetti Flag Cheeseball– This dessert cheese ball is the cutest way to add a little patriotic flair to your dessert display! It's perfect for dipping and spreading with an array of fruits, cookies, and crackers.
Easy Homemade Strawberry Shortcakes– Homemade Strawberry Shortcakes – Lightly sweetened biscuits are piled high with macerated strawberries and freshly whipped cream for a perfectly satisfying dessert.
Red White and Blue Cupcakes– These easy red white and blue cupcakes are unbelievably gourmet! With insanely affordable and uncomplicated ingredients, they are absolutely perfect as a 4th of July dessert or for a captain America birthday theme party!
Patriotic Meringue Cookies– Patriotic Meringue Cookies to celebrate Independence Day! This red, white, and blue dessert makes a festive addition to your 4th of July celebrations. Melt in-your-mouth cookies bursting with fun flavors!
Red White and Blue Oreo Balls– These red, white and blue Oreo Balls are the perfect snacks for parties and potlucks. Everyone loves these no-bake Oreo cake balls.
4th of July Poke Cake– This 4th of July Poke Cake is a festive addition to your Independence Day spread. It's easy to make and delicious.
Cheesecake Rice Krispie Treats– Crackly rice cereal combined with a smooth no-bake cheesecake makes these crunchy-creamy bars absolutely irresistible. Top with some raspberries and blueberries for a patriotic red, white and blue theme.
Fruit Pizza Cookies– It's easy to celebrate with mini fruit pizza cookies topped with cream cheese icing and fresh berries! These are great desserts for the kids to help with as well.
American Flag Fridge Cake– Super easy fridge cake that's delicious year-round but especially fun on the 4th of July!
Red White and Blue Chocolate Covered Pretzels– These Red, White, and Blue Pretzels are a delicious Patriotic dessert! So easy to make, and ready in 10 minutes
Frozen Mixed Berry Custard Pie– This easy frozen mixed berry custard pie is the perfect dessert to make this summer!
Patriotic Edible Cookie Dough– This Patriotic Edible Cookie Dough Recipe is simple to make and safe to eat! Perfect for those patriotic holidays like Memorial Day or the 4th of July.
Watermelon Pizza– This quick and easy watermelon pizza recipe with berries and cream cheese icing makes a perfect healthy summer dessert. Ready in 10 minutes.
Low Carb Berry Ricotta Dessert– Learn how to make low-carb ricotta dessert (keto berry dessert) in just 10 minutes. This easy keto ricotta dessert will become one of your new favorite ricotta cheese dessert recipes – no sugar needed!
Red White and Blue Trifle– This Red White And Blue Trifle is the perfect patriotic treat for your holiday celebration! This fun and festive no-bake dessert is just the thing for bringing to BBQs, potlucks, and picnics.
Red White and Blue Mini Pavlovas– Whip up these family-friendly, colorful Red White and Blue Mini Pavlovas as a fun dessert for the 4th Of July, Memorial Day, and over the summer with just 5 minutes of prep.
4th of July Sour Cream Sugar Cookies– Have a fun Memorial Day with these sour cream sugar cookies! It's the perfect cookie recipe for cutting into patriotic shapes with cookie cutters. And the cream cheese frosting is easy to dye red, white, and blue for fun decorating!
4th of July Salad– This 4th of July salad is an easy, fresh complement to any summer barbecue.
Red White and Blue Cheesecake Berry Cups– A colorful and patriotic dessert made with fresh berries and a smooth and creamy cheesecake mousse!
Pinwheel Patriotic Cupcakes– These fun cupcakes are super easy to make starting with your own cupcake recipe or even a box mix. Then, simply create the fun pinwheels as toppers. They are sure to be a hit!
Patriotic Flag Brownies– If you are looking for a super easy recipe for the upcoming holidays, then look no further than these Patriotic Flag Brownies! You really can't get any easier than these fun brownies and of course, everyone loves brownies!
Red White and Blue Whoopie Pies– A patriotic take on a classic dessert. These red, white and blue whoopie pies are sure to please!
Blueberry Strawberry Shortcake– Give this iconic summer dessert a patriotic twist with these blueberry-strawberry shortcakes! Featuring the flakiest shortcakes with a festive fruit topping, this red, white and blue sweet treat will be the hit of your summer holiday parties.
American Flag Cheesecake Biscuit Bombs– This patriotic pull-apart American Flag Cheesecake Biscuit Bomb is the perfect summer dessert for Memorial Day, Fourth of July, or Labor Day! It is super easy to make, fun, and absolutely delicious!
Triple Berry Cheesecake Fruit Salad– This triple berry cheesecake fruit salad is perfect for summer! Not only is this fruit salad absolutely delicious but it's also so easy to make. It's the perfect red, white, and blue dessert.
Beet Berry and Coconut Smoothie Popsicles– Refreshing Fruit and Veggie Smoothie Popsicles are the perfect way to cool down and celebrate with family!
Eton Mess– Eton Mess made with freshly made whipped cream, juicy berries and store-bought meringues is an impressive and easy no-bake dessert perfect to serve during spring and summer months.
Fruit Pizza– This easy Fruit Pizza recipe is made with a better than the bakery sugar cookie crust, covered in a delightfully sweet cream cheese frosting, and decorated with your favorite fruit – in just 10 minutes of hands-on time! It's always a crowd-pleaser.
Crown Royal Peach Red White and Blue Shots– These red, white, and blue layered shots are a fun and festive patriotic cocktail. Created with Blue Curacao, Peach Crown Royal and Half and Half for delicious peaches and cream flavor.
Frozen Yogurt Bark– Frozen yogurt bark topped with mixed berries and crushed pistachios – super easy, delicious, and a refreshing no-cook recipe that is perfect for breakfast, snack, or dessert!
Red White & Blue Chocolate Dipped Oreos are a simple and festive way to celebrate.