This post may contain affiliate or referral links. Read more about this in our disclosure policy.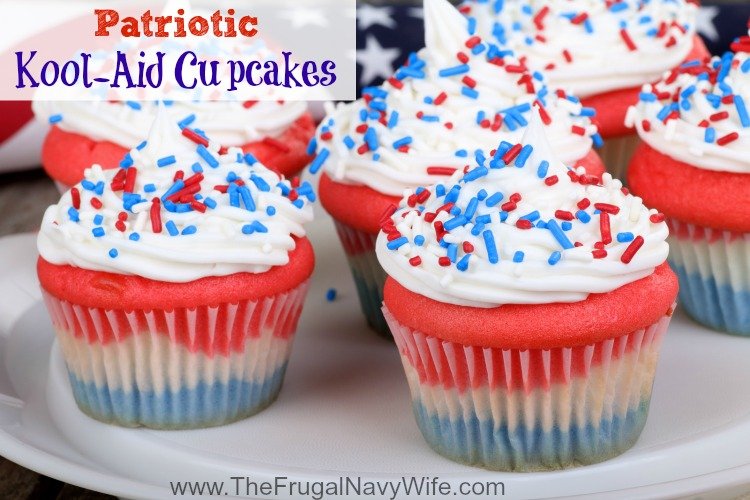 Patriotic Kool Aid Cupcakes
My kids love helping me in the kitchen. They especially love this recipe because they love Kool Aid and cupcakes why not put the 2 together. These Patriotic Kool Aid Cupcakes came to our family recipes box a few years back after I saw a layered cupcake at a BBQ. Loved the idea and was able to get the how to. Then I read online
Ingredients
1 Box of White Cake Mix Plus eggs and oil per box instructions
1 pack Strawberry or Cherry Kool Aid
1 pack Blue Raspberry Kool Aid
1 can of white icing of your choice
Red and Blue Sprinkles (we have found the star sprinkles and have used them ever since)
Instructions
Make the cake batter as instructed on the box then separate evenly into 3 bowls. Add ¼ Cherry or Strawberry to one and ¼ of a pack of the Blue Raspberry Kool-Aid to another. Leave the 3rd bowl white. Line a muffin pan with cupcake liners. Scoop a spoonful of red batter, then a spoonful of white batter and a spoonful of blue batter into cupcake liners (or in whatever order you would like My kids wanted red on top this time!). Bake as directed.
Ice cupcakes and sprinkle with red and blue sprinkles.