When the weather cools off my family's favorite drink to break out is hot chocolate. We have many different recipes but this Hershey Kiss Hot Chocolate Recipe is one of my favorite. It's rich and creamy and you just can't beat it!
Rich and Creamy Hershey Kiss Hot Chocolate Recipe
When we lived in Pennsylvania we were less than an hour away from Hershey so we used to go out that way a lot. They do a huge Christmas lights event. While heading out there we were told to grab some Hershey Kiss hot chocolate we thought ok but it's a little weird it's at a gas station right?
Well, those guys knew what they were talking about! It was the best hot chocolate I've had in my life. Rich and creamy and perfect. We made it a point to stop and get some every time we were in town.
Related: Copycat Starbucks Peppermint White Hot Chocolate Recipe
Now that we have moved I don't get my Hershey Kiss Hot Chocolate fix so I had to hunt down a recipe. I found one close and did a little tweaking and bam heaven. It as like angels came down to sing about Hershey Kiss hot chocolate.
Now I want to share my recipe with you. Trust me you will never go back to the borning stuff again! This may also be why I keep Hershey Kisses hidden in my pantry at all times. But I will neither confirm or deny that.
Related: Easy Pumpkin Spice Hot Chocolate
Also don't you just love the mug in the photo? It's the Pioneer Woman's Flea Market mug.
This recipe makes 4 servings.
Ingredients
30 Hershey's Kisses Milk Chocolate Candies, unwrapped
3 1/2 cups milk
1/2 cup heavy cream
3 tablespoons Hershey's Cocoa Powder + a little extra
1 teaspoon Vanilla Extract
Whipped Cream
Directions
Heat milk, cream, and Hershey's Cocoa Powder in a medium or large saucepan on medium-low heat, stirring to avoid burning.
You want the milk mixture to be hot, but not boiling.
Once the milk mixture is heated, stir in the Hershey's Kisses Milk Chocolate Candies and vanilla extract.
Continue stirring constantly until the Hershey's Kisses candies are completely melted.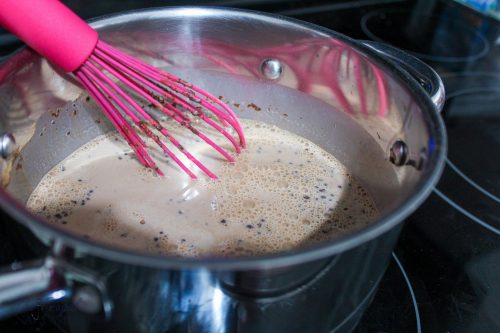 It's ok if there are small bits of the Hershey Kisses that to completely melt it makes the drink amazing!
serve in your favorite hot chocolate mug topped with Whipped Cream or marshmallows and a dusting of Hershey's Cocoa Powder.
Over the years friends have tried a few variations of this recipe and I want to share those ideas with you too.
-Cinnamon, add in 1/4 to 1/2 teaspoon ground cinnamon.
-Mint, add in 1/2 teaspoon mint extract OR 3 tablespoons crushed hard peppermint candy.
-Coffee, add in 1 to 2 tablespoons powdered instant coffee.