This post may contain affiliate or referral links. Read more about this in our disclosure policy.
Who says Halloween is just for kids? Here are some snacks and drink that are 100% 21 and up ONLY! This is one reason I LOVE Halloween. Check out these top 10 adult Halloween drinks and Halloween snacks.
Top 10 Adult Halloween Drinks and Halloween Snacks
Let's start with this jar of Candy Corn Vodka. I think it's very appropriate that there is a ghost seen in this!
Taking the Candy Corn concept further Try out Swedish Fish Juice, Gummy Bear Blood, Gummy Worm Vodka and more from Scary Mommy. Perfect for a Halloween party!
Related: The Frugal Navy Wife Halloween Calendar
Check out this Dark and Spooky Cocktail from Food Network. That's a gummy spider by the way! The perfect way to creep your friends out!
Dark & Spooky
Juice of 1 lime (about 1/4 cup)
1/4 cup dark rum
1/4 cup ginger beer or ginger ale
1 black gummy spider
Combine lime juice and rum in a cocktail shaker with ice. Shake vigorously. Pour into glass and top off with ginger drink. Add gummy spider.
Rim top of glass if desired using a lime wedge and black rimming sugar.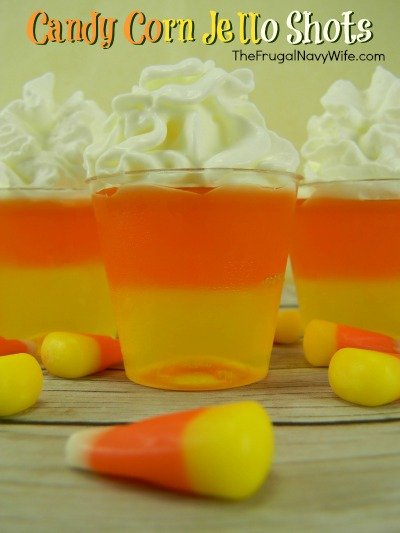 These might be one of my favorites for Halloween. These Candy Corn jello shots will be the hit of any Halloween Party!
Next, let's check out the Vampire Kiss Martini from Cooking with Sugar.
Creepy Jello Gigglers from HWTM are a great addition to any adult party! She has included a kid-friendly recipe as well!
Now do you REALLY want to creep out your party guests? Try out these Jello Blood Shots!
1 (3oz) pkg of strawberry or strawberry kiwi jello
1C water
1/2C vodka
1/4C Midori/melon liqueur
1/4C peach schnapps

Bring water to boiling, then pour over gelatin, stirring until dissolved. Add alcohol, mixing well. Add to needless syringes Chill 2-4 hours… Makes about 20 (using 1 oz cups)
Check out this Halloween Jello Shot Platter from Jello Shot Test kitchen that includes (Front to Back) Raspberry Kamikaze, Kamikaze Eyeballs, Tequila Sunset, and Mojito.
Another recipe for Candy Corn Vodka from Fake It Frugal Holidays! This stuff takes about a day to make but the concept is so easy and has me wondering what else I can do with it!
What is your favorite Adult Drink or snack for Halloween? Also while more Fall and not Halloween specific we love our
Pumpkin Martini
!