This post may contain affiliate or referral links. Read more about this in our disclosure policy.
Did you know that using cash instead of a debit or credit card can usually help you cut your spending? The reason behind it is that when you use cash, you typically pay more attention to what you're spending than you do if you're just swiping a card. Paying more attention means you spend less because you're more aware of how much money you actually have.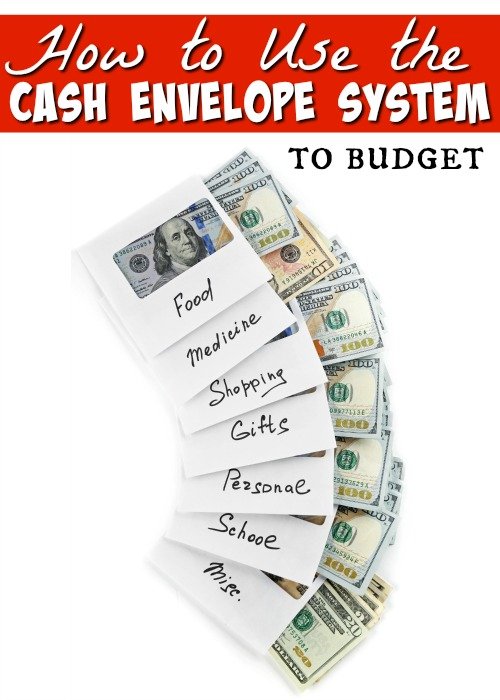 How to Use the Cash Envelope Budget System
One of the best ways to manage this budget is with cash envelopes. The cash envelope budget is easy to set up, easy to maintain, and easy to see what you have left.
It's also a fantastic way to see where you're overspending and where you may be able to lower your budget because you're underspending!
Don't forget you can also add money to your budget with things like earning free Amazon gift cards, selling your recipes, and even earning money from your car.
Related: 7 Forgotten Monthly Expenses You NEED To budget For!
Here's how it works:
At the beginning of the month, sit down and figure out how much you have coming out for expenses and what those amounts are.
Then, you will pull whatever amount of cash you will need to cover your bills and other expenses.
Each expense gets its own envelope. Write the name of the bill or whatever on the envelope.
Now, as you pay bills, you will ONLY remove cash from that specific envelope. If you're buying groceries, you can ONLY remove money from the grocery envelope.
Once the money in that envelope is gone? It's gone and you're done spending money on that category.
Related: $100 Until Payday: The $100 Grocery Budget (or Less!)
It's that easy! A couple of things about this budget though.
No moving money from one envelope to another. The idea here is to help get your spending under control. If you're shuffling money around, you're not controlling your spending in whatever category you have to keep feeding.
At the end of the month, if an envelope still has cash in it? You have two choices. Either roll that leftover cash to the next month (meaning it will take less out of your paycheck to re-fund it for the new month) OR put that money into savings. Either way, you're saving money.
Looking for more ways to jump-start your savings? I highly recommend America's Cheapest Family's Book I picked up some amazing tips from them!