I remember being a teen and wanting to earn money for one thing or another but mostly for a car, and the expenses that came with a car. I did a bunch of jobs until I was able to get a job at Mcdonald's. Being you have to be 16 for that what is 14 and 15-year-olds to do? Plus flipping burgers isn't for everyone. This is a great starter list of jobs your teenager can do. I am sure it will grow in the future.
Plus having your teen have a job and earn their own money teaches them the value of the dollar and when they want those expensive $100 shoes you can tell them they have to earn it and buy it themselves 9 times out of 10 they will this it's not worth it when they realize they have to work 14+ hours for those shoes!
So here are some jobs your teenager can do some of which I did, some of them my friends did and others are ideas I've seen mentioned.
Related: How to Save Money as a Teenager
Jobs Your Teenager Can Do to Make Money
Baby Sit – This is the classic age-old job. If your child is good with kids they can babysit. Start with family members and friends' kids and then in your neighborhood and church. It is also a good idea for them to get first aid and CPR certified.
Nanny – Like babysitting but they have a set time and routine. Where babysitting is erratic like for your neighbors Friday night date nights, a nanny would be watching a child every day after school Monday through Friday.
Housekeeping – If your child has a knack for cleaning they can offer those skills to help out neighbors. Many elderly neighbors would love the help and company to talk to for an hour or so a week.
Tutoring – If your child is really good at math they can tutor other kids in math. This is true for any subject and in most cases, tutors make more than those at McDonald's! Taking this a step further they can help homeschool parents as well. If they know a family who homeschools younger kids and needs help with some work or helps to make sure they do work one day or so a week. I knew a family who homeschooled and both parents' opposite shifts worked so they needed someone to help them between making sure kids did school work and 'babysit' for 2 hours while their jobs overlapped. they were there to help kids if needed and administer tests as needed.
Related: Teen Bank Accounts – Learn to Manage Money Early
Pet Walk – Is your child good with pets? They could walk dogs. This involves walking them normally 30 minutes a day sometimes more. This also means that they need to clean up the dog poop. So make sure they know the full extent of the job.
Pet Sit – This job is perfect if your kid has been asking you for a pet. Pet sitting allows them to get the full experience of owning a pet and you will know if they REALLY want one when they are done. Pet sitting is just like having a pet, they have to feed them clean up after they play with them several times a day!
House Sit – Many times when people go out of time for a length of time (1 -2 weeks or more) they look for a 'house sitter'. This means getting the mail, bringing in papers and packages so the house doesn't look vacant. This also means in many cases, mowing the lawn and watering the grass and plants.
Car Detailing/ Car Wash – Cleaning and detailing neighbors' cars. Many people don't get to the car wash because of schedules, etc if they can have someone come to their house and do it in their driveway they are likely to choose this option!
Catering – Does your teen like to cook? They can cater small events for friends, family, and church.
Related: 45+ Ways to Earn Amazon Gift Cards for Free!
Photography – Does your teen have a knack for photography? Have then build a portfolio and make some extra money. The girl who did our last family picture was another homeschooler who was 16 and did an AMAZING job!
Seamstress – Can your teen sew? They can do work, especially around homecoming and prom time hemming dresses for friends and classmates. They can also help out at weddings!
Paper Route – The age-old paper route job! In most cases now you need a car to get one.
Tour Guide – Do you have some tourist attractions in your town? Your teen could be a tour guide for the attraction. Bonus they will have to learn the history and take around it so it's like a living history lesson!
Related: Children's Chores For Kids By Age – What should they be doing?
Summer Jobs
Some jobs can only be done in warm weather, or during the summer. Here are a few jobs your teenager can do this summer.
Camp Counselor – If you live near any summer camps your teen can get a job as a camp counselor. In most cases, they will have to live on the camp for the length of the camp (normally 6 weeks) But they get to do all the fun stuff the campers do and more. So make sure if they decided to be a camp counselor it's on a subject they like!
Golf Caddy – You know those guys that carry around golfers' golf club bags? Yep, teens can do it. The bags are heavy after 18 holes so make sure your teen is in shape and the better they know their stuff the better the tips!
Lifeguard – Got a good swimmer? If they want to work on their tan while earning money they can become a lifeguard Lifeguards are needed at water parks, public pools, beaches, lakes, and more.
Cut Grass – Cut your neighbor's grass! Let me tell you the neighborhood kids who cut grass were lifesavers when I was preggo with baby #2!
Related: Top 10 Places to Sell Stuff Online for Cash
Winter
Some jobs are winter jobs. These are always needed!
Shovel Snow – Shovel snow off walkways, driveways, and sidewalks for neighbors. Another lifesaver when I was preggo!
Scrape Ice Off Neighbors Cars – So people aren't able to scrape ice off their cars in the morning or they just plain don't want to! If your child can set up some regulars to get up and scrape ice before they go to work and your child goes to school each day, they can make some good money!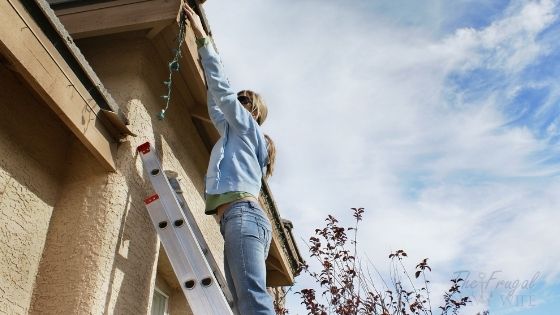 Hang Holiday Decor – Got a wannabe interior decorator? They can make their services available to help people decorate their houses for the holidays inside and out. This is big for Christmas but can also be needed for Halloween!
Put your teen's strengths to work for them to earn some money! All these jobs your teenager can do, but there are so many more out there as well! What jobs does your teen do?