This post may contain affiliate or referral links. Read more about this in our disclosure policy.
Did you know over 30% of weddings are held in the fall months? Embrace this theme and the vibrant colors that Autumn has to offer! Use what mother nature offers this time of year in your fall wedding and save your wedding budget for great things like a honeymoon or a house!
What fall month is most popular for weddings?
September and October are also popular months for fall weddings. The weather is still nice, and people like to take advantage of the fall foliage.
Related: Top 10 Budget Wedding Ideas for Summer
Fall Wedding Decorations on a Budget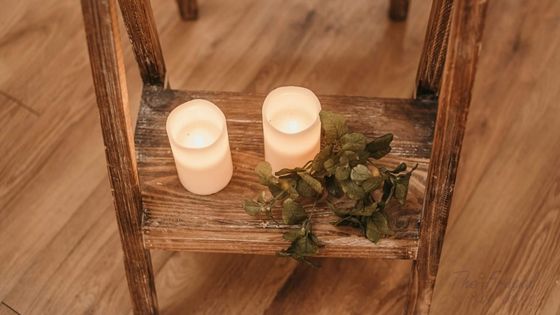 Go Rustic – Rustic Décor is BIG right now and it's PERFECT for a fall wedding. It's so popular right now you can find an abundance of it and for cheap too! A rustic theme allows for a lot of room to make your own items too!
Related: Rustic Wedding Ideas on a Budget
Burlap – Use Burlap. It fits the rustic theme and looks beautiful. Decorate chairs with burlap and lace (example here)
Use the burlap to make your own banner décor. I love this "fall in Love" Banner. You can use burlap and lace strips to decorate. There are also great burlap and lace garland strands you can get that are gorgeous. save on flowers by making your bouquets out of burlap and lace, and this idea to bring lights and burlap together would be great for decorating your cake table, welcome table, and gift table!
You can use simple tablecloths to cover your tables and then make your own burlap table runners. Paint your names, table numbers, wedding dates, etc on them.
Related: HUGE List of Free Wedding Samples for Brides
Mason Jars – Still following the rustic wedding, mason jars are cheap and you can pick up old ones for 25¢ -$1 at thrift stores. You can put lights in them and make things like Mason Jar Fairy Lights.
You can also wrap the jars in burlap and lace and fill them with water and put floating candles. You can also pick fall leaves with fall colors up and use Mod Podge to glue the leaves to the mason jars and then add tea lights inside for beautiful lights on tables!
Related: 11 Ways to Save Money on a Wedding Photographer
Spray Paint Leaves – Get Glitter Blast Spray paint and paint the fall leaves to match your colors. Once they dry they will be nice a sturdy and make great décor! Hang them, use them as table décor, use marker and make seating place cards with them, and more!
Cheap Wedding Reception Ideas
Skip the Alcohol – If the weather is cool skip the alcohol and have a hot chocolate bar. Alcohol is one of the most expensive parts of a wedding and even having a bar option where guests pay for their own carries a fee that can be saved by doing a hot chocolate bar.
Make the Favors – If you have a smaller guest list (and if you are looking to save money you really should) then consider making your own wedding favors.
Related: Wedding Reception Decorations For A Wedding on a Budget
We love these Customizable Sparkler tags on Etsy. They really are great for any gathering without a huge mess.
Related: Save on Wedding Food and Favors
Make a picture frame from twigs and decorate it with acorns (another twig idea is this Easy Twig Letter Decor). You can also take a picture frame and make a picture frame from acorns. Both these ideas can then be painted to match any décor.
Pumpkins – Don't leave out the pumpkins! From big to small they have many uses, use small ones for table markers, use big ones to line the aisle then move to a table for centerpieces to make them do double duty! You can even paint them if you want to and I show you how with this Mercury Pumpkin DIY.
Related: 21 Ways to Save Money on Your Wedding Cake
Plain White Cake – Go for a plain white cake with only 2 or 3 layers. Decorate the wedding cake with flowers you can pick up at the hobby store.
You can also decorate the wedding cake with pumpkins. Both ways you can then have a sheet cake to serve guests and use the tiered cake for cutting and no one will know any better!
Fall Wedding Flowers on a Budget
Skip the Traditional Bouquet – Flowers can be expensive. Consider using fake flowers. We did this at our wedding and I love that I still have my wedding bouquet!
If you want to go really out of the box you can use leaves to make flowers for your wedding flowers!
Use Burlap Flowers – save on flowers by making your bouquets out of burlap and lace
Wedding Online Shopping Tips
Get Cashback – Remember when you shop online for wedding items (and even in-store!) use Ebates for cashback. They even have special wedding cashback offers!
Use extensions – when you are shopping online use browser extensions like Retail Me Not or Rakuten for cash back options and discount codes.
Fall weddings are a great option for couples on a budget. There are many ways to save money on your fall wedding without sacrificing style or elegance. By using some of the ideas we've shared, you can create a beautiful and memorable wedding day that is perfect for you and your spouse-to-be. Have you started planning your fall wedding yet? If not, don't worry – there's still plenty of time! We hope these ideas have inspired you to start planning your dream autumn wedding.