Admit it, like me you LOVE fried chicken. But also like be you are looking to eat healthy and maybe lose some weight. I am trying to lose 4 kids worth of the dreaded 'baby fat' over here! That is why I started looking for way to get the fried chicken I love without the extra grease.
Thats how I came about this Oven Fried Drumsticks recipe. I have tweaked it here and there since then to fit our families preferences. This mix does have a bit of a bite to it so if you don't want spice take out the creole seasoning. We do it from time to time to mix it up or when I'm pregnant and can't eat spicey anything.
Oven Fried Drumsticks
Also I feel like i need to add a note, one night while I was preggo and not feeling good. hubby was making this for dinner, god love him he tries. We were out of paprika…. and as you know paprika is red. So hubby though he could substitute it for some else that was red…. like cayenne pepper.
For someone who can't eat anything spicy while preggo I was instantly sick the kids were crying in tears because their mouths were on fire and we went through A LOT of milk that night! I think we ended up having peanut butter and jelly sandwiches!
Related: Creamy 4 Cheese Fritters with Sweet Honey Mustard Sauce
Moral of the story you can NOT substitute spice out with ones that LOOK the same!
Also remember you can switch out the baking mix for bread crumbs we have done that a few times. This recipe is how we like it best but make it your own!
Ingredients
1/4 Cup Vegetable Oil
1/2 Cup all-purpose baking mix
1 tablespoon paprika
2 teaspoons creole seasoning
1 teaspoon seasoned salt
1/2 teaspoon garlic powder
1/4 teaspoon italian seasoning
1/8 teaspoon black pepper
10 chicken drumsticks
Directions
1. preheat oven to 450. Pour the vegetable oil evenly over bottom of 15x10x1 inch baking pan.
2. Combine the baking mix, paprika, creole seasoning, seasoned salt, garlic powder, italian seasoning and black pepper in a large bowl. Mix well. Pour into a paper bag.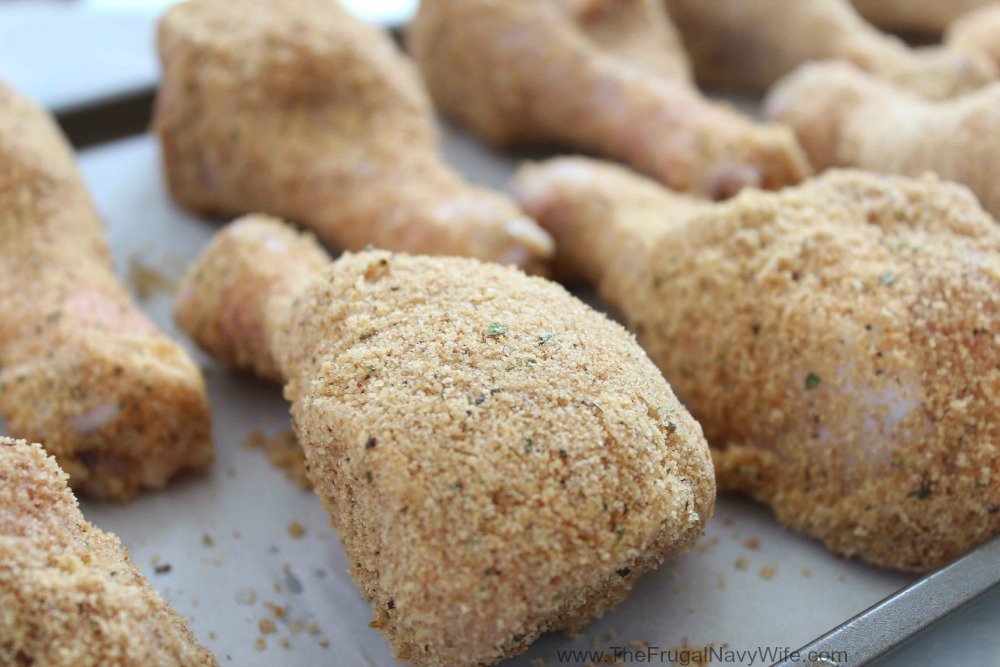 3. Add the chicken drumsticks, a few at a time, to the bag and shake to coat. Arrange on the prepared baking pan.
4. Bake chicken, turning once, until juices run clear when pierced with the tip of a knife, about 30 – 45 minutes. Transfer to a serving dish. Serve immediately.