This post may contain affiliate or referral links. Read more about this in our disclosure policy.
So my kids had a school project that required popsicle sticks. Silly me bought a box of 1,000 popsicle sticks. So now I'm on a hunt for a craft to use them. My kids wanted to do a bunch of Valentine's Day Crafts like this Love Popsicle Stick Sign Craft.
Popsicle Stick Sign Craft – Popsicle Stick Love Sign
I love doing crafts that can double as holiday decor with my kids. One of my favorites has been this DIY Button Art Heart Decor We had a lot of fun with it.
We also made several of these DIY Button Frame Valentines Day Gifts for family and friends this year. Each one had it's own special message or picture in it. The kids had a blast with that.
Since we still had a ton of buttons left over we also made a few of these Easy Valentine's Day Button Heart Popsicle Stick Frame Craft. I will admit we still have way too many red and pink buttons leftover too!
So now I am on the hunt for more Valentine's Day craft hopefully that use up buttons and popsicle sticks! Send me your ideas if you have any!!
.
Related: DIY Valentines From Popsicle Sticks – I Love You to Pieces Valentine
Items Needed for Popsicle Stick Sign
Yarn or ribbon. Optional
Directions for Popsicle Stick Sign
Start by laying out your sicks for your background. You will want to cut your sticks to make your letters as well so you know how long your background needs to be. Mine was 25 popsicle sticks long.
Then remove the letters and use several sticks to glue across the ones lined up to hold them in place as shown. Let dry.
Flip over the background and paint pink (or your desired color). Let dry.
Paint your letter sticks. While the paint is wet sprinkle on the red glitter. Let dry. You can also a white glitter if you chose different colors for your words.
Once all are dry form your letter to the side so you know which pieces go where then start gluing them on to the board. Let dry.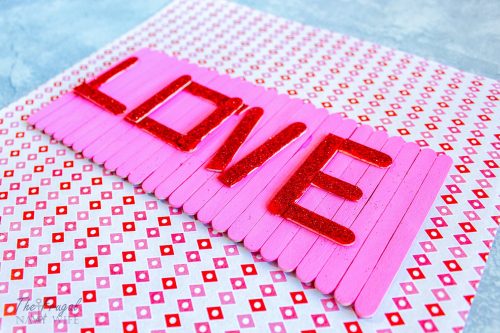 Remove the fine glue strings and if you want to use your hot glue to secure and yarn or ribbon loop on the back to hang on the wall.
I will say I am loving this Love Popsicle Stick Sign Craft what do you think?