This post may contain affiliate or referral links. Read more about this in our disclosure policy.
When you find something that's life-changing, you want to share it with the world. That's what happened when I discovered Fels Naptha Soap. This little bar of soap will change your life. It's so inexpensive, and you can use it for so many things. Check out these uses for Fels Naptha Soap that is life-changing.

I like grabbing Fels Naptha on Amazon for a few reasons. One it's delivered right to my door. Two I can buy in bulk. Three I can use my free Amazon Gift Cards so I pay nothing out of pocket.
What is Fels Naptha?
Fels Naptha is a laundry soap bar & stain remover that has been around since 1894. It was very popular during the great depression for cleaning all over the house because it was cheap. So housewives found new ways to use this product to stretch their budgets!
Related: 22 Frugal Living Tips from the Great Depression
How to use Fels Naptha?
The main was Fels Naptha is known to be used now it is making your own laundry soap but there are so many more ways to use the soap that you probably didn't even know about! Check out the list below.
Ove on Confessions of an Overworked Mom, she's got another great DIY Powdered Laundry detergent using fels naptha. Give it a gander too!
Is Fels Naptha a Carcinogen?
When Fels Naptha hit the shelves in 1893 it contained Naptha. Obviously. The soap was reformulated and Naptha removed which in turn eliminates the cancer risk. So in short, Fels Naptha is not a carcinogen.
57 Uses for Fels Naptha That Will Change Your Life
Treat cold sores – As weird as it sounds, you can treat cold sores with Fels Naptha by washing the area with soap. Yup, it's that simple! I love this so much better than other cold sore treatments.
Bug repellant – Bugs can be annoying when they're in your home. Cut up chunks of the Fels Naptha and place them around your home. You may be surprised as to how quickly those bugs are repelled.
Use Fels Naptha as a scent – When you have a stinky area in your home, like the trash can, use Fels Naptha as a scent guard. It will help keep the stinky smell out of your house!
Make your own liquid laundry detergent – You may already know that Fels Naptha is popular use in laundry detergent. It helps to get your laundry super clean. I shared my DIY Laundry Soap recipe. Amazon even sells a laundry soap kit with enough stock to make laundry soap for months!!
Related: 28 Amazing Uses for Lavender Oil
Whitening whites – People have used Fels Naptha for many years to whiten their whites. You will want to soak the Fels Naptha in hot water, along with the whites.
Use as an insecticide – Mix Fels Naptha with hot water and put in a spray bottle (and label it!). Spray your plants with this mixture.
Remove Wine Stains- Need a great stain remover? Soak those wine stains in Fels Naptha. I used to use the Oxi Clean Gel Stain Stick and swear by it but I've switched to Fels Naptha and it's MUCH cheaper!
Related: Laundry Uses for Fels Naptha
Repel rodents – For some reason, those mice do not like Fels Naptha. Just cut them up into chunks and put them around areas in which the rodents hang out.
Remove grease – Are your hands full of grease? Wash your hands with Fels Naptha.
Clean your carpets – Stains on your carpet can be a real downer. That's where you use Fels Naptha. This magic bar can be used to get those stains out of your carpet. You will want to grate it and mix it with hot water. Scrub with a scrub brush or use in your carpet cleaner for great results.
Related: 10 Unusual Uses for Lemons
Fels Naptha uses for acne – Nothing is more annoying than acne on the face. You can help eliminate acne by washing your face with Fels Naptha. It will dry out the acne and help you get some relief.
Lice prevention – Instead of waiting to get lice, prevent it with Fels Naptha soap. You can wash your hair with it. However, it if gets in your eyes that can be painful. Make sure you proceed with caution.
Get rid of those sticky labels – When you're washing a cup and there is a sticky residue left behind, you can use Fels Naptha to get it off. Use the Fels Naptha bar and rub it on the sticker, soak in hot water, and repeat. Skip the Goo Be Gone!
Get rid of squeaky sounds – Have a squeaky door or hinge somewhere in your house? This is another one of these great uses for Fels Naptha. Simply rub the bar on the squeaky part and let the Fels Naptha work its magic.
Related: DIY Better Than Windex Glass Cleaner
Clean between grout – Make a Fels Naptha and hot water mixture to scrub the grout in your home. Watch it turn from brown to white quickly.
Make Pre Wash for Laundry – Adding equal parts of Borax and Fels Naptha that are grated to a double portion of water and boil until melted. Let the solution cool and then use it in a spray bottle on clothes.
Mildew in the shower – Nothing is worse than mold and mildew, use your Fels Naptha/hot water spray mixture to deep clean your shower.
Clean Shower Scum – using a sponge lather up a bar of Fels Naptha and scrub the shower door and handles, you can also use this on the water valve. Simply rinse it off.
Dog Shampoo – Simply use the bar and water to lather your pets. This will help with ticks and fleas as well.
Treat Fever Blisters – wash the area with soap and water. Be careful doing this as Fels Naptha could cause irritation.
Deal with poison ivy – Whether you have poison ivy on your clothes or your skin, you can use Fels Naptha to help get rid of poison ivy for good.
Make dish soap – Just like laundry soap, you can use Fels Naptha Soap to make dish soap. 1 part of grated Fels Naptha to 2 parts water warmed on the stove until all combined.
Clean counters – Take a wet sponge and rub a bar of Fels Naptha Soap on it then clean your sinks and counters. I like using it with a magic eraser, I haven't found a stain I can't get out with it!
Deep clean your rags – 1/2 cup grated Fels Naptha and a gallon of water boiled until the bar is melted. Soak your rags in the solution before washing.
Remove ink – Use it to remove ink from your skin and many other fabrics including leather. As a mom, this comes in handy with 4 kids!
Related: 13 Items They Made During the Great Depression (But We Pay for Now)
Protect your garden – Dissolve 1 bar grated Fels Naptha in a 5-gallon bucket. Then fill the bucket half full of hot water. Now in a cheesecloth, 2 heads of unpeeled garlic, put 2 bunches of chopped scallions, 4 eggs (uncracked), and 1 small can of chili powder. Tie up your cheesecloth with twine.
Tie it up really good and then place the bundle in the bucket and crack the eggs. Fill the bucket up with more hot water and top with the lid. let sit for 1 week then pour it into a sprayer. Spray the area that you want to keep the deer and other animals away from.
You will need to reapply every 2 weeks or after it rains but just beware, this smells nasty!
Remove Grass Stains – Work a wet bar of Fels Naptha into the stain. If you need to you can use a soft brush to really work the fabric. Let the clothes sit for about an hour and then wash.
Get blood stains out of clothing – Rub a Fels Naptha bar onto the stain and add a little borax mixture. Let the solutions sit overnight and then wash with laundry. You may have to repeat this process depending on the amount of blood but the stain should fade over time.
Sink cleaner – Using Fels Naptha with a soft cleaning brush will clean up sinks. You can rub a wet par over the area you want to clean then use the brush to scrub it. I have also been told to dissolve some soap into the water and add some lemon essential oil for cleaning as well.
Clean your shoes – Rub a bar over your shoes before washing them to remove stains and odors.
Skip the scented trash bag – Use Fels Naptha to clean your trash can out then place a 1-inch cube at the bottom of the can it will give a scent and repel bugs.
Treat mosquito bites – These bites itch like crazy! Super easy wash the area with Fels Naptha soap and pat dry, don't rub.
Tanning Hides – Yes it's possible! Use 1 bar per gallon of liquid.
Related: 10 Unusual Uses for Lemons
Clean Outdoor Furniture – Rinse off your outdoor furniture then run a bar of Fels Naptha all over it and then take your soft cleaning brush and scrub that dirt out!
Clean aluminum – If you have aluminum pots and pans this is a great cleaner for them! Use it like dish soap.
Fels Naptha eczema – Many say using Fels Naptha as a bar soap on their eczema helps lessen it.
Upholstery Cleaner – If you have kids you will want to make big batches of this! Get a spray bottle and wet the furniture, using a wet bar of Fels Naptha scrub the upholstery, and use a brush to clean it. Wipe off the suds and rinse well. Wala!
Clean Your Car – The same way Fels Naptha removes stains in your house will remove stains in your car, on the floor, and on the seats.
Ring around the collar – We know by now Fels Naptha is huge on getting stains out but did you know they specialize in getting out the ring around the collar stains?
Related: Homemade Foaming Soap Trick That Saves You Money!
Clean your refrigerator – Kids get into your fridge and spill something? Fels Naptha is great to help you clean it up, especially those super sticky stains like jelly that have been hiding in the back of the fridge!
Clean paint brushes – Painting around the house or doing DIY projects? Use Fels Naptha to clean your paintbrushes. It will lengthen their life and save them money!
Clean towels – We use towels around the house all the time! To clean up spills and messes, even to remove makeup in a pinch. This can start to really ruin your towels. Use Fels Naptha to clean your towels will get all those tricky stains out.
Wash your hair – This soap is great for getting out all the residue from lots of hair products and helps to strip hair color without killing your hair. Use it when needed but not every day, though they did use it more often in the Great Depression.
Clean the Toilet – Use 1/4th of a bar of Fels Naptha and around 5 cups of water. Boil together until the soap melts. Allow it to cool and then you can add essential oils if you'd like to give it a scent. You can use a spray bottle or simply pour the mixture into the toilet and give it a good scrub.
Removing Baby Formula from clothing – Rub a Fels Naptha bar on the clothes and then soak in a borax solution ( half cup borax and a gallon of water) for about half an hour. Then toss in the laundry. The stains will break up and start disappearing.
Freshen Up Trash Cans – Before I used my DIY Febreze for this and because it's a trash can we went through a lot of it. Now I have a spray bottle with this Fels Naptha mixture to keep my can smelling great and bonus, it also disinfects as well. Mixture: 4 tablespoons of Fels Naptha, 1-gallon hot water, stir. Let it cool. Add essential oils of your choice for the smell of your preference. Spray the entire inside of the can and let it dry.
Make your own Powder Laundry Detergent – I shared above my Liquid detergent but some prefer a powder. For a powder, you will need a food grate and a food processor to really break up the bars. Here is the recipe for the detergent: 8 cups washing soda, 6 cups borax, 3 Fels Naptha bars. Grate the bars and use the processor to break the remaining down to powder. When all is a powder mix together and store in an airtight container.
Remove Chocolate Stains – Similar to wine stains you will want to soak the stained clothing in a Fels Naptha mixture then wash.
Clean Leather – With a wet bar rub the stain on the leather until it lathers. Let it sit for about an hour then wipe with a dry tea towel.
Remove Makeup Stains – Rub a Fels Naptha bar on the stain directly and let it sit for about 15 minutes. Then wash with other clothes.
Drawer Hinges – These are the last thing I ever think about cleaning but they get really grimy all the time. Rub a bar of Fels Naptha on the tracks and wipe down with a cloth.
Related: 30 Ways to Use Fabric Softener
Floor Cleaner – 1/2 bar of Fels Naptha grated and 1 gallon of water brought to a boil to melt the soap. Let it cool and mop as normal.
Remove Grease from clothing – You can soak your grease-stained clothes in Fels Naptha.
Heal up Chiggar bites – lather up with a bar of Fels Naptha and rinse off. This will help with the itch.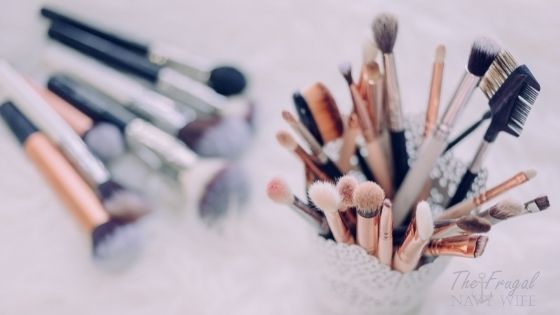 Clean Make-up Brushes – Give more life to your makeup brushes when you clean them with Fels Naptha. This is one of my favorite uses for Fels Naptha.
Cleaning Athletic wear – lather up your sports or workout clothing and then toss it in the wash.
Helping with splinters and infection – This is from readers so attempt with caution. Some have said using this soap and brown sugar to make a paste has helped draw out splinters and cure those splinter infections.
Keep in mind that some uses for Fels Naptha soap can be a skin irritant, so you don't want to use it too much! You can dilute it a bit and still get the benefits!
So there ya have it. What are some uses for Fels Naptha do you have? Let me know in the comments and I can add them to the list.