This post may contain affiliate or referral links. Read more about this in our disclosure policy.
Holidays are expensive plain and simple. If you have kids to add to the equation, they can really add up! So with Easter right around the corner here are a few ways to save money on Easter Ideas, from decorations to Easter baskets, to the big dinner.
What are some cost-effective Easter ideas?
Some frugal Easter ideas include making your own decorations and gifts, shopping for discounted gifts and supplies online or in thrift stores, using natural decorations such as greenery from the garden or park, and hosting a potluck dinner rather than buying an expensive meal.
How can I make my own decorations?
You can create homemade decorations for Easter by using paper, craft materials, fabric scraps, ribbons, paint, and more. Get creative with colors and textures to make beautiful designs that will brighten up your home in no time!
Related: How to make Easter Baskets on a Budget
Are there any other ways to save money on Easter festivities?
Yes! Consider hosting activities at home rather than going out, utilize free printables available online instead of purchasing expensive items, invite family members to share the costs associated with the holiday, and use coupons or discounts whenever possible.
Amazingly Easy Frugal Easter Ideas
Easter Decorations
Not everybody puts up decorations for Easter. Some people may just do a flag in the yard, or a bunny on the porch. I have seen people go as far as Easter egg lights in the windows, plastic eggs, and mixing it with a 'Spring' Theme.
Now you don't have to spend a ton of money on decorations. Use what you have from years past. If you are looking to build up a decoration stash my best advice: DO NOT DECORATE THIS YEAR!
Why? Because you will pay full price for your decor. Wait until after the holiday to buy! The day after Easter all the decor will be marked down by about 50%. Start browsing and buying some stuff then. But if you can REALLY hold off for about 4 or 5 days stuff will start to be marked down 75% then a week after the holiday stores like Target will mark down the rest to 90%!
Why do stores do this? Because this stuff is no longer in demand, and instead of PAYING to ship it back to the warehouse to sit around and take up space, they figure any money they can MAKE is better than nothing. So they mark the deals down so low just to move the merchandise!
You can also DIY many of your decorations! Things like this Free Easter Printable Banner or a super cute Carrots Banner Check out my Easter Pinterest Board for some great ideas!
Related: Easy DIY Decor – Easy Spring Fabric Cross on Wood Decor
Easter Eggs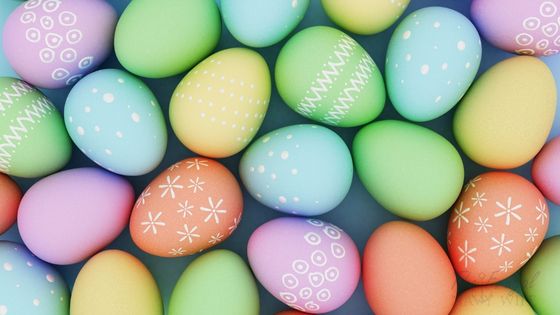 After following the tips above, you should have some items to paint eggs stocked up super cheap. Eggs always go on sale this time of year for painting so find the best deals you can. (even stock up if you want). You can also paint them with some items around the house like these Kool-Aid Dyed Eggs! Don't toss the eggs once you find them! Eat them or reuse them in an Easter dish!
Also, consider buying some plastic eggs you can reuse over and over each year. If you use plastic eggs, you can put a few treats in them something like a few pennies, some candy, and even some small toys. Dollar Tree is great for finding things to put in the eggs!
Easter Baskets
The best thing I can say is to make them yourself! I have yet to buy a pre-made basket for my kids! Especially for their First Easter, it's near impossible to find an Easter basket for a child under 3! Plus I don't like how much candy is in each basket, so I make them myself. I stock up on candy at the drug store sales leading up to Easter (drug store sales = free candy!!) Each kid gets a chocolate Easter bunny, a stuffed Easter theme animal, and a toy, I also like to include some cheap $1 books. I also like to include a springtime activity usually bubbles or chalk. I skip the messy grass and reuse baskets from year to year. 
Related: How to make Easter Baskets on a Budget
Easter Breakfast
Some families have a huge breakfast after church since it's Sunday. Instead of going out to eat and waiting in line since everybody has the same idea, go home and make your breakfast. This is where stocking up on eggs above comes in handy. Even if you think you will have way too many leftovers there are so many recipes that you can make with eggs.
Related: Easy Overnight Blueberry French Toast Casserole Recipe
Easter Dinner
In the weeks leading up to Easter, all the typical Easter meal food will be on sale from the ham to the stuffing! Don't wait until the week before to buy everything. Prepare your menu ahead of time and keep an eye out for what you need to go on sale (with a coupon of course). Buy your ham while it's on sale, sides, and don't forget the dessert too ( that is if you aren't planning to make a homemade dessert like Easter Candy Cupcakes or Recipes that use Peeps.) This way you are A) getting everything at a cheaper price B) aren't buying everything all at once and spending all your budget in one week and C) you won't have to worry about there not being any left due to all the last-minute shoppers!
Watch for stores near you to do a special, like spend $50 in groceries for four weeks and get a free ham. My store did this one year, and I scored our ham free! Another store I stop at when they have deals did a promotion of earning 500 points and getting a free ham. Then they did a special each week where you could earn 200 points when you buy 3-5 select items. These were all items we either used for Easter dinner or on a regular basis, so I participated there and got a 2nd free ham to use later in the year!
Related: 6 Money Making Apps to use on Your Shopping Trips!
Make sure to properly store leftovers, they will make a great lunch or even another meal, so you don't have to cook the next day after you are out all day stocking up for next year!! I always buy a bigger ham than we need for this reason we eat off of it for several days!
Easter can be a wonderful and memorable holiday for everyone, but it often comes with a hefty price tag. With a bit of imagination and resourcefulness, however, you can still have an enjoyable time without breaking the bank. If you shop smartly and make use of natural resources such as your garden or park and focus on creating meaningful experiences with family members, you'll have an unforgettable Easter that won't cost a fortune.