This post may contain affiliate or referral links. Read more about this in our disclosure policy.
It's no secret I love a bargain, clearance deals, thrift stores, garage sales, and more. The downside? There are normally multiple price stickers and they don't come off easily. I tried Goo Be Gone and it worked but I wasn't a fan of the price so I got to work and made my own DIY Goo Be Gone.
Amazing 3 Ingredient DIY Goo Be Gone
I love how easy this recipe is and safe that I can have my kids help me out and not work about the chemicals they are using. I have slowly been replacing my cleaning products with homemade version recently.
What can I use in place of Goo Gone?
On my hunt for something cheaper then Goo Be Gone I found this question asked a lot. Baby recipes suggest baby oil but I found coconut oils work better. Then the essential oil gives just enough acid to do the trick! Simple and easy!
Related: DIY Laundry Soap
Does vinegar remove adhesive?
So many people say "oh just use vinegar" to remove the sticky adhesive. I tried it and it only worked 50% of the time and even then it was a struggle. The longer the sticker had been there the less the vinegar seemed to work.
So this worked ok on items from a stores clearance section but not a thrift store and certainly not a garage sale item that's been in the heat. So I went hunting for another recipe. I tried a few before I fell in love with this one.
Related: DIY Glass Cleaner Recipe – Better Than Windex
Does Goo Gone work on skin?
Goo Be Gone does work on the skin though it isn't recommended due to the chemicals in the product. The recipe below is natural and better for use on the skin if needed. Use with a washcloth and then wash the area with soap and water after.
Will Goo Gone ruin wood finish?
While the product says it can be used on wood it does have chemicals that can hard your wood finish. The recipe below is safe for wood. Use as directions state then wipe off with water and use a wood protecting spray to clean the surface.
DIY Goo Be Gone Recipe
Ingredients
2 Tablespoons Coconut Oil
4 Tablespoons Baking Soda
10 Drops Pure Lemon Oil
Directions
Ok, guys, this is super easy.
Just combine all ingredients with a spoon or a fork until thick paste forms, make sure you mix it well and combine all the ingredients.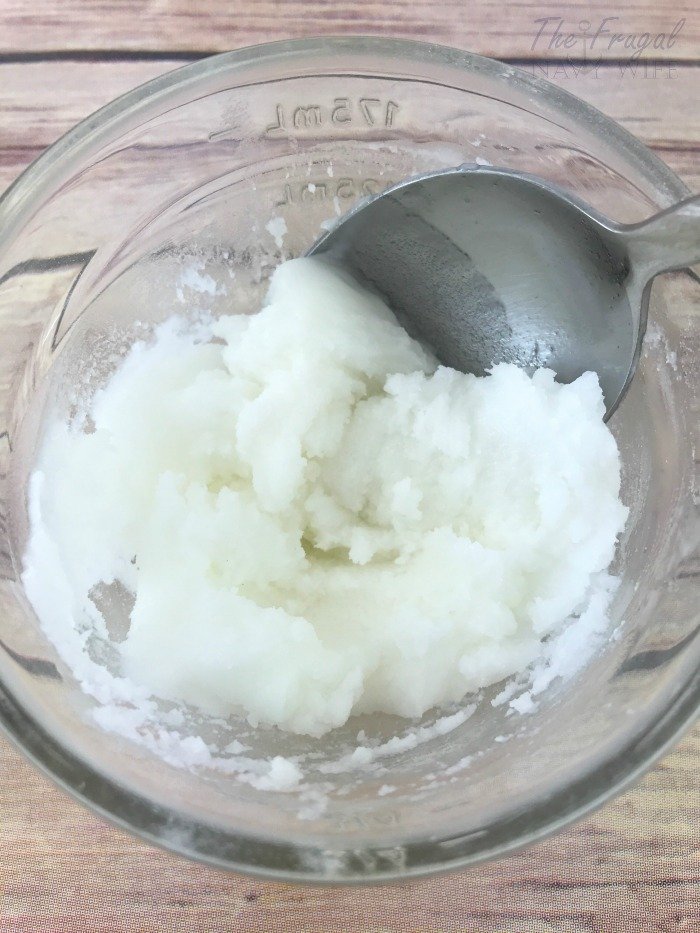 When getting ready to use make sure to remove as much of the paper label as possible and put some of the DIY Goo Be Gone on the spot.
Rub with your finger to work the oil into the adhesive. Occasionally you may need to use your fingernail to get off tougher spots of adhesive. Then wipe clean and rinse.
All adhesive should have been easily removed.
Bonus this make a wonderful degreaser! The tough spot above the range fan or those upper cabinets!
Latest posts by Danielle, The Frugal Navy Wife
(see all)