This post may contain affiliate or referral links. Read more about this in our disclosure policy.
One of the things I spend the most money on at the store outside of food and diapers is cleaning products, like glass cleaner. So I am looking for ways to save money on them and let's face it, how many have you bought that you just don't like? Well, that's one of a few reasons I started looking for a DIY glass cleaner recipe and now I'm sharing the one I love with you.
Raise your hand if you have a cabinet under your sink, a shelf in your pantry, a closet, or even a spot in the garage that is full of cleaning products.
*Raises Hand*
Now think about how many of the products are just sitting there because you bought them, tried them out and they didn't work or you didn't like them for one reason or another? At least half I'm guessing?
This problem is a big part of why I started to look into making my own. I started with my DIY Laundry Soap and now I'm tackling window cleaner because let's face it with 4 kids no window or mirror stays clean for long!
Related: 57 Uses for Fels Naptha That Will Change Your Life
So as you can see this window cleaner can be made for pennies! I get my dawn dish soap on sale for 49¢ a bottle and the vinegar I can pick up 32 oz for under $1 so the money saved with this homemade window cleaner is HUGE!
It works great in windows and mirrors and I have had a few people say they will add in some essential oil just a drop for scent. I haven't done it because, well if it ain't broke don't fix it right?
Over at Confessions of an Overworked Mom, she's got this great Vinegar DIY Citrus Spray that may be of interest to you too.
Related: DIY Homemade Febreze
What is in Windex glass cleaner?
According to SC Johnson's 2009 formula the ingredients are water, 2-hexoxyethanol, isopropanolamine, sodium dodecylbenzene sulfonate, lauramine oxide, ammonium hydroxide, fragrance, and Liquitint sky blue dye.
I think my eyes went cross-eyed…what is that stuff and why do I need sky blue dye to clean my windows??
Hint. I don't and neither do you.
How to clean your windows without spending a ton
As any homeowner knows, keeping your windows clean can be a real chore. Not only are they susceptible to fingerprints and smudges, but they can also collect a fair amount of dust and dirt. However, you don't need to break the bank to get your windows looking sparkling clean. I have laid out frugal ways to clean your windows which cover a few simple tricks that can help you get the job done without spending a lot of money.
Related: 21 Effective Uses for Windex
Glass cleaner vs window cleaner
Marketing companies want you to think there is a difference between a glass cleaner and a window cleaner.
Guess what? There is no difference!
Marketing companies want you to think that you need a special window cleaner for your windows and another for glass indoors like mirrors.
When really they are selling you the same product with a different label.
Related: Homemade Foaming Soap Trick That Saves You Money!
So here goes this takes less than a minute to mix and you are off cleaning again!
Best ways to wash windows inside
I love these tools to wash my windows inside and out actually. They get the job done and it's efficient so I can move on to other tasks.
Micro Fiber towels – Made of extremely thin fibers that are effective at soaking up water and they're super soft. Plus, they're quick-drying, so you don't have to wait long for them to be ready to use again.
Window Groove Cleaning Tool – Need help cleaning those hard-to-reach window grooves? No problem! This handy tool will make the job a breeze.
Groove Cleaning Brush -This handy little gadget makes it easy to reach those pesky hard-to-reach spots, so you can keep your windows clean and sparkling all year round.
What You Need to Make Homemade Glass Cleaner
1 cup Water
1/4 cup White Vinegar
2 to 3 drops Dawn Dish Soap
What You Need To Do:
Just combine the water, white vinegar, and dawn dish soap in an empty spray bottle. Shake a LITTLE bit and you are DONE!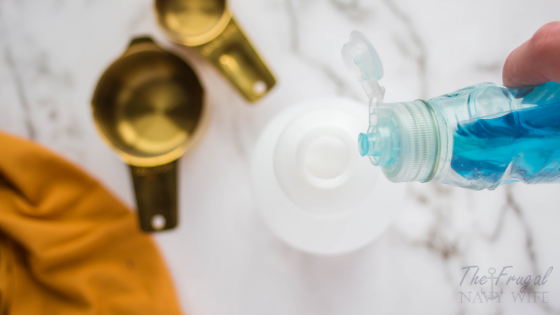 Spray and clean!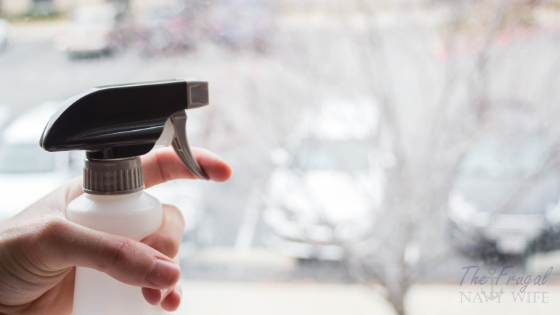 Make sure to label your spray bottle. I LOVE these Chalkboard Labels they make labeling everything easy!
Better than Windex Glass Cleaner
You will love this better than Windex DIY Glass Cleaner Recipe. Mere minutes to mix and with items already in your home. 2 Simple steps.
Materials
1 cup Water
1/4 cup White Vinegar
Dawn Dish Soap, 2-3 drops
Instructions
Combine the water, white vinegar, and dawn dish soap in an empty spray bottle.
Shake a little bit to mix.
Spray and clean!
Recommended Products
As an Amazon Associate and member of other affiliate programs, I earn from qualifying purchases.
Do you have a homemade DIY glass cleaner recipe you love? Tell me about it in the comments below.