This post may contain affiliate or referral links. Read more about this in our disclosure policy.
As the cost of eggs skyrockets just in time for the baking season, many more people are looking for ways to save money. Of course, not everyone can even use eggs making it important to know the options for baking without eggs when you will be serving someone with an egg allergy. Or perhaps you are simply looking to make a cake but forgot to grab eggs when you were at the store. The good news is that whatever your reason there are some great ways for egg substitutes in your baking.
What can be used to substitute eggs in baking?
There are many possible substitutes for eggs in baking, including mashed banana, applesauce, silken tofu, yogurt, vinegar and baking soda, flaxseed meal, and aquafaba.
How much banana should I use to replace one egg?
Approximately half a mashed banana can replace one egg in baking.
Related: Salad Dressing Cake Recipe
How should I replace an egg if a recipe calls for more than one?
If a recipe calls for more than one egg, you may replace them with an additional ½ mashed banana or other substitutes like applesauce or flaxseed meal. Keep in mind that the proportion of other ingredients may need to be adjusted as well.
Can I substitute eggs for something vegan-friendly?
Yes! Many vegan-friendly options like silken tofu and aquafaba (the liquid from canned chickpeas) can be used as substitutes for eggs in baking recipes.
Flax Seed
When it comes to egg substitutes for baking the best option is using flax seed. Mix one teaspoon of ground flaxseed with 2 tablespoons of water and let sit for a few minutes. This will make the equivalent of one egg providing the structure you need for your baking while adding valuable nutrition.
Related: Oreo Dessert – No Bake Oreo Meltaways Recipe
Applesauce
Applesauce makes a great oil substitute but it also makes a wonderful substitute for eggs in your baking. Keeping a few jars of applesauce in the house is one of the best things you can do to keep on hand for when you need a quick and easy substitute for eggs or one when baking. This will give you the structure and moisture you know and love from your favorite cakes and treats. Use 1/4 cup apple sauce for each egg you are replacing.
Mashed Fruit
Applesauce isn't the only option for using fruit as a healthy and easy substitute for eggs in your baking. One of the best options for use in place of eggs is mashed bananas. Bananas are sweet and light in flavor so they will often not affect the flavor too much unless you are replacing a large number of eggs. Use 1/4 cup of mashed banana for each egg you are replacing.
If you are making something chocolate that is easy to hide stronger flavors you can use mashed avocado as an egg replacement. 1/4 cup mashed avocado will replace each egg giving you plenty of healthy fats to help make your baked treat more nutritious and no one will ever know.
Related: Copycat Mounds Bars Recipe
Silken Tofu
Puree or whip 1/4 cup silken tofu to use in place of eggs in your recipe. Because this is naturally more solid you will need to blend it well as if you were preparing banana or avocado for your recipe.
Vinegar and Baking Soda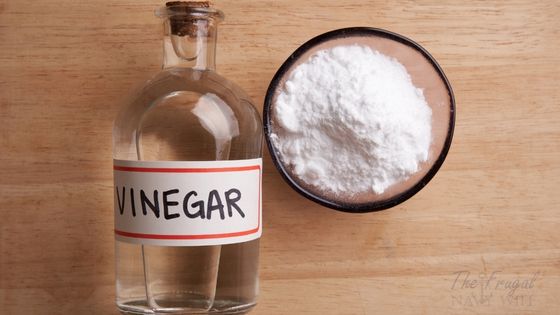 When using eggs more for the structure they provide than as a binding agent you have the option of using a mixture of vinegar and baking soda in place of your eggs. Try adding 1/4 cup vinegar and 1 tablespoon baking soda to your recipe to help give it the lift you are looking for even when you do not have eggs on hand.
Yogurt
Opting for a full-fat yogurt preferably a thick greek yogurt for the best results. Using 1/4 cup of greek yogurt in place of each egg is a great way to add plenty of structure to your baking with healthy fats. Opt for an unflavored or vanilla yogurt to help ensure that you can not tell that the eggs are even missing.
Related: Oreo Rice Krispie Treats Recipe
Aquafaba
Aquafaba is a liquid made from cooking chickpeas that can easily be whipped into meringue-like peaks and incorporated into many baking recipes for additional lift or binding components together like an egg would do normally. Three tablespoons aquafaba usually substitutes for one large egg in most recipes.
Chia Seed Gel
Chia seeds are a nutritious superfood that serves as an alternative binder in many healthy baked goods such as energy bars and muffins when used correctly. To make chia seed gel, combine 1 tablespoon chia seeds with 3 tablespoons hot water and let stand until thickened before adding to any recipes intended to replace an egg or two from the original instructions.
Commercial Egg Replacer
Commercial EggReplacers are available at most health food stores and work as a direct replacement without having to mess around with mixtures of other ingredients like vinegar or baking soda; just mix according to the directions on the label and add straight into your recipe instead – easy!
Non-Dairy Milk + Oil
This combination works well in many cake recipes where eggs are merely serving as moisture agents; whisk together 2 tablespoons of non-dairy milk (e.g., almond milk) plus 2 teaspoons of oil (e.g., coconut oil). Then stir it into your cake batter wherever you would normally put an egg!
Related: Lemon Depression Cake Recipe
Pumpkin Puree
Pumpkin puree adds both moisture and texture replacements when substituting eggs during preparation; about ¼ cup of pumpkin puree will replace one large egg in most recipes calling for two or more eggs in total.
In conclusion, there are many substitutes for eggs that can be used in baking recipes, depending on the desired result. From mashed banana and applesauce to aquafaba and commercial egg replacers, there is a substitute available for every type of recipe. Ultimately, it all depends on what flavor and texture you are looking to achieve in your final product.