This post may contain affiliate or referral links. Read more about this in our disclosure policy.
Ready to get spooky? In addition to dressing up and going trick-or-treating, there are so many fun and easy Halloween recipes you can make! From mummy hot dogs to witches brew cupcakes, these recipes are sure to tantalize your taste buds. So get ready to cook up a storm this Halloween!
What is the traditional food for Halloween?
The most traditional food for Halloween is candy. Specifically, candy corn.
What is the most popular Halloween food?
The most popular homemade Halloween treat made is probably pumpkin pie. Many people like to make it from scratch. The next most popular item made is candy apples.
Related: 25 DIY Halloween Kids Costumes
What to do with leftover Halloween food or treats
You can either store them in the fridge for later or give them away to friends or family. If you choose to store them in the fridge, make sure to keep them in a sealed container so they don't spoil.
Food Storage Options
Related: Easy DIY Halloween Costumes – Including Disney Costumes
Appetizers
Jack O Lantern Charcuterie Board – This Jack O Lantern Charcuterie Board is kid-friendly, fun, spooky, and a delicious appetizer for your next Halloween party.
Halloween Mummy Recipes – Spooky mummies are a thing of the past with these mummy recipes and crafts, the whole family will have a blast creating these.
Hot Dog Mummies Recipe – Looking for a spooky snack for Halloween? These hot dog mummies are sure to be a hit with the kids! They're easy and fun to make!
Related: 31 Fun and Easy DIY Halloween Decorations
35 Halloween Snack Ideas for Kids – Halloween is such a fun time for kids, if you're looking for snack ideas that you'd love to create with them these are sure to be a hit.
21 Witch Food and Crafts – Making witch food and crafts for Halloween is one of my favorite themes to use. Here are 21 Halloween Witch Foods and Crafts for this year.
Desserts
Mummy Brownies Recipe – This rich and fudgy chocolate mummy brownies recipe is going to be a new favorite for your family and friends on Halloween!
Related: How to Save on Your Halloween Party
Scarecrow Graham Crackers – Here is a fun snack to enjoy this Halloween. These scarecrow graham crackers are perfect for a tasty appetizer or just a fun snack.
Jack-O-Lantern S'mores Trifle – This Jack-O-Lantern S'mores Trifle dessert is perfect to make with your kids for Halloween and they're so delicious and adorable!
Witches Brew Cupcakes – Witch's Brew Cupcakes are the perfect treat for your Halloween party! They're not only delicious but fun to make.
Related: Easy Adult Halloween Costume Ideas
For the Adults
Frankenrita Cocktail Recipe – This fun and easy-to-make Frankenrita Cocktail is perfect for Halloween parties or just enjoying a spooky night in.
Halloween Cocktail Recipes – Halloween is the perfect time to get creative with your cocktails! These spooky Halloween cocktail recipes are sure to impress.
Easy Fall Pumpkin Martini Recipe – Make this Pumpkin Martini Recipe for your holiday parties this year. The perfect fall pumpkin drink recipe for the season.
Related: Halloween Unit Study – Halloween Activities for Kids
Top 10 Adult Halloween Drinks and Halloween Snacks – Looking for the best Halloween drinks for your Halloween Party? We got them and we also got you covered on your Halloween snacks!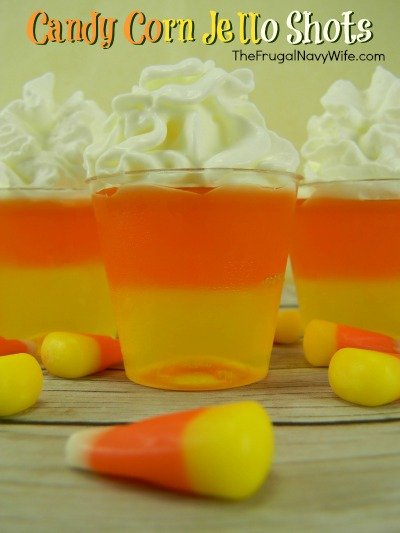 Candy Corn Jello Shots – These candy corn jello shots are sure to get you into the holiday spirit with their delicious flavor and are fun to make!
2 Ingredient Candy Corn Vodka – Candy Corn Infused Vodka Recipe – This candy corn vodka recipe seems to be quite popular this fall and it's so easy! Just 2 ingredients for the perfect Fall Party drink.
Halloween is a time for spooks and scares, but it's also a great opportunity to have some fun in the kitchen. These are some fun and easy Halloween recipes that will help you get ready for the holiday and give you ideas for what to make this year. We hope you enjoy them! What are your favorite Halloween recipes? Share them with us on social media or in the comments below. We can't wait to see them!