This post may contain affiliate or referral links. Read more about this in our disclosure policy.
I love cube steak recipes! I can normally find cube steak packs for about $1 for 2 to 3 steaks on manager special. Making this Italian parmesan crusted steak with some noodles and garlic bread is such an easy weeknight meal that we have it quite often.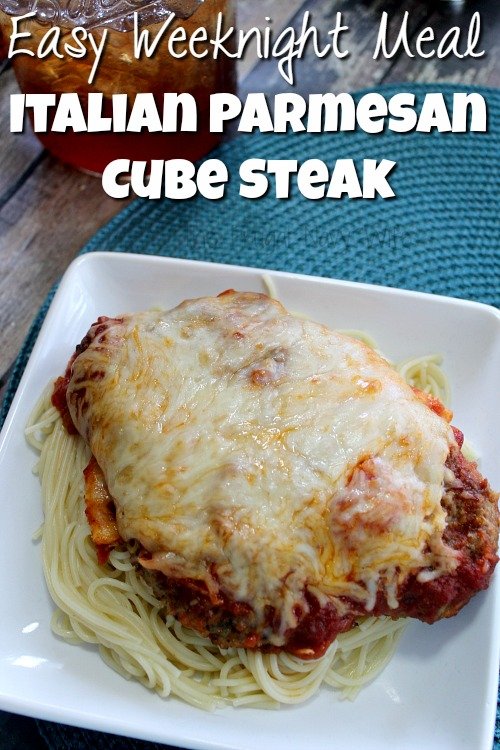 Cube Steak Recipes – Italian Parmesan Crusted Steak
Now I mentioned I cubed steak on manager special. Are you asking yourself how? Make sure to read my ways to save on meat post. I lay it all out on the line there.
Below you will use tomato pasta sauce for the recipe. I want to share this is one of the things we have stopped buying and started make at home. We use so much of it a month I also learned how to can tomato pasta sauce. It is used is so many of recipes like our easy one pot pepperoni pizza pasta.
If you are looking for even more great new easy weeknight meals, check out all our easy meals. Another family favorite is our slow cooker apple cider pork. It is easy to make and is to die for!
Ok now on to the main event, the easy weeknight meal of Italian Parmesan Crusted Steak YUM!
Psst I think you might also love our most popular recipe, old fashion meatloaf!
Ingredients
1 Pack of Cube Steaks
Italian Breadcrumbs
1 egg
1/8 cup milk
Your Favorite Tomato Sauce (Pasta Sauce)
Shredded Mozzarella Cheese
2 Tablespoon Parmesan Cheese
Oil for Frying
Italian Parmesan Crusted Steak
Prep Time
7
hours
27
minutes
Cook Time
7
hours
27
minutes
Ingredients
Instructions
Preheat the oven to 350 degrees.

First, mix the egg and milk together in a medium Bowl. In a 2nd bowl add the bread crumbs. Dip cube steak in egg and milk mixture, and make sure to cover it good.

Then dip the cube steak into the breadcrumbs bowl and cover the steaks good.

Once meat is covered in breadcrumbs add a small amount of oil to a frying pan and get it nice and hot. Then brown the steaks in the pan. You just want to brown them.

Place a small amount of tomato sauce in the bottom of the baking dish, enough to cover bottom of the dish. Then place the steaks in the pan. Then cover the steaks with tomato sauce.

Once the steaks are covered in sauce, sprinkle them with cheese. Bake at 350 degrees for 45-50 minutes uncovered.

Then bake them at 350 degrees for 5-10 minutes uncovered until the cheese is browned and bubbly.
Latest posts by Danielle, The Frugal Navy Wife (see all)