I always get asked how to save money each month. What are the best ways and how to start? I have shared posts like 10 Ways To Earn $100 Today because the easiest way to add money to savings is to bring in more right? Well, what about making the most of what you already have? That is where these 60 things you can stop buying and start making come in. There are a lot of resources on how to save money here so dive in!
How to Save Money Each Month – 60 Things to Make Instead of Buying
Not too long ago I shared a post, 13 Items They Made During the Great Depression (But We Pay for Now) and you guys LOVED IT! It took off like crazy. So I wanted to expand on that and share what I have been doing to save money by making things instead of buying them.
This list of 60 items (wow I didn't know was doing that much!) and I hope it helps you save a bit of money.
I want you to know this list built up slowly over the year I didn't jump in making all 60 items. Start with one or two and get them into your routine and a month or two later add in another one.
You will start to see savings and it will build! I saw the biggest savings on my grocery bill each month. It is what allowed me to truly grocery shop for our family for $50 a week (or $200 a month) for our large family.
Now, remember if you are shopping online for ingredients and items for the stuff below I suggest using Ebates and getting your cashback where you can as well as shopping apps that can lower your costs.
If you want to know more about Ebates I did the whole Ebates 101 write-up because they have some amazing ways to save even in-store now!
I suggest checking Amazon and Amazon Prime Pantry for items as well. Use your free Amazon Gift Cards to get the items from Amazon and it won't go against your grocery budget!
id="hdvbvxj21pcnpnotzhtd" data-volume="70″ data-ratio="16:9″>
Also, we always say to pick up an odd job while you can to stock up money. One way we love to do it is to get Workamping jobs and work while on vacation (get paid to travel anyone?) We make money while seeing a new place and getting a free campsite. 5 Ways to Make Money Fast may be able to help with more side hustle options.
If you're up for a bit more reading I suggest Little House Living: The Make-Your-Own Guide to a Frugal, Simple, and Self-Sufficient Life and Radical Frugality: Living in America on $8,000 a Year.
How to Save Money Each Month Making Cleaning Supplies
About 5 years ago my son had an outbreak of hives and after a visit to the doctor, we couldn't figure out what caused it. The doctor said it could have been anything from a big bite to the type of laundry soap we were using.
Well since we were already using free and clear soap with a baby in the house we decided to start making our own laundry soap. We also started making our own homemade reusable dryer sheets.
We haven't had a hives outbreak since and I have slowly been switching over to making many of our cleaning products once I started to see the savings involved!
I started with the laundry soap and dryer sheets and then found a recipe to start making our own Febreze.
From there we started to make our own foaming hand soap.
I then moved on to making my own glass cleaner which I personally think is way better than Windex.
Next on my list are these homemade toilet bowl cleaners.
Related: 10 Homemade Cleaners to Save Money!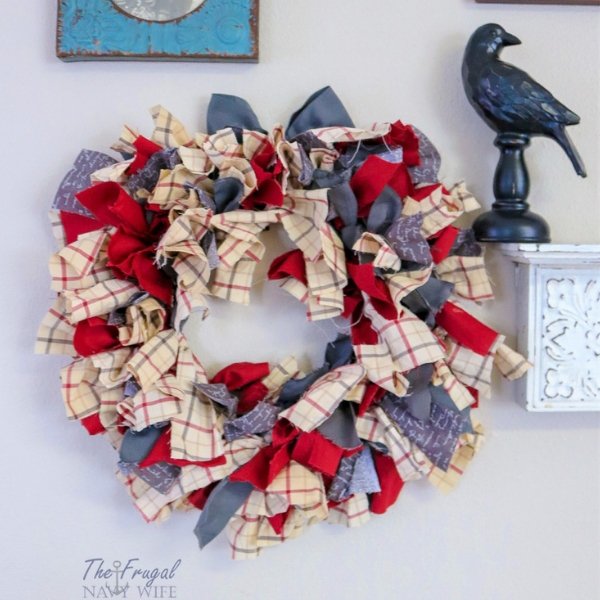 How to Save Money Each Month Making Home Items
I love decorating my home. Heck, I pin way too much home decor to Pinterest but the cost can get out of hand fast! So I've taken to making as much of my home decor by hand as I can.
With 4 kids storage is big in my house but looking for cute baskets on Amazon you find they can cost $20 or more.
So whenever I can I like to make my own storage in my house like these burlap-covered boxes.
We also did a fun twig letter craft with the kids which we love! Here are 25 DIY Home Decor Projects I know you will love as much as I do.
Next, I started to make my own fridge magnets. I will say I can get carried away here and sometimes it's not all cost-effective but the memories with the kids mean more than anything store-bought.
We also take full advantage of the holidays and make holiday decorations.
Related: Best Free Camping Sites in the USA
Valentines Day Decor – DIY Button Art Heart Decor
Mardi Gras Day Decor – Mardi Gras Party Ideas + Free Mardi Gras Printable Decor!
Easter Decor – Free Printable Easter Decor Banner – Easy Spring Fabric Cross on Wood Decor
Summer Decor – DIY USA Letter Wall Decor – DIY Decor Yarn Stars
Fall Decor – Orange Chevron Fall Mantle Decor – Burlap Mason Jar Centerpieces
Halloween Decor – DIY Candy Corn Jar Decor – DIY Spider Web Vase – Monster Dry Erase Halloween Countdown
Winter Decor – DIY Snowman Wine Glass Candle Holder – DIY Snowman Button Art
Christmas Decor – Easy DIY Glitter Pinecones – DIY Santa Wine Glasses Votive Holders
Related: DIY Ohio State Buckeye Bench
How to Save Money Each Month Making Kids Items
My kids, like most, are addicted to slime lately, though you can buy slime premade it cost $8 and that is per kid! So instead I like to spend $3 on a jar of Nutella and make my own edible slime! How to Make Nutella Slime – 2 Simple Edible Ingredients
We also make slime to go with whatever we are studying as well like this Dolphin Ocean Slime.
Making slime also translates into making playdough and we don't just make any old playdough we like our DIY Fall Spice Play Dough and the kids also love the rainbow playdough as well. We didn't just stop there we also make Kool-Aid Playdough.
Do you know someone with a lot of little girls? That is a lot of hair bows and headbands. We learned how to start making our own like this one out of a T-shirt. DIY T-Shirt Scrap Headband.
Related: How We Find Field Trips for Free
With 4 kids we knew we needed to save money when it came to the holidays. We started by making our own Valentine's Day cards which the kids loved.
My next task was to make our own Easter baskets to save money.
Then I tried my hand at making my own DIY Frozen Pinata while it's not as fancy as store-bought my kids and their cousins had a blast and that's all that matters.
Then I knew I was going to tackle Halloween Costumes since we need 4 of them (or 6 if hubby and I dress up!) The first year we started with the kid's costumes. My favorites were the Fred and Wilma Costume, Easy DIY Kids Ghost Tutu Costume, and the DIY Kids Lego Costume. But we have made a bunch of kids' costumes over the years.
Related: Easy DIY Halloween Costumes – Including Disney Costumes
The following year we tackled adult costumes and I was dead set on making our costumes from clothes we can wear every day and just add in a few accessories as needed like my Women's Wendy Costume DIY and Disney Adult Tinkerbell Costume.
Then I got brave and tackled the family costumes ideas, and with 4 kids we all had to give in and do a Disney theme. Disney Family Halloween Costume Ideas: Cinderella, Frozen, Snow White & Little Mermaid
Also when it comes to Halloween we use one of these Over 700 Free Pumpkin Carving Stencils.
Since we homeschool I started to put together our own unit studies instead of buying the pre-done ones. It takes a bit more work but I love it. So far we have done a Learning about Dolphins Mini Unit, a Fun and Interactive Ancient Egypt History Unit Study for Kids, and a Homeschooling Farm Unit Study just to name a few.
This then leads to me learning how to make my own printables and then finding out I can sell them to other homeschool moms. It makes a little extra money to buy the ones I can't make. I shared How to Make Money Online Selling Printables.
Related: How I get $3,600+ in Free Homeschool Curriculum Every Year!
How to Save Money Each Month Making Health and Beauty Items
A friend of mine told me about these No Sew Sea Salt Heat Packs, working on a computer all day these feel amazing on my neck!
I mentioned why we make our own laundry soap above, we started to make our own toothpaste because we go through too much of it with the kids. Natural Flavored Coconut Oil Toothpaste
When allergy season kicked in we started to make our own vapor rub because our kids and the baby were so congested. Then this summer we moved into making our own natural sunburn cream and thankfully we only needed to use it a few times so far.
We also started to make our own bath bombs when the kids became addicted to them (thanks grandma!)
Related: 35 Uses for Fels Naptha That Will Change Your Life
How to Save Money Each Month Making Food
This is the section that has saved us the most money in my opinion. Making what I can instead of buying out of convenience has slowly dropped our grocery bill over the years. Here is what I do with some of my favorite recipes.
Jam – Freezer Blueberry Jam Recipe and Easy Strawberry Freezer Jam
Garlic Bread – I take a slice of bread and spread on some melted butter and sprinkle on either garlic salt or garlic powder and a bit of Italian season and bake until browned.
Pizza Crust – I keep instant yeast in the house and we make our own pizza crust and use it for pizza and calzones.
French Fries – We invested in a potato cutter and now make our own french fries by baking them in the oven.
Related: 20 Recipes using leftover french fries
Pasta Sauce – I make my own pasta sauce and we use it on pizza and over pasta and in some casserole. We then can it so I make it in big batches. Canning Tomato Sauce
BBQ Sauce – I make this Easy Homemade Hickory BBQ Sauce Recipe in a large batch and can it and we use it in a lot of recipes most in the slow cooker. Here are more BBQ Sauce Recipes to try.
Heavy Cream – Every time a buy heavy cream for a recipe I never end up using it all and it sits there and goes to waste so I started using this Heavy Cream Substitute. If you still happen to have too much leftover here are ways to use up leftover heavy cream.
Related: 22 Frugal Living Tips from the Great Depression
Yogurt – We love yogurt in the morning and it saves us a ton to be able to make it at home with this Easy Instant Pot Yogurt Recipe.
Gravy – I am loving this Easy Gravy Recipe with dinner. It tastes so much better than the packets or jars.
Syrup – I started making my own syrup a few years back and now I have 2 different recipes I make depending on what we are having for breakfast. My favorite is this Easy Homemade Blueberry Syrup Recipe but I also have a traditional Homemade Maple Syrup Recipe.
Mac and Cheese – I stopped buying the boxed mac and cheese and started making this one when my then 5 year old refused to eat the boxed stuff. Yeah, weird kid, I know. Amazingly Easy Slow Cooker Mac and Cheese
Seasoned Salt – I don't use a lot of seasoned salt so I just started making it as needed with this DIY Seasoned Salt Recipe.
Brown Sugar – I never seemed to have brown sugar when I needed it so I started using this Homemade Brown Sugar Recipe.
Coffee Creamer – I am one of the people who likes the flavored coffee creamers and let me tell you they aren't cheap! So I started making my own. This York Peppermint Patty Creamer is my favorite.
Related: 8 Money-Saving Tips from the Amish Lifestyle
Uncrustables – We tried uncrustables when I got a super good deal on them a few years back and my kids loved them, especially my kids who hate crust. So I started making them myself with this Amazing Homemade Uncrustables recipe.
Soups – I stopped buying canned soups because for our family I'd have to get 6-8 cans which would cost about $12-$16, so I started making our soup for less than $10.
Our two favorite recipes are Loaded Baked Potato Soup and Drunken Pumpkin Soup.
Apple Pie – Ok my husband and I are apple pie lovers and it seemed we always ended up with a bakery apple pie in our cart from the store so I had to put an end to it with my Traditional Dutch Apple Pie Recipe. Luckily I have come up with a new way to get our pie fix. Give our Easy Apple Pie Egg Rolls Recipe a try they can also be made in the Air Fryer!
Ice Cream – In the summers we go through a lot of ice cream. A carton would be gone in 2 days or less between our kids and friends so I started making no-churn ice cream and my favorite is this Hershey'sDouble Chocolate No-Churn Ice Cream.
Donuts – We also like donuts for breakfast. While we tend to make these Guinness Chocolate Baked Donut Recipe with Baileys Glaze for St Patrick we will make them without the glaze all year round.
We also make these Baked Funfetti Donuts. When I say we I mean hubby cause I'm not a morning person.
Related: The Weird Grocery Shopping Trick that Saves Me $100 or More a Month
How to Save Money Each Month With Copy Cat Recipes
About 5 years ago (maybe a little longer) I dug into our budget and about had a heart attack and how much we were truly spending eating out. So I started to learn how to make our favorite recipes and that resulted in these copycat recipes.
Even if you swap 1 meal out for making it at home a week you will see good savings! Especially if you have a large family and eating out costs more than $150 at a time. If you can not give up a meal out here are a few tips for keeping restaurant nights cheaper.
Hubby loves Chinese food and we were getting a lot of take-out because it was 'cheap' for our family. It's even cheaper to make at home with one of these 17 Must-Try Chinese Food Recipes You Can Make at Home.
Now I just admitted I wasn't a coffee person, that's not a joke. I next tackled my Starbucks addiction with many of these 28 Copycat Starbucks Recipes. Now with 4 kids I'm more of a coffee in a travel coffee mug and go, mom.
Hubby and I used to grab a lot of Olive Garden even just for lunch for soup, salad, and breadsticks add up. So I pulled these 14 of the Best Olive Garden Copycat Recipes to put an end to that.
I can't tell you how many times hubby would stop into Red Lobster and just buy the biscuits because he loves them that much. Oh yeah, that sparked my Copycat Red Lobster Cheddar Bay Biscuits Recipe.
I, on the other hand, loved Texas Roadhouse rolls and would always suggest dinner there just to get them. Now I make them with dinner with this Copycat Texas Roadhouse Rolls Recipe & Honey Butter.
Ok, I admit when it came to grabbing fast food because it was easy I always gravitated toward Chick Fil A. When I was pregnant it was the chicken salad sandwiches I was craving so I started using this Copycat Chick Fil A Chicken Salad Sandwich recipe.
Once I saw we were grabbing full meals from Chick Fil A I put together a meal we could make at home. I started with this Copycat Chick Fil A Nuggets Recipe complete with this Copycat Chick Fil A Sauce Recipe for dipping.
I added in The BEST Copycat Chick Fil A Chocolate Chip Cookie Recipe for dessert and of course this Copycat Chick Fil A Sweet Tea Recipe to finish it off.
Now I want to know what you are making instead of buying to save money?