I want to share with you, my absolute favorite Copycat Chick Fil A recipe. This Chick fil A chocolate chip cookie recipe is pretty much always on my counter because they are quite addicting! This is one of our many Chick Fil A Copycat Recipes.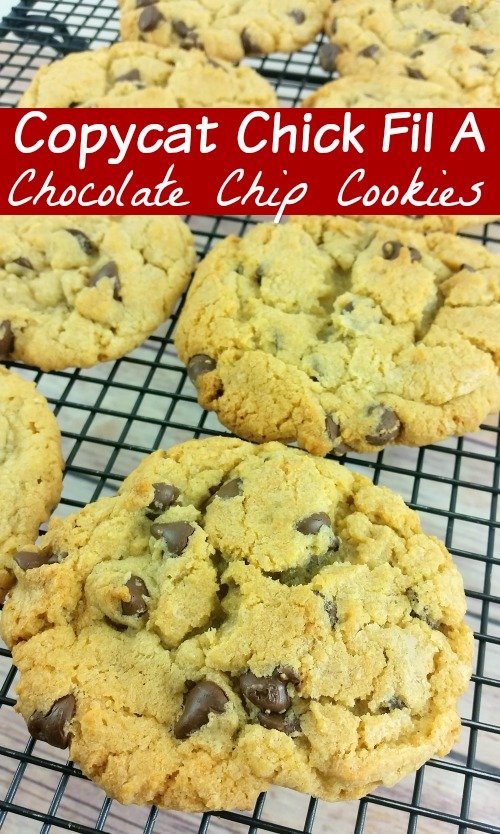 Copycat Chick fil A Chocolate Cookie Recipe
I have to tell you again how yummy these cookies are. Yes, yummy is just about the only word I can use to describe it!
With this recipe, I love using my homemade brown sugar recipe I really feel like it makes all the difference.
I also want to mention that I have recently become addicted to silicone baking mats. They are easier than parchment paper, and they are reusable and life changing!
Related: Feed Me Chick Fil A and Tell Me I'm Pretty T-Shirt
Ingredients for Chick Fil A Chocolate Chip Cookie
2 1/2 cups All-purpose flour
1/2 cup instant oats
1 teaspoon baking powder
1/2 teaspoon baking soda
1 and 1/3 cups brown sugar, packed (we like to use our homemade brown sugar)
1/3 cup granulated sugar
2 eggs
1/2 cup Crisco
1/2 cup unsalted butter, room temperature
3 Tablespoons honey
2 teaspoons vanilla extract
2 cups semi-sweet chocolate chips
Instructions
Start by preheating the oven to 350 degrees F.
Next, spray your cookie sheets with cooking spray but I recommend you line your cookie sheets with parchment paper and set aside. You can also use baking mats instead of parchment paper.
In a medium bowl, add in your dry ingredients the oast flour, baking soda, and baking powder. Mix together with a whisk and then set aside.
Then in a larger bowl, cream together Crisco and butter. This would be easily done in an electric mixer. Then combine honey, brown and white sugars, and vanilla with butter mixture, then beat in the eggs.
Related: 20 of the Best Christmas Cookie Recipes
Now gradually add the dry ingredients to the butter mixture and mix well. Don't go to fast or you will have a mess!
Once combined fold in the chocolate chips.
Using an ice cream scooper, scoop the Chick Fil A Chocolate Chip Cookie dough onto the prepared cookie sheets. Make sure they are placed about 2 inches apart.
This part was hard for me because I kept wanting to eat the cookie dough!!
Bake the cookies for 15 to 18 minutes, or until light and brown.
Remove the cookies from the oven and let them cool before transferring them to a wire rack to cool completely.
Once completely cooled store the Chick Fil A Chocolate Chip Cookie in an airtight container.
Want some more amazing copycat Chick Fil A recipes?
Copycat Chick Fil A Nuggets Recipe
Copycat Chick Fil A Sauce Recipe
Copycat Chick-Fil-A Chicken Salad Sandwich