It's no secret my family loves Chick Fil A but it always seems someone gets a craving for it on a Sunday when the store is closed! So this has let to our collection of The Best Chick Fil A Copycat Recipes. This Copycat Chick Fil A Polynesian Sauce is just the newest member of the family and one my personal favorites.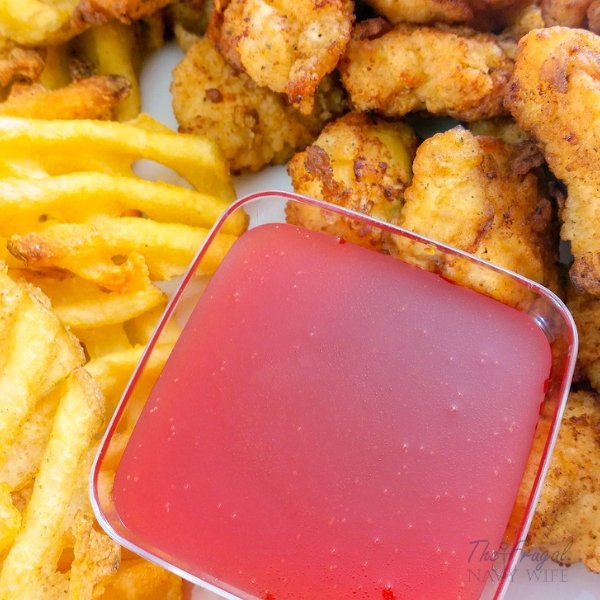 The BEST Copycat Chick Fil A Polynesian Sauce
I see many questions out there asking "What does Polynesian sauce taste like?" It is basically their version of the sweet and sour sauce. Well it's more like the Wendy's Sweet and Sour sauce same color but smoother, no chunks of spice and I like it much better.
Related: Copycat Chick Fil A Sauce Recipe
I find the type of french dressing you use makes a big difference so make sure to grab the California French dressing.
I haven't found brand makes much of a difference so grab a store brand to save money if you can.
If you are loving these copycat recipes make sure to check out 14 of the Best Olive Garden Copycat Recipes and our popular 28 Copycat Starbucks Recipes.
They include some of my favorite recipes like Copycat Olive Garden Minestrone Soup and Starbucks Vanilla Bean Scone Recipe.
Related: The BEST Copycat Chick Fil A Chocolate Chip Cookie Recipe!
Copycat Chick Fil A Polynesian Sauce Ingredients
1 cup California French Dressing
3 teaspoons apple cider vinegar
6 tablespoons honey
Copycat Chick Fil A Polynesian Sauce Instructions
Whisk together and place into an airtight container and refrigerate.
Pair with our Copycat Chick Fil A Nuggets Recipe for the perfect dinner!
Have you tried this recipe? I'd love to know your thoughts in the comments below!