This post may contain affiliate or referral links. Read more about this in our disclosure policy.
I LOVE my Crock Pot. Every week we normally try to use the crock pot. Whether for dinner, lunch snacks what have you. It' so easy. Fix it and forget it! Come back in about 8 hours and you have dinner! I especially love it because come summer time it doesn't heat up the kitchen like the oven does! One of our family favorites is what I call Perfectly Cooked Crock Pot Beef Roast. It's easy to make, it's yummy and we NEVER have left overs! Win Win!
Perfectly Cooked Crock Pot Beef Roast
This is a great easy weeknight meal, it can cook all day then an hour before we are ready to eat we had the veggies and YUM!
1 beef roast – mine was on the smaller side and weighed about 1 lb.
1-2 packages of onion soup mix
10 small redskin potatoes (we will use more if we use the bigger crock pot)
1 1 pound package of baby carrots
Heat a large pan with 2 tsp of olive oil.
Place the roast in the pan and season with salt & pepper
Brown the bottom and then flip over using tongs and brown the other side (about 10 minutes of cook time)
Pour 2 cups of water into the bottom of the crockpot and turn on low. Add in the 1-2 packets of onion soup mix. We use 2 as my husband is insistent that 2 has more flavor. Mix the soup mix into the water.
Remove the roast from the pan and place in the bottom of the crockpot. It's ok if the water doesn't completely cover the roast.
Cook on low for 6-7 hours.
At 1 hour prior to serving, wash the redskin potatoes and cut into quarters.
Add the cut up potatoes and baby carrots to the crockpot.
Cook for another hour on low.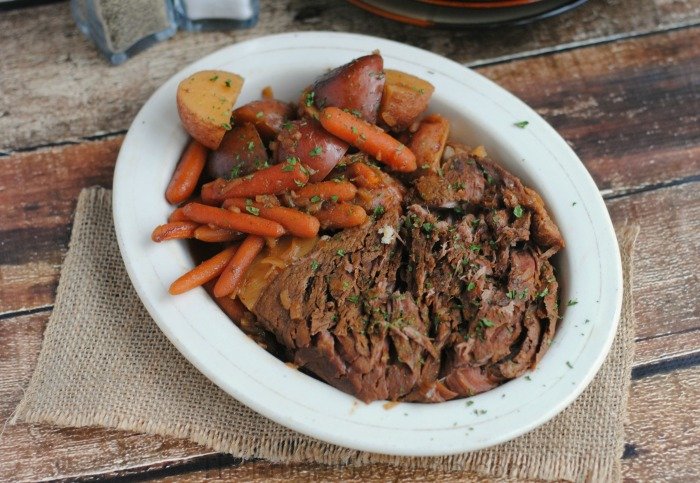 More Delicious Cube Steak Recipes
[tasty-recipe id="141167″]