This post may contain affiliate or referral links. Read more about this in our disclosure policy.
This slow-cooked hassle-free marvel is a classic comfort food dish that will leave your taste buds satisfied and your kitchen smelling absolutely amazing. With tender, juicy beef, flavorful vegetables, and savory juices, this dish is perfect for any occasion – from cozy family dinners to entertaining guests. Just prep the ingredients, set it in the slow cooker, and let it work its magic while you go about your day. Get ready to enjoy a melt-in-your-mouth crock pot beef roast that will become a new favorite in your recipe repertoire.
Can I cook a frozen beef roast in a crock pot?
It is not recommended to cook a frozen beef roast directly in a crock pot as it can lead to uneven cooking and potential food safety issues. It's best to thaw the roast completely in the refrigerator before placing it in the crock pot for even and safe cooking.
Related: Crockpot Apple Chicken
What other ingredients can be added to enhance the flavor?
While a simple beef roast with salt, pepper, and spices can be delicious on its own, you can enhance the flavor by adding various ingredients. Common additions include onions, garlic, Worcestershire sauce, beef broth, herbs like rosemary or thyme, and vegetables like carrots and potatoes. These ingredients infuse the meat with extra flavor and create a flavorful gravy or sauce.
How long does it take to cook a roast?
The cooking time for a crock pot beef roast depends on the size of the roast and the temperature setting on your crock pot. Typically, a beef roast will take around 8-10 hours on low heat or 4-6 hours on high heat. It's important to check the internal temperature with a meat thermometer to ensure it reaches a safe level.
What cuts of beef are best for a crock pot beef roast?
For a crock pot beef roast, lean and tougher cuts of beef work best. Some popular choices include chuck roast, bottom round roast, and brisket. These cuts benefit from the slow, moist cooking method of the crock pot, resulting in deliciously tender meat.
Related: Slow Cooker Cube Steak Recipe
Special utensils needed to make crock pot beef roast
Measuring Cups and Spoons – Looking for an easier way to measure ingredients? These measuring cups and spoons are a must-have in any kitchen. They make it quick and easy to get the perfect measurements.
Frying Pan – This frying pan is perfect for those who want the convenience of non-stick cooking without having to worry about damaging the pan. The stone-derived coating is scratch resistant and durable, making it a great choice for busy cooks.
Ingredients for Crock Pot Beef Roast
Beef Roast
Water
Red Potatoes
Carrots
Related: Pepsi Slow Cooker Pot Roast Recipe
Directions to make Crock Pot Beef Roast
Heat a large pan with 2 tsp of olive oil. 
Place the roast in the pan and season with salt & pepper
Brown the bottom and then flip over using tongs and brown the other side (about 10 minutes of cook time)
Pour 2 cups of water into the bottom of the crockpot and turn on low. Add in the 1-2 packets of onion soup mix. We use 2 as my husband is insistent that 2 has more flavor. Mix the soup mix into the water. 
Related: Slow Cooker Beef Southwestern Soup Recipe (Only 5 Ingredients)
Remove the roast from the pan and place in the bottom of the crockpot. It's ok if the water doesn't completely cover the roast. 
Cook on low for 6-7 hours. 
At 1 hour prior to serving, wash the redskin potatoes and cut into quarters. 
Add the cut up potatoes and baby carrots to the crockpot. 
Cook for another hour on low. 
Related: Slow Cooker Apple Cider Pork – Easy Weeknight Meal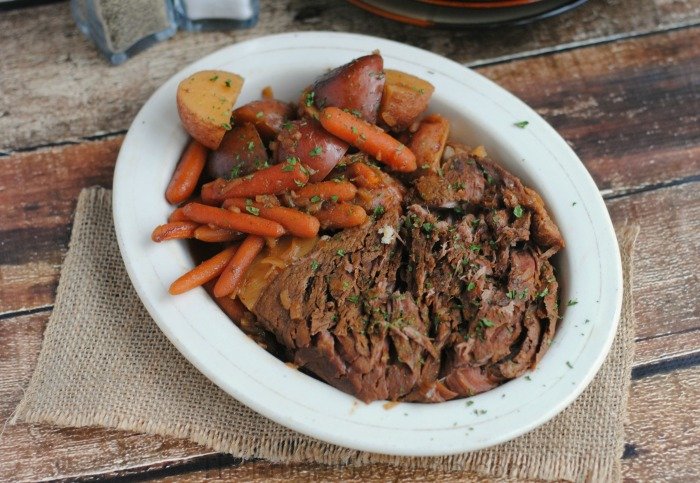 More Delicious Cube Steak Recipes
Cooking a crock pot beef roast is a convenient and delicious way to enjoy a tender and flavorful meal. Whether you follow a classic recipe or try out a unique variation, the slow cooking process allows the meat to become incredibly tender and infused with rich flavors. The use of vegetables and broth adds depth to the dish, resulting in a well-rounded and satisfying meal. With easy preparation and minimal hands-on time, a crock pot beef roast is a perfect option for busy individuals or those looking to simplify their cooking process. So gather your ingredients, set your crock pot, and get ready to enjoy a mouthwatering beef roast that will impress your family and friends.