We've all been there; the kids are making you want to pull your hair out, the house isn't cleaned and you still need to find something to prepare for dinner. You find yourself standing at the freezer trying to figure out what you can make that won't take a whole lot of energy. That's where a few amazing easy slow cooker recipes can come in handy. Not only are they usually super easy to throw together, but they're also set it and forget it!
I am a huge fan of my slow cooker and these slow cooker recipes are my absolute favorites! They are tried and true from my own personal recipe files and tested with my own family. Even the kids love them! I'm sure once you add them to your menu plan your family will love them as much as we do. If you don't currently have a menu plan, hop on over and learn how to create a menu plan before you go shopping next. Having a menu plan can save you hundreds on groceries each year and reduce the amount of wasted food and money that your family has.
If you have moved from using a dedicated slow cooker to using an Instant Pot, these slow cooker recipes will also work in it as long as it has a slow cook option. Don't attempt to pressure cook them without adjusting them, however, you can use the slow cook option just as you would with a regular slow cooker.
Slow Cooker Breakfast Recipes
Apple Pie Oatmeal – Breakfast is served warm and ready to go when you make this Apple Pie Oatmeal in your slow cooker!
Slow Cooker Side Dish Recipes
Easy Mac and Cheese – Mac and Cheese is my comfort food, but I hate standing at the oven making a baked mac and cheese recipe. With that said, this Amazingly Easy Slow Cooker Mac and Cheese recipe is so easy you'll wonder why you've ever cooked another type before!
Baked Beans Recipe – Who says baked beans have to take hours in the oven? This Slow Cooker Baked Beans Recipe is tossed and go!
Slow Cooker Dinner Recipes
3 Envelope Slow Cooker Chicken Recipe – If you're truly looking for a simple slow cooker recipe, it doesn't get much more simple than this 3 Envelope Slow Cooker Chicken Recipe. Just toss it all in your slow cooker and go!
Apple Cider Pork – Pork is one of those recipe ingredients that can get boring pretty quickly. If you're bored with "the other white meat," give this Slow Cooker Apple Cider Pork a try! It's the perfect combo for an easy weeknight meal!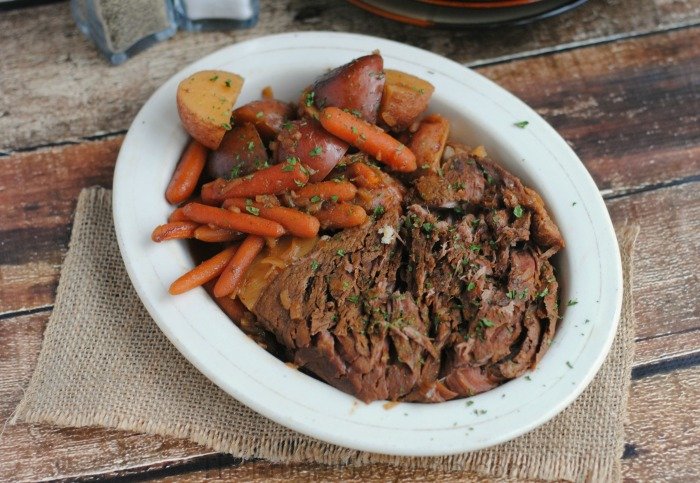 Perfectly Cooked Beef Roast –Tired of pulling a dry, tasteless roast from your slow cooker? Give this Perfectly Cooked Crock Pot Beef Roast a try and you'll never go back to that dry roast again!
Beef Southwestern Soup Recipe – Soups are great for when you need an easy meal on a chilly day and this Slow Cooker Beef Southwestern Soup Recipe has everything you're looking for in a soup!
Love take-out Chinese food? You'll love how simple and delicious this Sesame Chicken Crockpot Recipe is! Plus, you'll save money over take-out!
Chicken Thighs with Potatoes & Carrots – Chicken thighs are extremely budget friendly and when you make these Crock Pot Chicken Thighs with Potatoes & Carrots, you'll have an entire meal for less than $5.00!
Coca-Cola Pulled Pork Sliders – Tired of the same old slider recipes that all involve a burger? Make these Slow Cooker Coca-Cola Pulled Pork Sliders and you'll never look at a slider the same way again.
Meatballs – Whenever you're making pasta, add these Slow Cooker Meatballs to your menu with it! They're the perfect combo for any pasta dish and a lot easier than you might think!
Slow Cooker Coca-Cola Smoky Barbecued Ribs – Hubby's favorite ribs. They taste like they have been cooked all day in a smoker.
Tender Pepsi Slow Cooker Pot Roast – The Pepsi tenderizes the meat and gives it the slightest sweet taste.
Crock Pot Apple Chicken – We make this one mostly in the fall when we have extra apples to use.
Crockpot Corned Beef and Cabbage Recipe – Give this traditional Corned Beef and Cabbage recipe a try for St. Patrick's day, it's made in a slow cooker to help save you time.
Slow Cooker Coca-Cola BBQ Roast Beef –
Easy Slow-Cooked Pork Chops Recipe – Only 5 Ingredients! – This easy slow-cooked pork chops recipe is only 5 ingredients and it's super easy. Dump-and-go crockpot recipes are a family favorite.
Slow Cooker Cube Steak Recipe – Slow cooker cube steak is a comfort food dish, made by cooking tenderized cube steak in a savory gravy until it becomes fall-apart tender.
Slow cookers can be a game-changer for those who want to make delicious and healthy meals without spending hours in the kitchen. With these easy slow cooker recipes, you can plan ahead and have a meal waiting for you at the end of a long day. Whether you prefer soups, stews, or casseroles, there are plenty of options to choose from. So why not give your slow cooker a try and enjoy the convenience of easy, tasty, and healthy meals at home? Start exploring our collection of slow cooker recipes today!