This post may contain affiliate or referral links. Read more about this in our disclosure policy.
I love easy meals. So much so that pretty much all I make! This time, I bring you frugal breakfast ideas My favorite breakfast recipes are the ones that cook in a slow cooker all night and are done when you wake up! I am not a morning person so the less I have to do the better!
Some mornings I am feeling extra adventurous I will break out my Brunch with Bobby Cookbook.
Huge List of Easy Frugal Breakfast Ideas
Apple Cherry Fritters – Next time you are thinking about what to make for breakfast, give these Apple Cherry Fritters a try, you won't regret it!
Apple Cinnamon Beer Bread Recipe – This pairs great with yogurt and/or fruit! You can also make several loaves and then freeze them for the week or month!
Amazing Apple Pie Jam Recipe – I love using this on toast, bagels, and English Muffins. There are instructions for canning this so you can make it in bigger batches.
Apple Pie Oatmeal Cookie Recipe – We go apple picking each year and this has caused us to come up with many apple recipes these are our favorite for breakfast. Kids think they are getting a great treat and I only have to cook once to have breakfast for a week!
Apple Pie Oatmeal – Slow Cooker Oatmeal – Overnight Oatmeal Recipes – This is the recipe I mentioned above. Can't beat waking up to the house smelling of apples and having a nice hot breakfast!
Baked Donuts Recipe – Baked Funfetti Donuts – A healthier version of your favorite donuts and just as much flavor!
Baked Pumpkin Oatmeal – One of our favorite easy frugal breakfast ideas for fall. We have been known to dry up some bacon and eggs and have this as dinner.
Banana Bread Breakfast Cookies – Oh how my kids love having "cookies" for breakfast!
Blueberry Freezer Jam – Not a traditional breakfast but I love a good jam on toast or a bagel.
Blueberry Instant Pot Jam – Same as above this is just a different way to make blueberry jam.
Easy Blueberry Lemon Bread – I know this bread but it has fruit and with some butter, it goes great with coffee.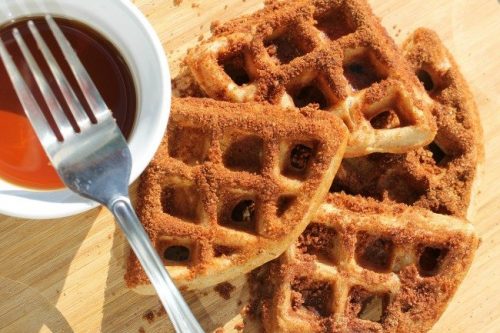 Churro Waffles Recipe – A dessert turned into a waffle for breakfast. This is a special treat but my kids love it as their birthday breakfasts!
Denver Omelette Sliders Recipe – These are actually one of my favorite breakfast for dinner recipes or Sunday brunch recipes.
Easy Blueberry Pancakes – Bite-Size – There are perfect to make on Sunday and have breakfast and an after school snack all week! Switch out what fruit you use as well!
Easy Homemade Blueberry Syrup Recipe – Because during blueberry season blueberry syrup is a must!
Easy Eggnog Oatmeal – I grew up drinking eggnog around Christmas as a kid. It was gross then but once you add the whiskey as an adult it's not so bad! This oatmeal is a much better version!
Guinness Chocolate Baked Donut Recipe with Baileys Glaze – I know these donuts are more like a dessert but they make a great breakfast for St. Patrick's Day!
Homemade Maple Syrup Recipe – Save money and make it yourself! it's a lot easier than you might think!
Instant Pot Hard Boiled Eggs Recipe – I love that I can make a batch of these and they store for a few days even if they don't last that long in my house! Anything with eggs makes great frugal breakfast ideas!
Instant Pot Oatmeal With Fruit – We have made this oatmeal with apples, blueberries, pears, peaches and more.
Instant Pot Yogurt – My kids like my yogurt better then any store bought.
Instant Pot Hard Boiled Eggs Recipe – This is by far the easiest way to make hard-boiled eggs and
Peach Cinnamon Rolls – We tried other fruit in these but peaches win out every time.
Peach Cobbler Cinnamon Coffee Cake – While this passes as a dessert any kind of coffee cake fall in breakfast for me.
Pumpkin French Toast – This is a fall time favorite in our house. My husband specialty!
Rainbow Waffles Recipe – We started these on St Patricks Day but they have become one of the most asked for foods from the kids!
Red Pancake Hearts for Valentine's Day – Why not celebrate love day with a little special twist. I think my kids wait all year for these!
Easy Red Velvet Donuts – These are great for Valentine's Day but we love them all year long!
Strawberry Freezer Jam – Like mentioned above perfect for toast or on a bagel.
Skillet Oatmeal – Apple Crisp Oatmeal Recipe – Did you know you could make oatmeal in a cast-iron skillet?
Smoked Sausage Hashbrowns – Another great breakfast for dinner recipe! This is one of my favorite frugal breakfast ideas!
Starbucks Recipes – Vanilla Bean Scone Recipe – This recipe was a must to save my budget! I am addicted to these!
Starbucks Copycat Egg Whites Bites –
Vanilla Blueberry Overnight French Toast Casserole – Make before bed and just pop in the oven the next morning! Can't get any easier!
Apple Cinnamon Baked Oatmeal – This is my family's favorite way to make oatmeal. This is seriously the best apple cinnamon baked oatmeal recipe I've ever had and it's really easy!
Breakfast Casserole with Sausage and Hashbrowns – Breakfast for dinner is a great way to save money on your grocery bill, try this Easy Breakfast Casserole with Sausage and Hashbrowns.
Chocolate Chip Muffin in a Jar –
Even More Breakfast Ideas
10 Perfectly Pumpkin Breakfast Recipes – One year I went a bit overboard buying pie pumpkin so we had to find recipes to use them. There were the 1st 10 we fell in love with.
19 Quick and Easy Breakfast Casserole Recipes – Many of these you can make the night before and just pop in the oven the next morning!
25 Easy Apple Breakfast Recipes Round-Up – Apples are one of my families favorite snacks. So much so we over pick them every year. So I get creative with how I use them in our food!
25 Easy Pumpkin Recipes – for Breakfast – Oh yeah, even more, pumpkin recipes…
40 Breakfast for Dinner Ideas – More breakfast for dinner ideas. Can you tell we love breakfast for dinner? We di it once a week to save on our grocery bill!
So what are some of your easy frugal breakfast ideas?