This post may contain affiliate or referral links. Read more about this in our disclosure policy.
Chicken is one of the cheaper meats to cook with. As a large family, we are on the hunt for frugal chicken recipes that are easy to make, quick and cheap! Chicken recipes are a great way to stretch your grocery budget and make amazing recipes that don't taste cheap! Check out our cheap dinner recipes if you're looking for more than just chicken recipes.
Below are some of our favorite chicken recipes that your family will love, and some tips to make the stretch even further. I learned these by trial and error I promise you will love these frugal recipes.
So if you want a few tips to make these chicken recipes even cheaper read below the frugal chicken recipes.
Some of my family's favorite recipes are the copycat Chick Fil A recipes. They are hands down made mostly on Sundays! It's when we always crave it, go figure!
ChickFilA Tumbler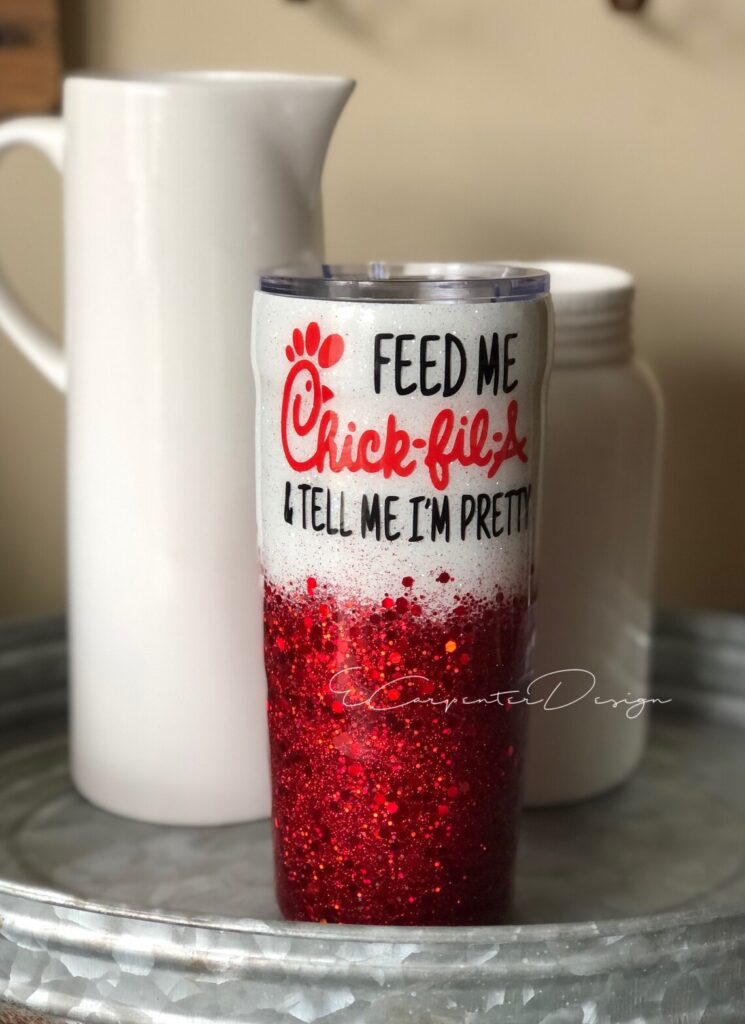 If you are a die-hard CFA fan then this tumbler is for you! Glitter and all just 'feed me chic fil a and tell me I'm pretty'.
Easy Frugal Chicken Recipes
Chicken Pineapple Kabobs – These Easy Weeknight Hawaiian Chicken Pineapple Kabobs are easy to put together and cook for a quick and fast meal on the grill!
Copycat Chick Fil A Chicken Salad Sandwich – The Chick fil A Chicken Salad Sandwich is the best and this simple copycat recipe is the perfect frugal recipe to try.
Copycat Chick Fil A Nuggets Recipe – Love Chick Fil A as much as we do? You are probably looking for this Copycat Chick Fil A Chicken Nuggets Recipe. You can't tell it's a copycat!
Easy Buffalo Chicken Dip Recipe – Made with five ingredients you probably already have in your fridge this easy buffalo chicken dip is great for potlucks and game night!
Easy Chicken Pot Pie Casserole – When it comes to making dinner, I have to get a little creative. This easy Chicken Pot Pie Casserole is a go-to meal for a big family.
Chicken Fajitas – Easy Weeknight Meal – Easy weeknight meals are a necessity for every household. You can't beat making a simple yet tasty meal in a short amount of time.
Fried Chicken Sliders with Asiago Cheese & Ranch Dressing – This Fried Chicken Sliders with Asiago Cheese & Ranch Dressing are even a kid's favorite make anything mini and they will eat it!
Garlic, Ginger, and Soy Sauce Chicken Wings – These garlic, ginger, and soy sauce chicken wings have a unique flavor combination that is sure to please your taste buds.
Grilled 7-Up Marinade Chicken – This chicken is marinated in 7-Up and grilled to perfection. The subtle sweetness of the soda paired with the char from the grill makes for an incredibly delicious dish.
Grilled Peach Chicken with a Cucumber and Peach Salad – Looking for a great new grilling recipe? This grilled peach chicken is one of the best! Don't skip the cucumber and peach salad with it, it's amazing!
One-Pot Chicken with Rice and Swiss Chard – One-pot chicken with rice and Swiss chard! This dish is packed with flavor, and it's so easy to make when you want a quick dinner.
Oven-Fried Drumsticks – Love fried chicken but want to eat healthier? Check out our Oven Fried Drumsticks
Root Beer BBQ Grilled Chicken – The barbecue flavor of the root beer really complements the grilled chicken while also giving the chicken a nice sweetness.
Rosemary Honey Mustard Chicken Recipe – Rosemary Honey Mustard Chicken is easy to make, and full of flavor. Just marinate your chicken in the mixture then cook it to perfection.
Copycat Chick Fil A Chicken Tortilla Soup – This Copy Cat Chick Fil A Chicken Tortilla Soup will be a great addition, it's simple and enough for the whole family.
Slow Cooker Chicken Recipes
Slow Cooker and Crock-Pot recipes are some of the easiest. Start it in the morning, cook it low and slow all day, and come home to a tasty meal that will make your family think you spent all day in the kitchen!
Crock Pot Apple Chicken – Perfect for busy weeknights, this crockpot apple chicken is an easy four-ingredient recipe that you'll find yourself wanting more of.
Crock Pot Chicken Thighs with Potatoes & Carrots – Crock Pot Chicken Thighs with Potatoes & Carrots is a flavorful dish that is sure to satisfy and is perfect for a busy weeknight.
Sesame Chicken Crockpot Recipe – Looking for a delicious sesame chicken crockpot recipe? The chicken is so tender and cooked to perfection and the sesame sauce is simply irresistible.
3 Envelope Slow Cooker Chicken Recipe – Super Easy Weeknight Meal – If you are looking for a super easy weeknight meal this 3-envelope slow cooker chicken recipe is perfect PLUS it is a great frugal recipe too!
Instant Pot Chicken Recipes
If you're looking for a hassle-free way to cook your food, then you need an Instant Pot. This kitchen appliance is designed to make your life easier by cooking your food faster and more evenly. Whether you're cooking a pot of rice or a whole chicken, the Instant Pot can do it all. And cleanup is a breeze thanks to the pot's non-stick surface.
Instant Pot Chicken Gnocchi Soup – Olive Garden Copycat – This chicken gnocchi soup is packed with flavorful chicken, tender gnocchi, and a creamy broth that will warm you from the inside out.
Instant Pot Chicken and Dumplings Recipe – Soup and a good book with a great fuzzy blanket is the perfect fall crisp air day. If this is your idea of a great day as well, you need to make this Instant Pot Chicken and Dumplings recipe.
Instant Pot Chicken Bacon Ranch Pasta Recipe – Needing some dinner inspiration? This creamy and hearty Instant Pot Chicken Bacon Ranch Pasta Recipe is sure to become a family favorite.
Instant Pot Peach Chicken – Instant Pot Peach Chicken is a flavorful and easy recipe that combines tender chicken with the sweet and tangy taste of fresh peaches.
Even More Chicken Recipes
Baked Parmesan Chicken Wings Recipe – These Baked Parmesan Chicken Wings will be great for a get-together and can be made in a variety of ways for liking. They'll be a favorite!
DIY Chicken Shake and Bake – Learn how to make your own DIY Chicken Shake and Bake. This recipe tastes better than store-bought and is better for you! Bonus: It will save you money!
27 Flavorful Whole Chicken Recipes – Delicious whole chicken recipes for the best and easiest dinners! Tender, juicy, and full of flavor, it's the perfect family meal.
 Stretching the Chicken Recipes
Look for chicken leg quarters on sale. I can find the 10-pound bags at Walmart for less than $5. I can even watch for sales and get them for as low as 39¢ a pound at stores like Save A Lot.
$3.90 for 10 pounds of chicken which comes out to about 4 meals for us ones cooked and shredded. Can't beat that!
I bring the chicken thighs home and cook them up in the oven and then shred them and put them in freezer bags to use in recipes later. I share my process on this in my Cheap Family Meals Facebook Group.
Chicken Broth – I then use the bones to make chicken broth which I put in large mason jars and freeze it. It tastes better than store-bought, it's healthier, and saves money on buying chicken stock!
One quick and easy way to spice up any chicken recipe I use is this DIY Chicken Shake and Bake. I love keeping it on hand.
Skip the Chicken Breast – Even though many recipes call for chicken breasts (including many of mine). You don't have to use chicken breast! I use shredded chicken but lessen the cooking time because it's normally already cooked.
It takes a little thinking to do it sometimes I warm the shredded chicken up on the stove in some chicken broth or even just water then add it to the recipe.
Frugal Chicken Recipes Kitchen Items
You need some of the right kitchen tools to make some of the best cheap chicken recipes. Below is my must-have in my kitchen. My Instant Pot doubles as a slow cooker and saves space!
When I'm cooking up my bargain chicken thighs I love using a full sheet pan. I can cook more and it just makes my life easier.
So, I mentioned I like to make chicken stock from the bones after cooking the chicken thighs. I store the stock in large mason jars and then put them in the deep freezer.
To make all that chicken stock you need a stockpot. I say grab a big one it's never a bad thing to have space when cooking you never know when it will come in handy! Cook a large batch of soup and freeze it!
More Frugal Recipes
Quick and Easy Slow Cooker Recipes
The Best Chick Fil A Copycat Recipes
What are some of your favorite frugal chicken recipes? Let me know in the comments below I am always looking for new recipes!